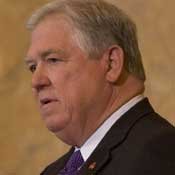 Stories this photo appears in:
Oil Spill
Gov. Haley Barbour declared today a "day of prayer" to commemorate the Mississippians who died in an April 20 explosion on a Gulf BP oil rig, but third generation ferry ...
Business
Mississippi Gov. Haley Barbour's 2010 State of the State address on Monday fell short on good news. The state is facing a revenue shortfall of more than $350 million, and ...
In a speech yesterday at the Southern Growth Policies Board, Mississippi Gov. Haley Barbour repeated the GOP's party line about the Obama administration's proposed cap and trade energy policies, repeatedly ...
Talk
Legislators continued to negotiate a compromise on a proposed cigarette-tax increase Monday, as a Mar. 25 deadline loomed.