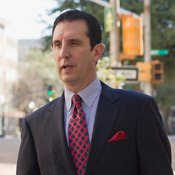 Attorney John Reeves will argue on Wednesday that Mayor Frank Melton should be allowed to run as a Democrat.
Stories this photo appears in:
Frank Melton
Mayor Frank Melton will argue that he should be allowed to run for reelection as a Democrat before a Jones County judge next week. As required under state law, the ...
Frank Melton
Earlier: Melton to Democratic Party: 'Go to Hell'
Following a federal judge's decision yesterday to hold Mayor Frank Melton's retrial in Jackson, with a jury from the Gulf Coast, Melton has filed a motion to reconsider the ruling. ...