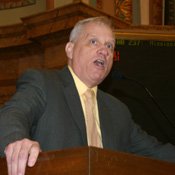 House Democrat John Mayo decried the governor's intervention in budget negotiations.
Stories this photo appears in:
Sweetened drinks add to the problem of childhood obesity, according to Andrew Hysall, associate vice president of advocacy and public policy for the Washington, D.C.-based Campaign for Healthy Kids. A ...
Capitol
School districts would have to choose between implementing an abstinence-only or an abstinence-plus sex education curriculum by June 2011 under a bill the House Education Committee passed Wednesday.
Education
In a budget proposal that suggested drastic consolidation of the state's K-12 school districts and public universities, Gov. Haley Barbour was noticeably less adamant about changes to the state's community ...
Capitol
Although he isn't an official party in the Mississippi Legislature's budget negotiations, Gov. Haley Barbour is still wielding his influence. The regular session ended last week with House and Senate ...