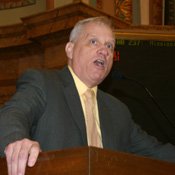 Although he isn't an official party in the Mississippi Legislature's budget negotiations, Gov. Haley Barbour is still wielding his influence. The regular session ended last week with House and Senate leaders still deadlocked on a hospital assessment and Medicaid funding, and some House Democrats blame the governor for ruing a near-agreement.
House negotiator Rep. Cecil Brown, D-Jackson, said the two chambers came close to a budget deal just before the regular session expired at midnight Wednesday, June 3. But Senate negotiators backed off after meeting with Barbour, he said.
"Late Wednesday it appeared the House and Senate had reached an agreement that would protect K-12 (education), balance the budget and prevent substantial layoffs of state employees," Brown said in a statement. "Unfortunately, the governor intervened with the Senate and killed the deal."
Lawmakers now await Barbour's call for a special session. Barbour can dictate the agenda for a special session and has said that he will not call the full Legislature back to the Capitol until House and Senate negotiators settle their differences.
The House and Senate have been battling throughout the year over how much extra to tax hospitals to cover a $90 million Medicaid shortfall in the state budget. The Democrat-dominated House wants as little extra taxes on hospitals as possible, arguing that any new tax will be transferred down to patients.
Both parties had been willing to negotiate on the issue this last time around, with the House moving from a $43 million tax on the hospitals to $60 million, while the Senate slipped down from its insistence of a full $90 million tax to a little above $80 million, according to rumors buzzing around the House. Some House members were also under the impression that the Senate was willing to take $60 million of this year's revenues and hold it over to the fiscal year 2011—an election year, reasoned Rep. John Mayo, D-Clarksdale.
On three separate occasions last Wednesday, a House resolution to extend the session failed due to a lack of Republican support. House Republicans could only gain from waiting for the special session, Rep. Greg Snowden, R-Meridian, noted, despite the more than $30,000 a day in extra costs a special session incurs.
"We don't regard a special session as any threat to legislative prerogative, but as a possible fresh start to real and much-needed compromise," Snowden wrote on his blog on Sunday.
Mayo remarked Wednesday that Barbour is obviously looking to put the budget argument back into an arena he controls by moving it to a special session where he gets to set the agenda.
"Could we reach a decision if the session were continued another five days or so? I doubt it. One does not have to speculate to conclude that the executive branch wants to set the budget through the powers of a special session and the senate is party to that goal," Mayo wrote on his blog. "We have openly speculated if Gov. Barbour were not governor, would both houses of the Legislature have reached a compromise weeks ago? We know one thing for sure: … The senate apparently is not moving without the executive's blessings."
Mayo pointed out with bitterness that Senate conferees took the deal to the governor, who rejected it and put legislators back in limbo.
"I did not know that along with being governor, the governor is also a member of the Legislature now. Can anyone tell me where the lieutenant governor is in this process?" Mayo asked.
Sen. David Baria, a Democrat from Bay St. Louis, said Bryant appeared happy with the idea of moving the issue into a special session. Bryant released a statement on June 4 saying that he was "disappointed" that the Legislature adjourned but that he would not support a budget that "spends all the money have now and (does) not prepare for ... 2011 and 2012."
Rep. Bobby Moak, D-Bogue Chitto, warned that the state risks having to shut down government agencies, including schools and hospitals, if legislators don't reach a resolution by July 1.
"In fact, we could say that the Department of Finance starts to get real nervous by June 15, because you need some lead time in order to make payroll and do all the things that are necessary to pay bills," Moak said. "We don't have a provision in our constitution to continue state government the way the federal government can. You'll see the feds get to the 12th hour and pass the deadline, but they'll pass a continuing resolution. We don't have a continuing resolution, so July 1 is a drop-dead date."
The governor had not set a date for the special session by Monday.
Support our reporting -- Follow the MFP.