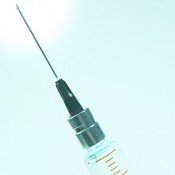 Free flu vaccines are available through the Mississippi State Department of Health.
Stories this photo appears in:
The Mississippi State Department of Health is now offering free vaccines for the H1N1 flu, commonly known as swine flu, to Mississippians. Residents 6 months of age or older can ...
People have been receiving all kinds of bad information about the new vaccinations for swine flu via e-mail and flyers. "We've seen e-mails stating that the vaccine is tainted with ...
The Mississippi Department of Health has received an injectable version of the Swine Flu vaccine, reports WXVT. Spokeswoman Liz Sharlot said the state took delivery of 60,000 doses of the ...