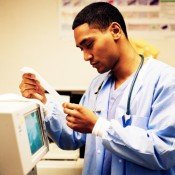 Stories this photo appears in:
Biz Roundup
Babalu Tacos & Tapas opens today in Fondren's Duling Hall. The Mexican and Spanish-inspired restaurant offers gourmet tacos and small dishes, or tapas, with an emphasis on fresh and often ...
http://www.jacksonfreepress.com/v3/images/uploads/doctor.jpg
Two health-care reform events will take place in Jackson tonight and tomorrow representing the opposing viewpoints of the reform debate.
Rep. Bennie Thompson, Mississippi's Democratic congressman from the state's Second Congressional District, will host a town-hall meeting in Jackson tonight. The meeting, providing an opportunity for constituents to get their ...
The Mississippi Health Advocacy Program believes Americans deserve to know the truth about how health insurance reform helps them and their families.