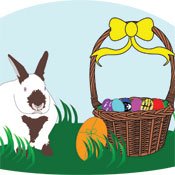 Stories this photo appears in:
Today, celebrate the planet and Good Friday. If you're lucky enough to have the day off, grab the kids and head to the Jackson Zoo for the annual Party for ...
What better time to think about doing good than Easter weekend. This week, the Jackson Free Press focused on everything from Building a Better Easter Basket to spring cleaning in ...
Good
This year, skip the chocolate bunnies with the disturbing neon eyes and go for a more practical and eco-friendly Easter basket.