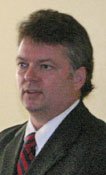 Stories this photo appears in:
Domestic Violence
Gov. Haley Barbour signed two bills addressing issues of domestic violence into law this session, both of which drafted by Mississippi Attorney General Jim Hood.
Crime
Guest column
Crime and the economy. No matter how it's sliced, these two issues are inextricably linked. When we face one problem head on, we also tackle the other. And that is ...
[Verbatim from attorney general] Jackson, MS-The United States Court of Appeals for the Fifth Circuit has ruled on an appeal by four Mississippi death row inmates who filed suit claiming ...
Politics
Attorney General Jim Hood just sent the following statement, verbatim:
Biloxi, MS-Attorney General Jim Hood announced the settlement of the state's breach of contract suit against State Farm, which was filed after State Farm refused to comply with a January, ...