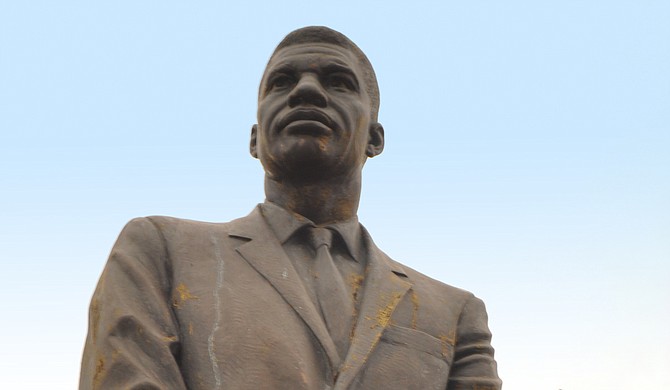 "Laziness is a trait in blacks."
Don Lemon is "the dumbest man on television."
Congresswoman Maxine Waters has "an extraordinarily low I.Q."
Immigrants are "animals" and "rapists."
African nations are "shithole countries."
At Charlottesville, there were "fine people on both sides."
It is fine with me to make it harder for those "other people" to vote.
"If he invited me to a public hanging, I would be there on the front row."
Why aren't you laughing? Those are all jokes, right? Laugh, and join in the fun. After all, our national leaders just say these things to amuse themselves and their supporters, right? Surely they couldn't really mean them. Not in America, the land of the free and the home of the brave. Come on, folks. Get in on these funny jokes. They're just joking. They really love us. Well, at least they love the good ones among us. You know what a good one is, don't you? No, well let me tell you.
A good one shrugs his shoulders and says, "well, that's just the way it is, and it will never change" and goes on about his life. A good one says, "I have got too much to lose to rock the boat, so I am going to keep my mouth shut." A good one says, "I leave all that on the altar, and God will deal with it" in a dead faith without works. A good one decides, "I'm going to do just like them and get whatever I can however I can, and damn the rest of these people." 
A good one says—even in 2018, even after all the struggles and bloodshed and tears and sweat and suffering and bitter unbearable pain—even in 2018 a good one says "yessir, boss."  Maybe not in those words, but worse still in how he lives.
But the best "Good One" is not good because of what he says or what he does or how he acts. Oh, no. He is one of the best good ones for what he does not do. He is the "Good One" that they count on more than any other. White supremacy's most prized "Good One" can be defined very simply: He is the one who does not vote.
Oh, he has a million rationalizations as to why he does not vote. And every single one is a self-deluded, bald-faced unadulterated lie. The worst lie is the one we tell ourselves so convincingly that not only do we believe that lie, we define our very lives by that lie.
I am here today to call out those damned liars. I am here to day to demand that you wake the hell up and quit fooling yourself. Those rusty old chains are not for us. Shake them off. Demand your birthright that Sojourner and Frederick and Booker and Marcus and Martin and Malcolm and Medgar and Fannie Lou bequeathed to you.
The rusty old chains of white supremacy must be broken forever in Mississippi. On Nov. 27, by the power of our blood, by the right of our forebears and by the hope of our children, we must break these contemptible chains forever, grind them into dust and dump them into the might Mississippi forever.
I have a granddaughter, born this year. Never once in her life should she hear from the lips of any American leader the vile insults we have endured for the last two years. Never in her life should she ever have any of her rights abridged on account of who she is. She deserves to live in a world where she hears not about invitations to a front row seat at a hanging. She deserves an invitation to a front-row seat at her grandmother's inauguration!
Together, we can build that world for her, and for all our progeny. And we lay the foundation for that new and better world right here in Mississippi in nine days. On Nov. 27, let us show our power. On Nov. 27, let us provide for our posterity. On Nov. 27, let us at long last drive a stake through the heart of white supremacy.
This column is adapted from a speech Jacqueline Amos gave at a rally against Sen. Cindy Hyde-Smith's recent remarks.
This column does not necessarily reflect the opinions of the Jackson Free Press.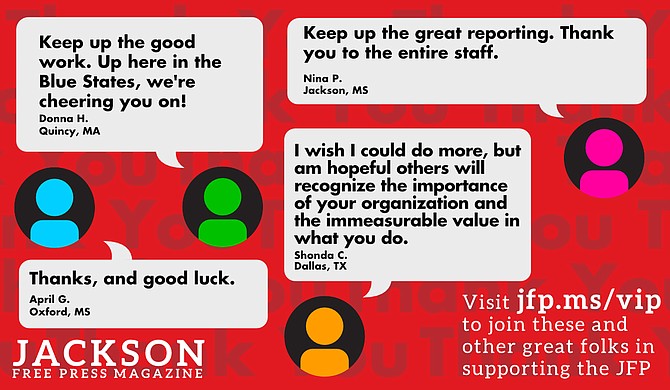 Thanks to all our new JFP VIPs!
COVID-19 has closed down the main sources of the JFP's revenue -- concerts, festivals, fundraisers, restaurants and bars. If everyone reading this article gives $5 or more, we should be able to continue publishing through the crisis. Please pay what you can to keep us reporting and publishing.