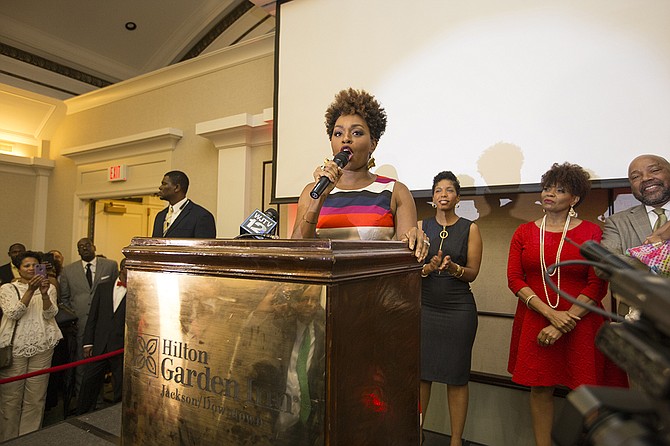 The last year was a crazy one, to say the least, but crazy often means that intriguing people came out of the woodwork. Here are some of the local people who we found the most interesting over the last year, for better or worse.
Angie Thomas
When Jackson author Angie Thomas published her first book, "The Hate U Give," on Feb. 28, 2017, the young-adult novel made an impact far beyond her hometown. The story follows the journey of a 16-year-old African American girl, Starr Carter, whose life is turned upside-down when she witnesses a police officer kill her best friend, Khalil. Thomas, who grew in Jackson's Georgetown neighborhood, was compelled to write the book after learning about police killing of Oscar Grant in California in 2009, along with the other cases of police brutality against African Americans that have happened in recent years. The novel debuted at the top of The New York Times best-seller list and stayed there for weeks. In summer 2017, national media announced that director Charles Tillman Jr. would be adapting the book for a film, which is set for release later this year. (Common is Uncle Carlos!) Meanwhile, the book continued earning accolades, landing a spot on the 2017 National Book Award longlist and receiving two 2017 Goodreads Choice Awards. In December 2017, Bustle reported that "The Hate U Give" was the most-search-for book on Goodreads.com. Read Thomas' often-spicy tweets at @angiecthomas. —Amber Helsel
David Dzielak
The Division of Medicaid is a favorite target of Republicans in state government, mainly due to its large budget and President Barack Obama's attempt to expand the program, which Mississippi opted not to take. The former Medicaid director retired late last year amid heated discussion about the technical amendments legislation that lawmakers will have to pass this session to authorize the Division of Medicaid. Dzielak led the Division of Medicaid for all of Gov. Phil Bryant's tenure starting in 2012, and rumors that his retirement was more resignation than retirement circulated quickly after news broke of his departure. In what would be his last legislative hearings, lawmakers asked Dzielak about the possibility of moving eligibility determination and enrollment from the Division of Medicaid to the Mississippi Department of Human Services, a move that could spark hot debate in the Capitol this year. Bryant selected his deputy chief of staff, Drew Snyder, to be the interim executive director of the agency just before the holidays. The future of the Division of Medicaid could look very different in 2018, depending on its new leader and what the Legislature decides to do. —Arielle Dreher
Marshall Fisher
After a brief stint at the Department of Corrections, Marshall Fisher took the reins as commissioner of the Department of Public Safety in 2017. The longtime law enforcement official is pushing for the State to change its thinking on arrests, recividism, re-entry and drug-war strategies. He advocates for treatment for first-time offenders with mental-health issues or drug-abuse disorders. Fisher is also pushing for funding increases for his agency's trooper school and crime lab. Under his leadership, DPS is working to combat the state's opioid crisis by equipping law enforcement and officials with NARCAN, or naloxone, which can save the life of a person who overdoses. He says the opioid crisis is a public-safety and health
issue, and also recognizes lessons law-enforcement officials learned in the past.
The commissioner has been outspoken about the crackdown on cocaine, often called the "War on Drugs," noting that severe penalties imposed back then did not curb the epidemic.
Fisher has emphasized that, similar to the crackdown on cocaine, throwing money at the state's opioid epidemic wouldn't fix the problem—and that getting to the root of the problem through collaboration is important. —Arielle Dreher
Better Together Commission
Jackson Public Schools received an "F" grade in 2017, and after a massive investigative audit, the Mississippi Board of Education voted to take over the district for violating multiple state accreditation standards. However, Gov. Phil Bryant decided not to sign that order, and the school district maintained local control. This is the first time in recent state history that the governor did not send a district into a conservatorship, opting for an unconventional plan. Due to the collaboration between the governor's office, the W.K. Kellogg Foundation and the City of Jackson, JPS avoided a state takeover. The result was the Better Together Commission, a 15-member group from private and public sectors. The group will hire an independent contractor to do a needs analysis of JPS in 2018. Additionally, the commission will conduct listening sessions, survey residents and get input on how the second-largest school district in the state can improve. JPS continues to work to clear accreditation standards as the commission works on its independent analysis.
The commission represents the crossing of political party and sector lines. Gov. Bryant's education and workforce development policy adviser, Laurie Smith, sits on the board alongside Mayor Chokwe A. Lumumba's Chief Administrative Officer Robert Blaine. The commission also includes leaders of philanthropic organizations such as the president of the Foundation for the Mid South, Ivye Allen, and Yumeka Rushing with the W.K. Kellogg Foundation (which funds the commission's work); and business leaders such as real-estate developer Leland Speed alongside Ed Sivak, executive vice president of the Hope Enterprise Corporation. JPS is well-represented on the board. Assistant Superintendent Laketia Marshall-Thomas, principals Kathleen Grigsby and Shauna Nicholson-Johnson, and math teacher Cheryl Coleman are commissioners. The commission also includes community members such as pediatrician Geraldine Chaney, and bishop and senior pastor Ronnie Crudup Sr., as well as Paheadra Robinson with the U.S. Census Bureau.
State education leaders, including Claiborne Barksdale, who runs the Barksdale Reading Institute, and Charles McClelland, who sits on the Mississippi Board of Education, also have a seat at the table. McClelland voted against the Mississippi board's decision to take over JPS, making him a friendly addition to the Better Together Commission. —Arielle Dreher
Maisie Brown
Maisie Brown has been one of Jackson's most publicly intriguing people for a couple years now, since she was 14 at least. That's when the self-confident high-school freshman submitted an column to the Jackson Free Press calling for the Mississippi flag to change because it "represents hatred toward me." She was soon asked to read the column at an anti-flag rally at the state Capitol and then another at the U.S. Capitol in Washington, D.C.
Brown, a classical pianist, also played a vital role in the Mississippi Youth Media Project's first two summers, following by a powerful TEDx Jackson Women talk about her experiences there and with social media. She is a dedicated member of Murrah High School's debate team, believes strongly in African American and women's rights and equity, and seems to always be on stage—from being the only young person on a Mississippi Humanities Council panel about "school choice," to moderating the city's first Youth Mayoral Forum in April 2017. Now still only 16 and a sophomore at Murrah, she is a confident leader in Jackson, inspiring other young people to follow in her footsteps. And her photo and voice are in the new Mississippi Civil Rights Museum. —Donna Ladd
Rep. John Moore, R-Brandon
In early December 2017, House Education Committee Chairman and longtime legislator Rep. John Moore, R-Brandon, announced his retirement. Days later, House Speaker Philip Gunn confirmed that at the time of Moore's resignation, he was under investigation for sexual harassment. In a letter, Moore cited health issues as the reason for his resignation, and said he knew of no complaints against him when news of the investigation broke. Moore's resignation was the first sexual-harassment case in 2017 in the Mississippi Legislature but followed a long list of U.S. Congress members, news and entertainment executives, and other men in power who resigned or lost their jobs as a result of sexual harassment or abuse allegations—in part because of the national #MeToo movement, which empowered women to speak out about abuse in the workplace on social media. —Arielle Dreher
Bobby Rush
Mississippi has long touted itself as the birthplace of Mississippi music, but Jackson bluesman Bobby Rush's 2017 Grammy Award was a reminder that our state is still a presence in the international music market.
After Grammy nominations in 2001, 2014 and 2015, Rush took the "Best Traditional Blues Album" award for his most recent record, 2016's "Porcupine Meat." Fellow Mississippi-native bluesmen Vasti Jackson and Luther Dickinson also received 
nominations last year.
While Rush won't be a contender in this year's Grammy Awards on Jan. 28, the "Best Traditional Blues Album" category will have another of his peers, Como, Miss.-native R.L. Boyce, in the running. —Micah Smith
Ronnie Crudup Jr.
Many of us knew, or knew of Ronnie Crudup Jr.'s father, but many Jacksonians didn't know who Ronnie Crudup Jr. was when he announced he was running for mayor last year. He did not win, but the younger Crudup, 41, has turned out to be a soft-spoken, determined Jacksonian who is full-speed-ahead on turning around south Jackson. He lives and works in the neighborhood not far from his father's church, New Horizon Church International, and runs New Horizon Ministries in south Jackson.
In his ministries work, Crudup does not sit still, from painting swimming pools to turning old baseball fields into football fields for kids. He regularly buys homes that are either rundown or have lost their value due to the cycle of white and economic flight, fixes them up and helps people buy them for bargain prices. He supports businesses, either with direct investment or by encouraging people to trade with locally owned south Jackson businesses, such as the Trophy Shoppe (2460 Terry Road). His wife, Andrea, is equally delightful and a vital part of his work. The South Jackson Movement has a worthy, and quite intriguing, leader. —Donna Ladd
Rita Brent
The Jackson stand-up comedy scene is still relatively uncharted waters compared to other parts of country, but a handful of people are seeing impressive success. Rita Brent is one of them.
Some Jacksonians will first think of her as a drummer—her other entertainment career since age 18. However, she has performed comedy for four years and already has two stand-up specials under her belt, "Rita B. Is the New Black" and "All Laughs Matter."
Brent quit her job in 2017 to pursue comedy full-time, performed as part of the Rickey Smiley & Friends Tour, opened for major comedy icons across the country and appeared on Kevin Hart's "Hart of City on Comedy Central.
Jackson audiences can catch her on Jan. 20 at the Alamo Theatre (333 N. Farish St.). —Micah Smith
Rep. Karl Oliver, R-Winona
The year 2017 was the year that included a horrifying national media moment thanks to Rep. Karl Oliver, R-Winona. Oliver decided to take to Facebook in anger after the City of New Orleans announced it would take down Confederate monuments, including a statue of General Robert E. Lee. He wrote in a Facebook post that Louisiana leaders who want to "destroy monuments of OUR HISTORY, they should be LYNCHED!"
House Speaker Philip Gunn, R-Clinton, stripped Oliver of his vice-chairmanship as a result. Despite calls for his resignation, Oliver stayed in the House. He did issue an apology and deleted the post saying, "I deeply regret that I chose this word." Republicans criticized Oliver in statements, condemning the Facebook post, but little else changed in the House of Representatives. As for the monuments Oliver wants to keep standing, they could have a new home. The museum Beauvoir, Jefferson Davis' Mississippi home on the Gulf Coast, would happily accept the old Confederate statues, the museum director told the Jackson Free Press last year. —Arielle Dreher
Chokwe A. Lumumba
"Radical" Mayor Chokwe A. Lumumba has been in office for nearly half a year. So far, he has negotiated an alternative plan to a Jackson Public School takeover and made national news when he boycotted President Donald Trump's appearance at the opening of the Mississippi Civil Rights Museum and Museum of Mississippi History and hosted a separate event to honor civil-rights veterans at the Smith Robertson Museum and Cultural Center. The mayor's father, the late Chokwe Lumumba, chose their last name to honor Patrice Lumumba, the first legally elected prime minister of the Democratic Republic of Congo who was assassinated nearly seven months after his nation received its independence. Chokwe A. Lumumba has been intriguing to watch as he navigates a "people's democracy" that aims to make Jackson the most radical city in the world, while dealing with pressing issues on the ground such as broken water mains, potholes and a shrinking budget. We will be keeping track of the administration's promises and goals, especially pertaining to crime and policing strategies and transparency, as Lumumba's term continues. —Ko Bragg
Ebony Lumumba
Ever since Chokwe A. Lumumba's election in July 2017, his wife, Ebony Lumumba, has been busy. She was the media chairwoman during his campaign, and she has also made appearances around the city, including speaking to students at Provine High School in August 2017. Ebony is the chairperson of the English department at Tougaloo College and an English literature doctoral candidate at the University of Mississippi. Her dissertation work focuses on postcolonial literatures of the Global South and Africana mothering and foodways. She received her bachelor's degree from Spelman College in Atlanta and her master's degree in English from Georgia State University. —Ko Bragg
Robert Shuler Smith
Robert Shuler Smith will face his third trial in two years, but this time for two counts of domestic violence, and aggravated stalking and robbery. In an altercation that took place on Aug. 13, 2015, in Rankin County, the Hinds County district attorney allegedly stalked and physically abused his former girlfriend, Christie Edwards, and brandished a gun at her.
It has been intriguing to watch Smith beat State charges of avoiding prosecution of accused men, with even Mayor Lumumba sitting on the front row during jury instructions last year before he was acquitted. Rankin County Circuit Court Judge John Emfinger disclosed in late November that his daughter had interned in the attorney general's office and that she sat in on a meeting between 2014 and 2016 involving Christopher Butler. Judge William Chapman will now preside over Smith's trial. —Ko Bragg
Victor Mason
In the #MeToo era, local public officials facing sexual harassment and sexually hostile work environment allegations, such as Hinds County Sheriff Victor Mason, are particularly intriguing, especially since Mason remains in his post untouched. He faces two explosive and pending lawsuits. Belendia Jones, a former reserve deputy for the Hinds County Sheriff's department, filed a complaint against Mason on Feb. 21, 2017, alleging sex discrimination, a sexually hostile work environment, sexual harassment and intentional emotional harm. Mason allegedly texted Jones posed as a fictional character, "Mrs. Wilson," often asking Jones to repeat what they referred to as the "third question": "Mrs. Wilson wanted to know if I wanted to f*ck you!" In many texts included in the legal filing, Jones responds "no," calling the advances "yucky," or laughing them off. Jones said Mason demoted her, transferred her and ultimately cut her pay over a period of time. Mason denies all charges.
In a different suit, Cheryl Matory and Tomeca Barnes accuse Mason of a sexually hostile work environment, sex discrimination and race discrimination in a joint complaint from January 2017. Court documents allege that Mason began frequently texting Matory about Barnes in attempts to try to have sex with her. Barnes became so uncomfortable being left alone with Mason, even at work, that she asked Matory to accompany her during briefings. In July 2016, Matory and Barnes were demoted and replaced with a white man and a black man, respectively. Mason also denies these charges, which represent one side of a legal dispute. —Ko Bragg
Wayne Parish
Wayne Parish, the man a Hinds County grand jury indicted for the killing of 17-year-old Charles McDonald Jr. in 2016, will face trial on Jan. 29, in front of Hinds County Circuit Court Judge Winston Kidd. Parish's trial will be intriguing to follow, as a Hinds County Jury will decide what unfolded when the troubled teen died as a result of an altercation with Parish. In summer 2016, Yvette Mason-Sherman was taking her son to the Henley-Young Juvenile Justice Center when he jumped out of the car and ran down the hill and into the parking lot of Performance Oil Equipment, she told the Jackson Free Press. Parish came out with a loaded gun because he believed the teen was breaking into a car. On Dec. 28, Parish filed court documents requesting McDonald's Henley-Young files in efforts to use alleged drug use to link aggressive behavior to McDonald to justify Parish's self-defense claims. Mason-Sherman also filed a wrongful death suit against Parish in March 2017. —Ko Bragg
Bob Miller
Bob Miller is the Lumumba administration's director of public works. The Kentucky native moved to Jackson from New Orleans, where he served as that city's director of its Sewerage and Water Board for eight years. Miller is off to a busy start in what he calls the "fourth quarter of his career." He told the Jackson Free Press in November that he plans to replace 1 to 2 percent of the city's infrastructure system so the city will have a brand-new system in the next 50 to 100 years. He has begun tackling infrastructure and so far, has done so transparently. After starting his position in October, Miller has halted legal action against West Rankin Utility Authority, paved the streets downtown and around the two new museums, saved the City $5 million after re-evaluating a sludge-hauling contract, and he is currently dealing with a system-wide emergency water situation stemming from the freezing cold temperatures Jackson experienced the first week of the year. And he's very available to the media. —Ko Bragg
Jason Wells
The mayoral election in 2017 was eventful, to say the least, and had some interesting candidates. One in particular stands out to us: Republican nominee Jason Wells. The Clinton native followed in his family's footsteps into the law-enforcement field and became a security officer with the Jackson Police Department. Before last year's mayoral election, he had already participated in a few, from running against Tony Yarber in a Jackson City Council election to running for constable. In our interview with him in May 2017, he said he wanted to bring down the crime rate in the city, revamp city parks, fix the problem of deteriorating infrastructure and more, which is all fine and good. But his one goal that really drew attention from our readers was the idea to build an aquarium in front of City Hall. He ultimately lost the election to Lumumba, but we can still mourn the aquarium that will not be. —Amber Helsel
More stories by this author
Support our reporting -- Become a JFP VIP.
The news business has changed dramatically in the past year, and we need your help more than ever to keep bringing you important stories about Jackson and the Metro. Become a JFP VIP with an annual membership or you can Sign up as a monthly supporter. Thanks for anything you can do to empower our journalism!