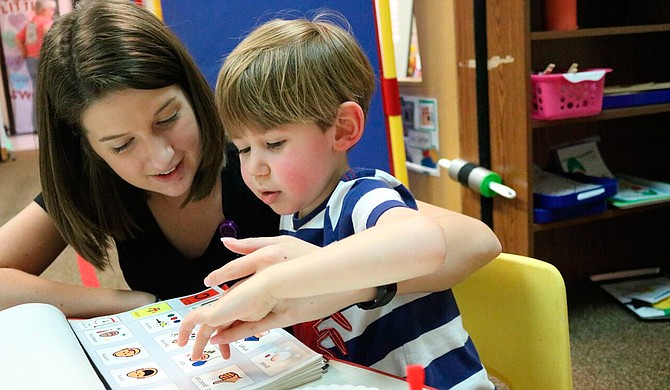 Kenny and Vicki Scianna, Madison residents who attended the University of Southern Mississippi, recently established an endowment for the university's Children's Center for Communication and Development, which is a nonprofit that provides free therapies for children under age 5 with complex communicative and developmental disabilities.
The Sciannas set up the Blair Scianna Memorial Endowment, named for their daughter, Blair Scianna, who had cerebral palsy and passed away in 2013 at age 29, with a donation of $30,000 in July.
It will provide funding for programs at the Children's Center such as equine therapy at local farms and transitional therapy programs that help children who are re-entering local public schools after leaving the center's programs. The Sciannas also issued a challenge to other donors to give another $30,000 total, matching their pledge to the center.
"We decided to make a donation and challenge others to match it to get more people involved and get more help for the center," Kenny Scianna told the Jackson Free Press. "My wife and I work with families to talk about their needs and help children with disabilities. We want to teach families ways to reach and communicate with their children that they may not otherwise learn."
To learn more about the Blair Scianna Memorial Endowment, visit usmfoundation.com/sciannachallenge.
University of Mississippi Issues Donation Challenge for Medgar Evers Scholarship
John Robin Bradley, professor emeritus at the University of Mississippi School of Law, recently challenged the University of Mississippi Office of Development to raise $100,000 for the Medgar Evers Scholarship in Law Endowment. Bradley has pledged to match the amount with a donation of his own if UM meets the goal.
Bradley established the endowment in 2008 with more than $100,000 to give financial assistance to law students, particularly those attending historically black colleges and universities such as Tougaloo College, Jackson State University and Alcorn State University.
The University of Mississippi said in a release that it has already received $10,000 toward the campaign goal, and that the Jackson office of firm Balch & Bingham LLP provided the first donation with a $2,500 gift.
Bradley is a graduate of Mississippi College and the UM School of Law. He ran a private law practice for four years before joining the faculty at the University of Mississippi in 1966. He also served as chair of the administrative law and workers' compensation section of the Mississippi Bar and as chair of the Mississippi Workers' Compensation Advisory Council.
For more information on the Medgar Evers Scholarship in Law, visit https://www.umfoundation.com/makeagift/ or call 662-915-1122.
Millsaps Begins 2018 Arts & Lecture Series
Millsaps College (1701 N. State St.) will launch the latest season of its long-running Arts & Lecture Series on Tuesday, Aug. 28, with a performance from the Marta Szlubowska Ensemble. Szlubowska is the Mississippi Symphony Orchestra's principal violist and concertmaster.
The program, which will take place at 7 p.m. in Millsaps' Gertrude C. Ford Academic Complex Recital Hall, features classics and popular music from various cultures arranged for strings and accordion, including works from composers Antonio Lucio Vivaldi, George Gershwin and Antonin Dvorak. Tickets are $10 per person.
A group of volunteers founded the Arts & Lecture Series in the 1960s as part of Millsaps' community outreach mission, the college's website states. The series features programs covering a variety of fields, including literature, history, film, music and more.
For more information and to see this season's programs, visit http://www.millsaps.edu/major-happenings/arts-lecture-series.php.
Support our reporting -- Follow the MFP.