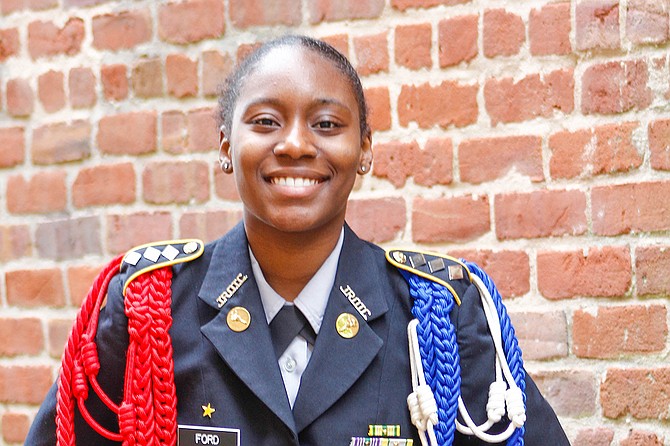 In the current political climate in the U.S., teens have shown that they are a force to be reckoned with, and that they are pretty amazing. Each year the Jackson Free Press honors some of the local teens doing amazing things. Here are this year's.
Kaitlyn Fowler
When Kaitlyn Fowler was around age 4, her parents, Kristen and Joshua Fowler, made her take taekwondo. "I always got run over on the playground trying to get to the slide because I was small, and I was 4, and I didn't really assert myself or presence," she says.
She gained more confidence through the Korean practice, she says. And when she got older, that confidence helped her find her voice both as a writer and someone who wants to make a difference in the community and the world.
Fowler, who is a junior at Murrah High School, also read a lot as a child.
"My parents joke that the summer between pre-(school) and kindergarten, I was going to teach myself how to read, and I did," she says. "I haven't slowed down since."
After falling in love with reading, a love affair with English and writing seemed like the natural second step, she says.
Fowler, 16, is currently the editor in chief of Murrah's school newspaper, The Hoofbeat, and participated in the Mississippi Youth Media Project in summer 2017.
She likes to write about topics that deal with inequities in society. During YMP last summer, she did research on the violent 1963 Woolworth sit-in in Jackson and was also on the team that followed Mayor Chokwe A. Lumumba. In 2017, she also wrote an in-depth story about JPS' probation for The Hoofbeat. Her story made the finalist list during Mississippi Scholastic Press Association's Best of Mississippi. She has also written about JPS' shutdown earlier this year over the city's water issues, and her editorial on House Bill 957 (had it passed, it would have reconfigured the state's education-funding formula) went viral this year.
"When I started writing essays and stuff, and just when I started having conversations with people and realized something that I wanted to say and something that I wanted to change, then that's how I found my voice," Fowler says.
"I had to find my confidence first, and I had to find what I cared about."
Fowler also participates in the theater group at the Power Academic and Performing Arts Complex. She plans to attend Mercer University and major in communications. —Amber Helsel
Caleb Singleton
While Provine High School junior Caleb Singleton, 16, likes politics, being a page for the Mississippi Senate taught him about more than just the political process.
"This experience taught me hard work, responsibility, (how) to keep up with stuff (and) make smart choices," he says.
Sen. Sollie Norwood, D-Jackson, offered him the position in early 2017, and Singleton was a page for a week near the end of February. While learning about how state government works, he also had duties such as running errands for officials and Senate staff. His favorite part of the experience was meeting other students from around the state.
Singleton plays first base, outfield and pitcher for Provine's baseball team. He began playing the sport in 2006 and found it so interesting that he wanted to stick with it. Baseball is fun, he says, but the sport can teach lessons as well, including using common sense and learning to follow the rules.
Singleton wants to go to the University of Mississippi, play baseball and major in public service.
"If it doesn't work out for me in baseball, then I might try the political thing," Singleton says.
He says he would like to be a city council member one day.
In addition to baseball, Singleton plays basketball, too, although not for the school. He often plays for fun with a group of friends, and like baseball, he says he finds the sport interesting. —Mike McDonald
JKennethon Smith
Throughout his career at Wingfield High School, senior JKennethon Smith, 18, has been just as active outside the classroom as he is in it.
The Jackson native has a variety of athletic pursuits, which include playing football and practicing jujitsu. He is also involved with the chess team, which placed fifth in the annual Mississippi Scholastic Chess Tournament in March.
"It's basically a mind game, thinking about all the different ways you can checkmate people," he says of chess. "You can meet new people, there are all these different places you can go because of it, and you can even get scholarships from chess."
Smith wants to continue playing the game during college. After graduating from Wingfield in May, he plans to attend Hinds Community College in Utica and then study agribusiness, and plant and floral science at Alcorn State University.
He then hopes to obtain a master's degree in bioengineering from Mississippi State University.
Smith says his interest in farming developed further through Wingfield's gardening program and the 4-H Club, of which he has been president for the past three years. One of his personal goals in the field of agriculture is to design his own tractor.
"There ain't really too many black manufacturers nowadays. There are no African Americans," he says.
"So I figure that if I can really get into agriculture like I want to, then me and my friends who are also into it can band together, and try to actually make our own tractor and mass-produce it around the world."
When not in school or involved in extracurricular activities, Smith says he enjoys volunteering and helping out at his church, New Hope Missionary Baptist Church. —Micah Smith
Moriah Roland
Jackson native Moriah Renee Roland may be just a freshman at Murrah High School, but she already has art accolades under her belt.
She was a 2018 American Visions Nominee and a Gold Key recipient in the Mississippi Scholastic Art & Writing awards for her mixed-media creation, featuring colored pencil and cut paper that show her parents, relatives and friends sitting down for a meal to celebrate the life of her aunt, Genise Crayton, after Crayton passed away.
"It's a celebration," Roland says, "not a funeral."
Roland says she has been an artist for as long as she can remember, going all the way back to when she and her family would go out to eat and the restaurant would give her some crayons and paper to create with. As she has gotten older, drawing has become a way to channel her emotions and be creative.
She is a member of the Power Academic and Performing Arts Complex and is also a member of Murrah's debate team. She says she loves the diversity of topics and going head-to-head with an opponent, even if she is on the opposite side of the argument from her personal beliefs. One of her favorite topics to debate is politics, specifically economic inequality.
"I like being out of my comfort zone," she says.
Roland, 15, says her future plans include attending a prestigious university and becoming an art therapist.
"I want to use art to help others achieve comfort and happiness and give them a tool to better handle life," 
the freshman says. —R.H. Coupe
Keshuna Luckett
Currently, Lanier High School girl's basketball point guard Keshuna Luckett has 17 Player of the Game awards from MaxPreps. Her most recent one was from Lanier's Dec. 27 game against Provine High School.
Luckett, a Jackson native, has been playing basketball since sixth grade. She played for Powell Middle School in seventh and eighth, and has played for Lanier since her freshman year in 2015. So far, she has played 79 games and has an average of 13.1 points, 2.4 assists, 4.3 rebounds, 2.1 steals and .0 blocks per game.
"(Basketball) just keeps my mind off things," she says. "It's something I'm really good at."
On Jan. 8, Jackson Public Schools nominated her for Hardwood Hero of the Week for a game against Raymond High School, in which she accumulated 20 points, nine rebounds, eight assists and two steals.
"If you perform good, if you have the best performance in JPS student athletes, you get named Hardwood Hero of the Week," she says.
She was also in the running for the Circle B Hardwood Hero winner, though Ladarius Marshall of Forest Hill High School won.
After Luckett graduates in 2019, she has plans to play basketball wherever she goes to college.
She says that if basketball does not work out, she wants to be an engineer.
"I just want to deal with math and numbers," Luckett says.
When she's not playing basketball or learning about her favorite subject, math, she likes to hang out with her brothers and sisters, and play games such as Uno on her phone. —Amber Helsel
Logan Hicks
Though Logan Hicks, 18, is the drum major for Northwest Rankin High School's marching band, his real passion lies in his position as a trombone player for the school's concert ensemble, which performs at festivals such as the State Concert Band Evaluation, and holds concerts each December and April. He has been part of the concert and marching bands for four years and has been the drum major for the marching band for two.
Hicks has been playing trombone for seven years, starting after a school field trip to NWRHS when he was in fifth grade at Oakdale Elementary School. He and his fellow students were allowed to try out various instruments as part of the trip, and Hicks says he chose the trombone because he found its slide mechanism interesting.
"I ended up joining the band (in sixth grade) and staying in all through middle and high school," Hicks says. "Music is something I really enjoy because it gives me an outlet for my creativity and lets me express who I am in a way I couldn't do otherwise."
Hicks has been a member of the Mississippi All State Band for three years and was named its principal trombone player this year. He also plays in the United States Army All-American Band and is the lead trombone player for the Mississippi All-State Jazz Band.
After graduating ,Hicks plans to attend the University of Alabama in Tuscaloosa and major in music education. He also has plans to pursue a graduate degree in trombone performance from Indiana University Bloomington and try out for the Chicago Symphony Orchestra, which has "one of the best brass sections in the world," he says. —Dustin Cardon
Roaman Zhou
When Roaman Zhou attended Whittier Christian High School outside of Los Angeles, he says that with the large Chinese and Asian population in California, the students often didn't speak English.
"There's a lot of places where you can just speak Chinese and live there," Zhou says.
However, both he and his parents wanted him to have wider experiences than that environment.
Zhou, who is from southwest China, visited Jackson Prep during Easter break in 2017 and says he loved the school. He then applied for the international program.
Zhou, now 17, started at Jackson Prep at the beginning of the 2017-2018 school year.
"Everything is cool here," he says.
When he came to Prep, he decided to try out for the football team, and he is now a linebacker and running back. He was part of the JP team that won the 2017 AAAA Division 1 State Championship in the game against Parklane Academy on Nov. 17. At press time, Zhou was in middle of basketball tryouts at Jackson Prep.
When he is not playing football or learning about his favorite subject, chemistry, Zhou is also in Prep's Chess Club. He is also learning to play guitar and started driving this year and got his license. —Amber Helsel
Tatyana Lenard
Tatyana Lenard, 17, has her hand in many different pots.
The Forest Hill High School junior is a part of the culinary arts program at the Jackson Public Schools Career Development Center and a member of the National Technical Honor Society. In early March, she won first place at the Family, Career and Community Leaders of America state culinary competition in the nutritional wellness category. She will compete with her project on the national level in Atlanta, Ga., this summer.
"I enjoy learning about food and how nutrition can help others," she says.
Lenard is the clarinet section leader for the Forest Hill marching band and seventh clarinet chair for the All City Honors Band. She was also a Top 10 Finalist in the 2017 National American Miss pageant and competed in the 2017 Miss Mississippi Teen USA pageant under the title, "Miss Magnolia State Teen."
"I always dreamed of being in a pageant," Lenard says. "It's fun getting to know new people and learn from them."
When she's not taking part in her numerous activities, Lenard works at McAlister's in Pearl.
"I try to bring a positive atmosphere to wherever I am," she says.
"I want people to know that they are beautiful, and as long as you put your mind to it, you can do anything."
Lenard plans to major in law and minor in culinary arts at Mississippi University for Women. Her goal is to be a paralegal.
"I want to give back to the community," Lenard says. —Abigail Walker
Britney Bonney
Madison Central High School senior Britney Bonney loves softball. She began playing when she was 5 years old. In seventh and eighth grades, she was also a member back-to-back 6A runner-up softball teams for the Jaguars. She is now a star pitcher for the Jaguars.
Bonney surpassed her strikeout total from her junior season, with a current total of 101 strikeouts as she prepares to lead Madison Central in to the playoffs.
The 17-year-old hits clean for the Jaguars, with a .354 batting average and 23 hits, 20 runs batted in and 13 runs.
"I am super competitive and hate to lose," she says. "I'm determined to win and will cry after (losses), but my goal is to bring a state championship back to Madison Central in my final season."
On April 10, she was nominated for Player of the Week for her play from April 3-9. She earned a selection to the 2017 Fast Pitch Softball All-Stars last season. She finished last year playing her final season for Mississippi Elite, a traveling softball team that played games in Alabama, Florida, Tennessee and Louisiana.
Bonney is also an elite bowler and finished as the girl's top player in the 2015 State Bowling Championships.
When she isn't playing softball, Bonney volunteers at Women's Place nursing home, where she eats, watches TV, talks and does crafts with residents. She has helped with Toys for Tots, filled a food truck for the needy and has given blood at Madison Central.
The senior says she only drinks water and eats at Red Samurai Express after every softball game, and loves to shop, fish and jam out to early-2000s music when she isn't playing the sport.
Bonney plans to attend Mississippi State University in fall 2018 and major in business. —Bryan Flynn
Kelsee Ford
Originally, Kelsee Ford took Junior Reserve Officer Training Corps to avoid physical-education class, not even realizing what the organization was, but she soon found something that attracted her to it.
"JROTC has taught me how to work in a team and how to get along with very different personalities," 
she says.
Ford, an 18-year-old Murrah High School senior, has been a member of JROTC since her freshman year of high school.
Most recently, Jackson Public Schools named her Cadet of the Year for 2018. To receive the award, candidates had to demonstrate excellence in areas such as academics, physical fitness, writing and oral-communication skills.
"There are many things that I've accomplished, but this was like no other," Ford says.
"I made my parents proud, my cadre, my battalion, my true friends, and above all myself."
She is also on the school's tennis team, the yearbook staff and is a member of the Murrah Concert Singers. She is active in the White Oak Missionary Church has rung bells for the Salvation Army at Christmas time, and participated in the Mississippi Youth Media Project, developing a love for photography.
Last summer, she attended the American Legion Auxiliary Girl's State, a week-long program designed to teach responsible citizenship.
Ford is currently completing her application to attend the U.S. Army's military academy in West Point, N.Y. "I want to be a (military police officer) in the Army because it is my passion to help people," she says, "and because it is a skill I can use in
 civilian life." —R.H. Coupe
Dolph Maxwell
Randolph Maxwell, who goes by Dolph, was born and raised in Jackson. The youngest of five, Maxwell says his siblings did well in sports, academics and performing arts, so they always embodied the type of student he wanted to be.
Maxwell was homeschooled until third grade when he started attending Jackson Academy, where he is currently a senior. He currently serves as Mr. Jackson Academy and class president, and in the past he was elected class vice president, and named class favorite, class beau, and he was also on the Winterfest Court. Jackson Academy also voted Maxwell as its STAR Student of the Year for 2017.
Some of his other achievements include being in the Cum Laude Honor Society, a National Merit Finalist and a Mississippi Economic Council All-Star Student, and he was also a Jernberg Scholar, earning a competitive scholarship that provides full tuition and fees to gifted students with financial needs, two years in a row.
He works part-time at a downtown Jackson law firm, Pollan Dobbs, PLLC, and participates in show choir, theater, football and track.
Maxwell says he will most likely attend Washington and Lee University located in Lexington, Va., in the fall, where he will major in physics before transitioning into pre-medical on his path to becoming a doctor.
"I've been blessed with amazing opportunities, going to a good school and coming from a great family," he says. "(I'm) surrounded by good people who encourage me along the way makes me feel really lucky and blessed to be in a position to do the things I've done." —ShaCamree Gowdy
Vaibhavi Mahajan
"Expropriate" sealed the Mississippi State Spelling Bee win for 14-year-old Vaibhavi Mahajan on March 13. In May, she will compete in the Scripps National Spelling Bee in Washington, D.C., as Mississippi's delegate.
Mahajan, a middle child with two brothers, Vihaan and Varad, says that reading so much when she was younger got her into spelling.
"I don't think i would be as good at it as I am today if I hadn't read so many books as a kid," says the eighth grader at Northwest Rankin Middle School.
In the age of autocorrect and spell check, she does not believe the art of spelling is dead because in preparation for spelling bees, it is important to also know the definition of the word and the origin.
To prepare, Mahajan says she flips through the dictionary, does quizzes online, and anywhere she goes, she is looking for new words to practice.
Mahajan was surprised to win the bee this year because she didn't know what the other 50 middle-schoolers in the competition would be like. Last year, Mahajan lost in the school spelling bee on the word "higgledy-piggledy," a word that means confusion or disorder, and ironically was the same feeling Mahajan says she felt when she had to take a stab at that word.
Outside spelling-bee prep, Mahajan dances jazz, hip-hop and an Indian classical style of dance called bharatnatyam. She is also in the Beta Club, an honor society.
The teen also has dreams of being an astronomer. She says she is interested in black holes and space exploration. "I would totally go (to Mars)," she says. —Ko Bragg
Aaron Thornton
Aaron Thornton, an 18-year-old senior at Callaway High School, did not considered being a trombonist.
"I wanted to play the drums like any other sixth grade student, but I had a teacher who thought the trombone would be better for me," he says.
Thornton learned how to read music in elementary school, and since he could also produce a sound from the trombone, his teacher thought he would be good at the instrument.
Through playing the trombone, he received scholarship to Jackson State University, where he plans to major in industrial engineering and minor in music.
Thornton was a page for the House of Representatives in early February during the 2018 Mississippi legislative session.
While serving in the position, he says he felt intimidated initially, but became eventually a part of the action. "I wanted to (have) my own input," he says.
Even though he does not want to go into politics, he found the experience rewarding.
"I think everyone should do it," he says.
Thornton says that his generation can be misunderstood at times.
"Other generations want to give us advice because they have done something before so their advice is good," he says. "On the other hand, the world is evolving and some things are just not the same. They don't understand our decisions at times, how we use technology or our fashion."
In his free time, he listening to r&b music, playing basketball, attending Lampton Chapel AME Church in Canton and spending time with his family. —Mike McDonald
Ruben Banks
After seeing a commercial for the Marines for the first time, Ruben Banks decided the military was the path for him. The 17-year-old has been part of the Jim Hill High School's Junior Reserve Officer Training Corps since ninth grade.
"I like seeing people in uniform and wanted to be able to wear one of my own, and being in the program also gives me the chance to work with retired military personnel," he says. "I feel like I've been able to learn a lot about leadership and communication since I joined."
Jackson Public Schools named Banks, who is an executive officer in JROTC, the Jim Hill Cadet of the Year in February. The program selected him for the honor following a district-level competition in January in which participants demonstrated physical fitness, essay writing, and public speaking and presentation skills. Banks says that candidates also had to be in a leadership position in JROTC and demonstrate exemplary leadership skills.
When it comes to school, he says he likes all subjects because they are all equally needed. In his free time, he likes doing work in the community.
He plans to attend Florida A&M University after graduating in 2019 and major in mechanical engineering. He also plans to join the university's ROTC program and work toward being commissioned as a second lieutenant.
"I chose Florida A&M because I wanted a place that's not too far from home but has a different feeling and lots of attractions," Banks says. "I also want to be at a school with both an HBCU background and a good engineering program because I feel it's my calling to work on machines like planes and trains." —Dustin Cardon
More stories by this author
Support our reporting -- Become a JFP VIP.
The news business has changed dramatically in the past year, and we need your help more than ever to keep bringing you important stories about Jackson and the Metro. Become a JFP VIP with an annual membership or you can Sign up as a monthly supporter. Thanks for anything you can do to empower our journalism!