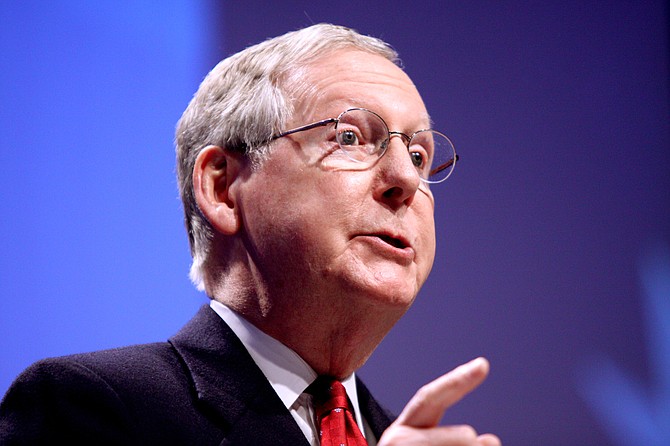 WASHINGTON (AP) — The partisan battle over the country's health care system will "certainly continue," Senate Majority Leader Mitch McConnell said Tuesday. But he stopped short of saying whether the chamber will vote on the latest Republican plan repealing the Obama health care law, which seems virtually certain to be rejected.
The Kentucky Republican made his comment a day after another Republican, moderate Sen. Susan Collins of Maine, said she would oppose the GOP bill in a showdown this week. She is the fourth Republican to say they're against the measure — exceeding the two GOP votes party leaders can lose and still push the measure through the Senate.
McConnell criticized a proposal by Sen. Bernie Sanders, I-Vt., to create a national system of government-run health insurance, which he said would "rip" coverage from many.
He contrasted that with the latest Republican measure repealing much of President Barack Obama's health care overhaul. That bill would transform much of "Obamacare's" spending into grants states could spend on health programs with few constraints.
"It's an important debate for our country. It's one that we'll certainly continue," McConnell said.
McConnell must decide whether to satisfy conservatives insistent on fighting to the bitter end against a law they despise or other Republicans who see little point in yet another defeat on the issue.
The collapse of the repeal effort in the Senate has once again frustrated Republicans in the House, who approved their version of the legislation in May after initial failures.
"The House is committed to doing something about Obamacare and let's see what the Senate throws us," said Rep. Blake Farenthold, R-Texas. "Something's better than nothing and right now we've got nothing."
Sanders' plan has won backing from many Democrats but been treated with caution by others who see it as an easy political target.
"Democrats support a whole bunch of different ideas," Senate Minority Leader Chuck Schumer, D-N.Y., said Tuesday.
In the Senate, even GOP leaders concede their latest repeal effort has little chance.
"It's going to be a heavy lift," South Dakota Sen. John Thune, the No. 3 GOP Senate leader, said Monday.
"We don't have the support for it," said Sen. Orrin Hatch, R-Utah.
The collapse marks a replay of the embarrassing loss President Donald Trump and party leaders suffered in July, when the Senate rejected three attempts to pass legislation erasing Obama's 2010 statute. The GOP has made promises to scrap the law a high-profile vow for years, and its failure to deliver despite controlling the White House and Congress has infuriated conservatives whose votes Republican candidates need.
To resuscitate their push, Republicans would need to change opposing senators' minds, which they've tried unsuccessfully to do for months. Collins told reporters that she made her decision despite a phone call from Trump, who's been futilely trying to press unhappy GOP senators to back the measure.
GOP Sens. John McCain of Arizona, Rand Paul of Kentucky and Texas' Ted Cruz have said they oppose the measure, though Cruz aides said he was seeking changes that would let him vote yes.
Sen. Lisa Murkowski, R-Alaska, remains undecided. Murkowski, who voted against the failed GOP bills in July, has said she's analyzing the measure's impact on her state, where medical costs are high.
This was the last week Republicans had any chance of prevailing with their narrow 52-48 Senate margin. Next Sunday, protections expire against a Democratic filibuster, bill-killing delays that Republicans lack the votes to overcome.
Republicans had pinned their last hopes on a measure by GOP Sens. Bill Cassidy of Louisiana and South Carolina's Lindsey Graham. It would end Obama's Medicaid expansion and subsidies for consumers and ship the money — $1.2 trillion through 2026 — to states to use on health services with few constraints.
Collins announced her decision shortly after the nonpartisan Congressional Budget Office said "millions" of Americans would lose coverage under the bill and projected it would impose $1 trillion in Medicaid cuts through 2026.
The Maine moderate said in a statement that the legislation would make "devastating" cuts in the Medicaid program for poor and disabled people, drive up premiums for millions and weaken protections Obama's law gives people with pre-existing medical conditions.
GOP leaders revised the measure several times, adding money late Sunday for Alaska, Arizona, Maine, Kentucky and Texas in a clear pitch for Republican holdouts. They also gave states the ability — without federal permission — to permit insurers to charge people with serious illnesses higher premiums and to sell low-premium policies with big coverage gaps and high deductibles.
Copyright Associated Press. All rights reserved. This material may not be published, broadcast, rewritten, or redistributed.
Support our reporting -- Become a JFP VIP.
The news business has changed dramatically in the past year, and we need your help more than ever to keep bringing you important stories about Jackson and the Metro. Become a JFP VIP with an annual membership or you can Sign up as a monthly supporter. Thanks for anything you can do to empower our journalism!