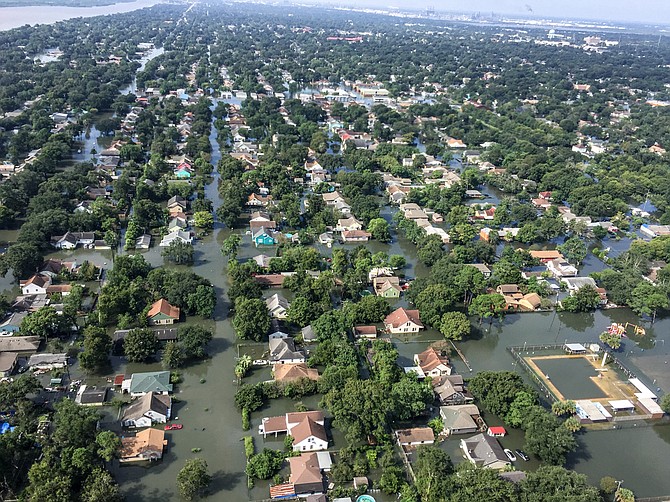 Every time I conduct a business transaction, a quid pro quo is involved. When I sell, or in most times, purchase goods or services, I expect a mutual benefit to complete the transaction. Now, like most things in this country, not all business transactions are equal. At times, people don't get what they pay for. They get screwed. This country is full of industries that companies have monopolized.
It also comes in many forms that are not business-related—well, on its face, anyway. For example, religion has a monopoly on the afterlife. Most people may not associate the righteous world with the business world, but both entities are kinfolk. They seek to monopolize industries in order to maximize profit or influence, or both.
Through scripture, scrolls and sermons, religion offers us a beacon of hope as we all inevitably inch toward death. Spiritual leaders like Joel Osteen have made extremely profitable careers both in influence and monetary gain, offering hope and positivity.
What makes Osteen successful is his demeanor. He is just as much a motivational speaker as he is a preacher, and when he speaks to his congregation, this positive demeanor seemingly exudes from the stage. Osteen says that he tries to teach biblical principles in a simple way, emphasizing the power of love and a positive attitude. The smile and charm have provided him a mega congregation housed in a mega sanctuary with a mega bank account.
Osteen is not only a pastor, but he is also a best-selling author. By hawking merchandise, books and positivity, ole Joel has managed to build a net worth of more than $40 million while being fortunate enough to reside in a $10.5 million home. But the amount of wealth he garnered from the word of Jesus doesn't seem to fit great with, well, the word of Jesus.
I went to Catholic school a very long time ago, and I also no longer identify as a Christian, so forgive me if my biblical interpretations are a tad rusty, but I recall Jesus having an affinity for the poor. The affinity was so strong and absolute that he would encourage those with massive amounts of possessions and wealth to go and sell what they have and give to the poor. Jesus loved for those to not only talk the talk but walk the walk, just as he says to a wealthy young man in Matthew 19:21: "If you would be perfect, go, sell what you possess and give to the poor, and you will have treasure in heaven; and come, follow me." As the wealthy man walks away, Jesus then says in Matthew 19:23-24, "Truly I say to you that with difficulty a rich person will enter into the kingdom of heaven! And again I say to you, it is easier for a camel to go through the eye of a needle than a rich person into the kingdom of God."
Passages like these don't co-exist well with the wealth people gain by teaching the word of Jesus. In fact, obtaining wealth through teaching the word of Jesus clash with each other. This clash is so violent that I ask how one who has gained so much wealth by teaching Jesus' sacrifices, especially financial, be trusted?
Osteen is selling hope—the kind people expect to be there through the best and worst of times. When Hurricane Harvey hit the Houston area, Osteen was comfortably secluded in his $10.5-million home while the doors of his massive church home were allegedly locked at first (the church officially opened to flood victims on Aug. 29).
Even though this is not meant to re-litigate what Osteen did compared to what he should've done, his actions make me wonder if those who invested in him, his teachings, his hope and his positivity got the short end of the stick.
Hell, was he to be trusted in the first place with providing hope when those who bought into this hope needed it most? It's hard to say. Does Osteen provide genuine inspiration through the word of God, or does he provide a business?
Jesus has already taught us you can't provide both, simultaneously, so even if the Osteen transaction was nothing more than a contractual agreement, I am left pondering whether he lived up to his end of the bargain, to his end of the transaction, or did the people who invested so much in him not receive a mutual benefit? Did they, in laymen's terms, get screwed?
Jackson native Leslie McLemore II is a graduate of Jackson State University, North Carolina Central University School of Law and American University Washington College of Law.
More like this story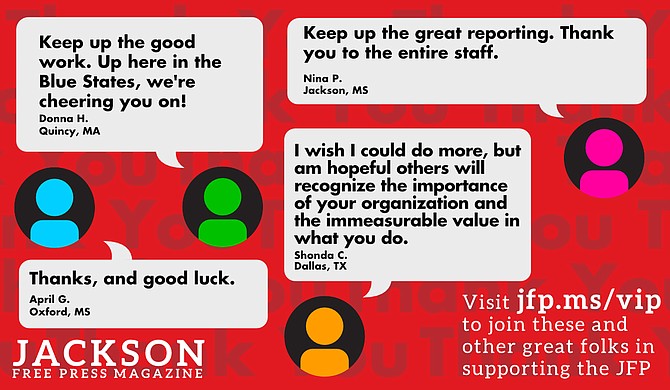 Thanks to all our new JFP VIPs!
COVID-19 has closed down the main sources of the JFP's revenue -- concerts, festivals, fundraisers, restaurants and bars. If everyone reading this article gives $5 or more, we should be able to continue publishing through the crisis. Please pay what you can to keep us reporting and publishing.