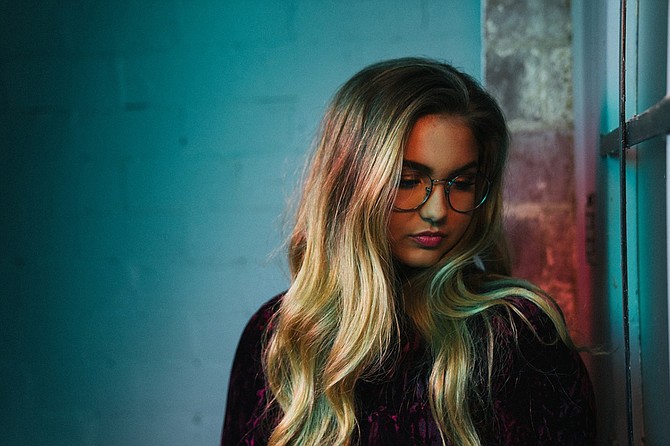 Arabella
Arabella Landrum may only be a junior at Sumrall High School in Sumrall, Miss., but she has already achieved something that many other musicians won't in a lifetime: She opened for a Grammy Award-winning country artist Deana Carter on Sept. 23 in Livingston.
"I thought it was pretty cool because I grew up listening to her music and singing 'Strawberry Wine' karaoke," she says. "It was really a step up and something to work for again."
Fresh off the release of her self-titled EP on Aug. 15, Landrum, who performs as Arabella, says that it is all about mixing a variety of styles together to become something different from the rest for her.
"I grew up the youngest of five siblings in a family that really appreciates music—I listened to it all," she says.
The self-taught musician writes most of her own music and lyrics, and says that her style takes influences from artists such as Adele, Amy Winehouse, Sam Smith and Grace Potter, bringing in a mix of soul and electronic production to her music.
"I like stripped-down performances with just me and my piano, but I love a major production, as well. I always want it to seem like the performance is spontaneous and not staged."
Landrum is currently working on music for a follow-up release, which could potentially be a full-length record, as she is "ready for the next step," she says.
Arabella's debut EP is available on iTunes and Spotify. For more information, visit arabellamusic.net or find Araballa on Instagram.
—Greg Pigott
Cody Rogers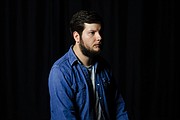 Cody Rogers, a Jackson-based country singer and songwriter, developed his perspective about life's trials and tribulations from a young age.
Rogers, the son of a traveling preacher, grew up in north Mississippi listening to iconic songwriters such as Elmore James and Hank Williams Sr., and began playing bar gigs in and around Oxford at only 16 years old. Those influences also drove home a lifelong passion.
"I knew I wanted to be a singer-songwriter early on, and that's what I've pursued," he says. "Early life experiences gave me fodder for the songs I write. I wish people who love music would go hunting for musicians and songwriters who have experienced a little grit and dirt in their lives.
That's what makes us connect down here in Mississippi."
Rogers, 26, says that a desire to connect listeners who have experienced highs and lows throughout life are at the heart of all his songs.
"I feel I can put my feelings and theirs in my music because that's what makes us connect and talk to each other," he says. "If you ever had the blues, then you and I know what that feels like, even if we never met."
The Corinth, Miss., native, whom fans may remember from his time with Oxford band Holy Ghost Electric Show, is currently preparing to release of his self-produced solo debut, "My Heart Is the Most Lonesome Rodeo," in January 2018.
For more information, find Cody Rogers on Facebook, Twitter and Instagram, and visit codyrogers.bandcamp.com.
—Brinda Fuller Willis
Kicking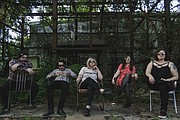 October is the doom-iest month, so it's fitting that Jackson "doomgaze" quintet Kicking is staying busy and making moves. The label is a portmanteau of the doom and shoegaze genres, and describes the churning wall of effect-laden guitar rock that Kicking has developed since forming in January of this year.
"There's a lot of really good music in Jackson," guitarist David Burns says, "but there was nobody really doing what we were interested in doing. Honestly, it's really influenced by early '90s alternative and grunge—Smashing Pumpkins, L7, My Bloody Valentine, stuff like that."
Kicking, which also includes vocalist Bobbie Smith, guitarist Sarah Grace McInnis, bassist Lacy Ellinswood and drummer Henry Atherton, released a live EP and studio session video with Carbon Studios in Cleveland, Miss., on Oct. 2. However, there is still a lot more on the way before the band turns a year old.
Earlier this year, the musicians recorded a four-song EP, which comes out later this month, and in early October, Kicking went to at Malaco Records to track a three-song EP, which the band plans to release by the end of 2017.
Even with all the incoming recorded music, Burns encourages listeners to come see Kicking live. The group's next performance will be as part of the JXN LCL alternative-music showcase on Oct. 20 at Hal & Mal's (200 Commerce St.).
"We like to have fun, and we want to make sure the people who come to hang out with us are having fun, too," he says.
For more information, find Kicking on Facebook and Instagram, and visit kicking.bandcamp.com.
—Alex Thiel
Vitamin Cea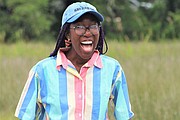 Charity Hicks, known on stage as Vitamin Cea, has had a rapid rise in the ranks of local hip-hop since releasing her debut recording project, "JoyFull Noise," on April 23.
"The success can be kind of intimidating sometimes because of how quickly everything is happening, but it definitely reassures me that I'm headed down the right path," Hicks says.
The 21-year-old native of Gautier, Miss., moved to the capital city in August 2016, transferring from Mississippi Gulf Coast Community College to attend Jackson State University, where she is currently a senior English major.
Since putting out "JoyFull Noise," she has been developing a following in the Jackson area and beyond. Locally, she performed at Mayor Chokwe Lumumba's benefit concert the spring, won "Audience Control" at Hops & Habanas on April 28, and took part in the inaugural "Country Cousinz" showcase at Hal & Mal's on Sept. 15. She has also performed in other cities around the region, including Mobile, Ala., and Baton Rouge, La.
Hicks says that the outpouring of support from people after releasing her music was a surprise to her.
"I was anxious about how I would be received, but I was happy when people liked the music, when they heard it and wanted to hear more," she says.
Hicks is currently working on new music, booking events locally and regionally, visuals and personal renditions of popular tracks, such as Kendrick Lamar's "HUMBLE."
For more information, follow Vitamin Cea on Facebook, Twitter and Instagram, and visit thevitamincea.bandcamp.com.
—Malcolm Morrow
More stories by this author
Support our reporting -- Become a JFP VIP.
The news business has changed dramatically in the past year, and we need your help more than ever to keep bringing you important stories about Jackson and the Metro. Become a JFP VIP with an annual membership or you can Sign up as a monthly supporter. Thanks for anything you can do to empower our journalism!