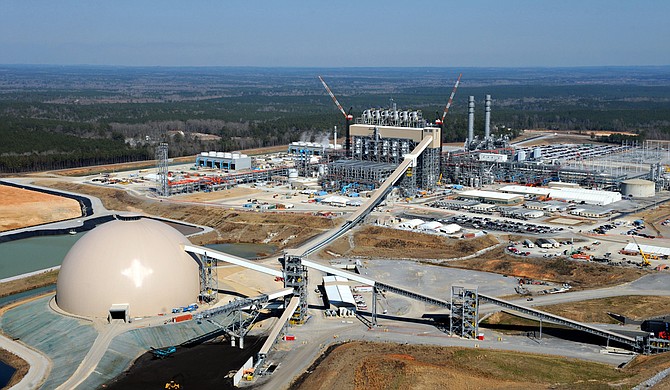 JACKSON, Miss. (AP) — A Mississippi utility, faced with a regulatory ultimatum, said Wednesday that it will suspend efforts to complete a first-of-its-kind coal-fueled power plant.
Mississippi Power Co., a unit of Atlanta-based Southern Co., said Wednesday that it could lose another $3.4 billion from the Kemper County power plant if it can't reach a settlement with regulators. Shareholders have already lost $3.1 billion on the $7.5 billion plant.
The closely-watched plant was seen as a model for coal's future, designed to capture climate-warming carbon dioxide. However, its price ballooned from $2.9 billion originally and it's more than three years behind schedule.
Last week, the three elected members of the Public Service Commission said they wanted Mississippi Power to negotiate a settlement of all the plant's outstanding costs that would prevent rates from going up further for Mississippi Power's 189,000 customers, and preferably lower them. The outline of the deal sought by the three elected commissioners calls for Mississippi Power to run the plant on conventional natural gas, as it has mostly done since 2014, and for ratepayers to only pay for the $840 million in equipment that commissioners already approved.
The company has been trying to achieve sustained operation of two gasifiers that convert soft lignite coal to a synthetic gas. Carbon dioxide and other chemicals are then removed from the gas, before it is burned in conventional turbines to create electricity. However, the company has struggled to run the gasifiers and associated equipment reliably, repeatedly delaying the completion date for the plant. Wednesday, the company acknowledged that it might not be economic to run the plant in the face of low natural gas prices, regulatory opposition and conditions that the Mississippi Public Service Commission originally set.
"Mississippi Power believes that beginning this process is a prudent step to manage costs in light of the current circumstances surrounding the Kemper," the company said of suspending operations and startup efforts at the plant, located in rural Kemper County on Mississippi's eastern border.
Mississippi Power says it will keep making electricity in part of the plant burning natural gas. The Mississippi Public Service Commission allowed the company to raise rates by 15 percent on its customers to recover $840 million.
The company said its ability to negotiate a settlement is "uncertain" and said it will consider "other possible operational and cost recovery options."
Parent Southern has been propping up the finances of deeply indebted Mississippi Power, and it's unclear what would happen if the subsidiary had to absorb the additional loss. It's also unclear what would happen to the site's gasifiers, chemical plant and coal mine.
Copyright Associated Press. All rights reserved. This material may not be published, broadcast, rewritten, or redistributed.
Support our reporting -- Follow the MFP.