Best Contractor; Best Roofers: Watkins Construction & Roofing
3940 Highway 80 W., 601-718-2319, watkinsconstructioninc.com
This year's winner for Best Contractor and Best Roofer, Watkins Construction & Roofing, has been serving Jackson, Brandon, Madison and Ridgeland for nearly two decades.
"I think a lot of our support comes from our customer experience, our relentless pursuit of satisfaction and our use of the best (technology) and strategies ensure that satisfaction," co-owner Michael Dier says.
"We take a lot of pride in what we do and appreciate everything our customers have done for us and the overwhelming response we've gotten from them. Everything is about them, plain and simple."
Watkins specializes in roofing installation and repair, as well as installation for siding, windows, doors, gutters and other home accoutrements. The company also offers roof coating, restoration, and wind and waterproofing, roof inspection and consulting services, and more. Watkins offers metal, copper-tile and shingle roofing options with a 10-year warranty on their services. —Dustin Cardon
Best Contractor finalists
Charter Builders, LLC (601-383-3773) / Complete Exteriors LLC (4725 Highway 80 E., Pearl, 601-707-9498, completeexteriorsms.com) / Invision Construction (224 Avalon Circle, Suite B, Brandon, 601-376-9654, invisionconstructionllc.com) / Shane McLendon Builder, LLC (2084 Dunbarton Drive, Suite A, 601-720-3785, shanethehomebuilder.com)
Best Roofers finalists
Complete Exteriors LLC (4725 Highway 80 E., Pearl, 601-707-9498, completeexteriorsms.com) / Elite Roofing (4 Professional Pkwy., Ridgeland, 601-956-8011, eliteroofms.com) / HomeWell Construction (601-201-5595, homewellms.com) / Ready 2 Roof (1888 Main St., Suite 159, Madison, 601-573-1160, ready2roof.com)
Best Lawn and Garden Center: Lakeland Yard & Garden
4210 Lakeland Drive, Flowood, 601-939-7304, lakelandyardandgarden.com
At times, gardening and lawn maintenance can be as much a pain as it is a pleasure, but luckily, the Jackson metro area has places such as this year's winner for Best Lawn and Garden Center, Lakeland Yard & Garden, to help.
The store opened in March 1980 and currently sits on 17 acres, making it one of the largest retail nurseries in Mississippi. The store works to make sure that employees are knowledgeable in a variety of outdoor areas of expertise, including landscaping, agriculture and horticulture (the art, science, technology and business of plant growing), so they can help even the most novice gardener.
Lakeland Yard & Garden stocks products to serve most outdoor needs, including patio furniture, lawn care and gardening tools, holiday decorations and even bulk organic gardening products. The business is also known for its diverse array of flowers, berry plants, and shade, nut and fruit trees. —Amber Helsel
Finalists: Callaway's Yard & Garden Center (839 Pear Orchard Road, Ridgeland, 601-957-1731, callawayonline.com) / Green Oak (5009 Old Canton Road; 1067 Highland Colony Pkwy., Suite E, Ridgeland; 601-956-5017, greenoakms.com) / Hutto's Home and Garden Center (1320 Ellis Ave., 601-973-2277 / Martinson's Garden Works (650 Highway 51., Ridgeland, 601-856-3078, martinsonsms.com)
Best Heating and AC Service: AC Remedies
2084 Dunbarton Drive, Suite A, 601-665-4729; 601-238-2509, acremedies.com
AC Remedies has been providing heating, air conditioning and ventilation repair, service and installation in the Jackson metro area since January 2013.
The company can perform a variety of services for its customers, including heating and cooling system repairs and replacements, as well as biannual maintenance to make sure that units are in good condition.
"We take care of little issues, big issues and everything else," owner Timothy McLendon told the Jackson Free Press. "We appreciate the business and all the support our customers have given us over the years, and we couldn't have done it without them. It's awesome that people think so highly of us." —Dustin Cardon
Finalists: AirMax Heating and Air (3010 Lakeland Cove, Suite L, 601-939-0015, airmax.ms) / Buford Plumbing (5625 Highway 18 W., 601-372-7676, bufordplumbing.net) / Draine Refrigeration & AC Service (1132 Corinth St., 601-354-1909) / Mid Mississippi Heating and AC, LLC (1420 Thigpen Road, Raymond, 601-624-6336)
Best House Painters: Chad Joy of CertaPro Painters
640 Lakeland E. Drive, Suite A, Flowood, 601-955-1151, jackson.certapro.com
As a franchise, CertaPro Painters has been taking care of interior and exterior painting for residential and commercial buildings around North America for the past 25 years. However, its Jackson branch owner Chad Joy, who opened his location in 2007, and his team that readers voted as this year's Best House Painters.
CertaPro offers residential services such as cabinet refinishing and repainting, drywall repair, painting and staining, power washing, stucco painting, and wallpaper installation and removal. The business also has commercial services such as drywall repair, exterior and interior painting, light carpentry and repairs, and power washing.
"We're extremely appreciative for all the support our customers have given us and are excited to see how we stack up against the competition," Joy says. "We pride ourselves on professionalism, value and communicating the entire scope of our work up front and throughout any project so that people know what they're going to get with us." —Dustin Cardon
Best Interior Design: CasaBella Interiors
1139 Old Fannin Road, Suite O, Brandon, 601-665-4920
CasaBella Interiors co-owner and founder Alisa Berry did not start off doing interior design. Before opening CasaBella in 2009, she was cleaning houses, and in the process, she would help arrange her client's things. After a while, she decided to apply those skills to her own business, focusing on interior design for residential homes and businesses, such as doctors' and dentists' offices.
Since then, Berry has received many awards and accolades, including interior-design magazine Home Accents Today's Top 50 Retailers in 2010 and 2014, a 2010 GuildMaster on Tour Contest winner, and the best interior designer in Mississippi Magazine's 2016 Best of Mississippi competition.
She co-owns the business with her husband, Ronnie Berry.—Tyler Edwards
Finalists: Glo Design Studio (663 Duling Ave., 601-368-9755, glodesignstudio.com) / Lynn Myers Designs (601-941-8265, lynnmyersdesigns.com) / Summerhouse (1109 Highland Colony Pkwy., Suite D, Ridgeland, 601-853-4445, summerhousestyle.com)
Best Local Pest Control: Dependable Pest Service
100 First Choice Drive, Madison, 601-853-1869, dependablepest.net
Billy Joe Messemore started Dependable Pest Service on State Street in Jackson in 1973. Forty-four years later, his son, Billy Ray, and his daughter-in-law, Sherry Messemore, run the company out of Gluckstadt, helping the metro area with services such as mosquito control and termite treatment.
Sherry says that not only do they try to treat their customers like family, but their employees, as well.
"Because we're so family oriented, some of our technicians have been with us for almost 30 years," she says. "I think our customers trust us more than some of the commercial chain pest-control companies (with) a different technician coming in every month."
Dependable Pest Services is open Monday through Friday from 8 a.m. to 5 p.m. —Tyler Edwards
Finalists: ABC Termite and Pest Control (601-856-3704; 601-624-1210) / Family Termite and Environmental Inc. (1300 Sanctuary Drive, Brandon, 601-933-1014) / Patches Pest Plus (125 Summit Ridge Drive, 601-724-2701) / Mosquito Marshals (601-572-9004)
Best Tree Service: Big John's Tree Service
1299 Liberty Road, 601-941-7773, bigjohnstree.net
Big John's Tree Service owner Johnnie Roland grew up removing trees alongside his father, John, who he says taught him the value of a strong work ethic from a young age. For many years, the family ran Country Board Woodyard in Flowood, but after John died of a heart attack in 1991, Roland changed the name to honor his father.
"That's why I named the business 'Big John's Tree Service,' after him," he says. "He was 6-foot-seven—a big guy—so I thought that just fit perfectly."
Roland says a majority of their business comes from referrals and returning customers, which he attributes to the professionalism of Director of Operations Ken Anderson and their experienced crew.
Big John's is open Monday through Friday from 7 a.m. to 6 p.m. —Micah Smith
Finalists: A-1 Discount Tree & Lawn Service, LLC (601-981-4900, a1discounttreems.com) / Couch Tree Service (2929 Highway 468, Pearl, 601-939-7335) / Northeast Tree Service (451 N. Old Canton Road, Madison, 601-856-8974) / Tri-County Tree Service (1456 Douglas Drive, 601-940-5499)
Best Plumbers: Buford Plumbing
5625 Highway 18 W., 601-372-7676, bufordplumbing.net
This year's Best Plumber winner, Buford Plumbing, has done a lot more than unclog a drain or two for the Jackson metro area. Buford Plumbing has been repairing and improving commercial and residential properties throughout central Mississippi since T.D. Buford established the business in the early 1950s.
The current president, Howard Buford, took the reins of the business in 1969, and today, it has more than 100 employees and offers a variety of services, including water-heater installations, kitchen remodels, underground leak fixes, heating and cooling system repairs, and more.
Buford Plumbing is open Monday through Friday from 7 a.m. to 5 p.m. —Micah Smith
Finalists: Brad Rodgers Plumbing (616 Ridgewood Road, Ridgeland, 601-856-0367, bradrodgersplumbing.com) / Davis Plumbing and Gas (2031 Causey Drive, 601-540-0185, davisplumbingandgas.com) / Preferred Plumbing Service (601-932-7073; 601-260-6560; preferredplumbingservice.com) / Skeen Plumbing and Gas (220 Christopher Cove, Ridgeland, 601-856-5758, skeenplumbinggas.com)
Best Housecleaners: Marvelous Maids of Mississippi
601-631-4330, [email protected]
Cleaning is a chore that feels like it's never done, but Jamela Rodgers, owner of Marvelous Maids of Mississippi, says that her business works hard so that customers can focus elsewhere.
"We are a cleaning service that does not want our clients to feel like they have to clean before we get there," she says. "We recognize our clients may be pursuing career goals, managing a family, or simply wants to spend their time in other ways, so our mission is to take the burden of cleaning off of them."
The business offers standard residential and commercial cleaning, cleaning for moving in or out, and real-estate property cleaning services. —Jan M. Richardson
Finalists: Cynthia's Cleaning Services (148 Weisenberger Road, 601-927-5575) / Foster's Cleaning Service (112 Meadowview Drive, Brandon, 601-291-7936) / Olga's Maid (580 S. Pear Orchard Road, Ridgeland, 601-952-0833) / Wilgin's Professional Cleaning Services (601-624-0119)
More like this story
More stories by this author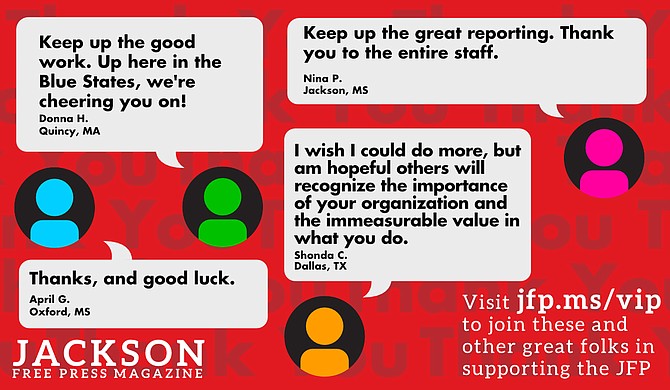 Thanks to all our new JFP VIPs!
COVID-19 has closed down the main sources of the JFP's revenue -- concerts, festivals, fundraisers, restaurants and bars. If everyone reading this article gives $5 or more, we should be able to continue publishing through the crisis. Please pay what you can to keep us reporting and publishing.