Today, in a statement sent to media, U.S. Representative Bennie G. Thompson (MS-02) called for the removal of all confederate monuments and emblems in the United States Capitol and on the Mississippi state flag.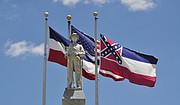 The JFP's archives of historically factual stories about slavery, secession and the Civil War in Mississippi, with lots of links to primary documents.
"Confederate memorabilia have no place in this country and especially not in the United States Capitol. These images symbolize a time of racial discrimination and segregation that continues to haunt this country and many African-Americans who still to this day face racism and bigotry."
"In Mississippi, the confederate emblem continues to be flown on the state flag and was used as a rallying prop during the events that occurred in Charlottesville. The confederate flag was seen in almost every video image taken last Saturday.
"It is past-time for action to remove all confederate symbols in the U.S. Capitol and on the Mississippi state flag. I urge my colleagues both Republican, and Democrat, to work with me to ensure the permanent removal of all offensive and despicable confederate imagery," wrote Thompson.
UPDATE: Mississippi House Speaker Philip Gunn, in a separate statement, posted on his Facebook page that the "confederate battle emblem" continues to be associated with white supremacy and he would like to see it removed from the state flag.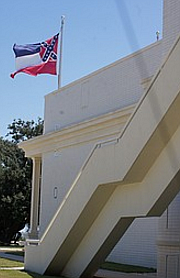 The Mississippi Sons of Confederate Veterans are fighting hard to keep the state flag to honor the Confederacy. Others are fighting back.
See jfp.ms/slavery for more stories about controversies over Confederate emblems. Also read the reasons for the Confederacy and the South's role in the Civil War in Confederate leaders' words here.
Support our reporting -- Follow the MFP.