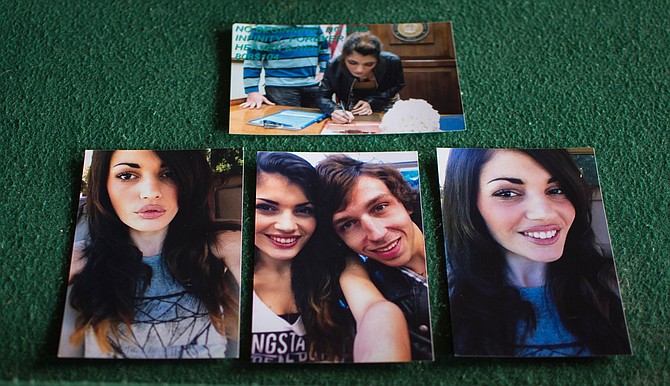 JACKSON — Alex Pollman sat up from her sleep. The clock beside her bed read 11:30 p.m. She felt a strange desperation to talk to her husband Steve Pollman III, whom she had temporarily separated from. For two weeks, she had told her closest friends and family that she needed to talk to Steve—no, that she needed to see Steve. She feared for his life, saying he was not going to make it, thinking that he was going to die.
Ambulance lights flashed in front of Steve's father's house, where he was staying while he and Alex worked through his addiction. Paramedics rushed inside.
Alex received a text from a friend who stayed on Steve's block, alerting her of the incident. Then her phone rang. It was Steve's father. "I'm sorry; I'm so, so sorry," he told her. And that was all there really was to say.
Two weeks before his 28th birthday, Steve fatally overdosed on heroin in 
October 2016. He left behind his wife, Alex, and their 2-year-old son, Sabastian "Bash" Pollman.
"Two days before he died, I said some really awful things," Alex told the Jackson Free Press. "I said, 'I'm going to get a divorce' and things like, 'I don't love you anymore.' But I did love Steve, and now I wish I could have done more. 
He kept telling me, 'I'm going to get clean; I'm going to come home, and we'll be a family.'"
After Steve's memorial ceremony, his father gave Alex his urn and a small plastic bag filled with photographs. He told her Steve had asked to have the photos developed that same week—photos of Alex, Steve and their son.
"Now, (the photographs) are all I really have left of him," Alex said.
Equipping First Responders
Mississippi amended House Bill 996, its Emergency Response and Overdose Prevention Act, on March 15, 2017, to allow pharmacies to provide life-saving, opioid-related overdose drugs without a prescription. The law took effect July 1.
Naloxone, or NARCAN, which is an opioid antagonist, blocks the pain receptors of someone who is experiencing a heroin or opioid overdose and reverses the effects of overdose. Mississippi originally enacted the Emergency Response and Overdose Prevention Act in 2015 to provide immunity from arrest or prosecution to persons who overdose to encourage them to seek medical assistance. With the 2015 introduction of the bill, all emergency medical technicians, police officers and firefighters have NARCAN with them and are in training to administer the drug.
John Dowdy, director of the Mississippi Bureau of Narcotics, led Gov. Phil Bryant's Opioid and Heroin Study Task Force. To him, the most significant part of HB 996's change is the standing order to family and loved ones.
"Not that it's not important for the law enforcement and first responders to have it, but what is significant is that it allows for a standing order to be obtained from a doctor or pharmacist to allow family members, loved ones or friends through consultation to get NARCAN," Dowdy told the Jackson Free Press.
"There have been numerous instances when mom found her son unconscious on the bedroom floor. Had mom had the NARCAN in her possession by giving him the EpiPen injection or the nasal spray, it could have reversed the effects of the opiate."
Alex says that had Mississippi passed this sooner, it could have saved Steve. "His parents were sort of older, so they didn't know much about addiction or what to do in case of overdose," Alex said. "This will save so many lives. If you carry it in your car, and you see someone overdosing at a gas station, you could save their life."
Dowdy says doctors and pharmacists over-prescribing opioids is "the reason we are in this epidemic."
"Last year in Mississippi, there were enough opioids dispensed legally for each person, from infants to elders—2.9 million people—to have 70 pills each," Dowdy said. "That is in excess of 201 million dosage units dispense legally in Mississippi."
Rankin County alone in 2016 had a population of 150,228 and 159,733 opioid prescriptions filled. "There were 9,500 more prescriptions filled than there were people," Dowdy said.
Heroin was involved in 24.0 percent (35 cases) of all opioid-related overdose death in 2015, data from the Mississippi Department of Health show. Dowdy says the amount of heroin in Mississippi has increased significantly.
"Ten years ago, we may have seen one or two instances," Dowdy said. "We had more than 275 separate seizures of heroin in Mississippi in 2016. The fact of the matter is, what we are seeing in Mississippi is the trend we have seen in every other state that has been battling this epidemic. There is substantial over-prescribing, people get addicted, they may not be able to afford it, and then all of the sudden they realize heroin is a lot cheaper."
Looking to the Future
On Aug. 2, the Governor's Opioid and Heroin Study Task Force formally presented its findings on combatting opioid addiction in Mississippi. Dowdy said that with the integration of the task force and HB 996, Mississippi will work to fight addiction.
"One of the things about HB 996 is the fact that the Legislature approved such a progressive piece of legislation," Dowdy said. "Addiction is a disease. Nobody wakes up and says they want to be addicted."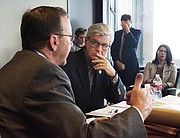 Dowdy says the opioid antagonist, NARCAN, looks promising.
"Back in March, I had a conversation with a major in the Shelby County, Tenn., sheriff's department," Dowdy said. "They equip all of their deputies with NARCAN. They encountered 123 individuals who had overdosed on heroin. They were able to save the lives of 118 people. It's definitely a positive."
Mississippi's opioid-antagonist legislation may do more than protect those who are addicted. Dowdy says some of the strands of synthetic heroin that are laced with Fentanyl can make law-enforcement officers vulnerable to overdose due to exposure to the drug.
"Currently, we are working on the deployment of some of the NARCAN in the state," Dowdy said. "There are some departments that are already carrying it. I'm not sure of the total number of people we've trained; may be in the hundreds."
The Department of Mental Health received a grant of $3.58 million in federal funding from the U.S. Department of Human Health Services to extend services of state treatment facilities as well as the distribution of NARCAN.
"The proceeds of the grant are being used to purchase and distribute NARCAN to the Mississippi Bureau of Narcotics, police officers and DEA officials," Dowdy said. "The Department of Mental Health has been very significant in the implementation."
Though NARCAN is one of the tools used to intervene in this crisis, it's not the end-all solution.
Carlos Coyle, a Kentucky EMS director, called NARCAN "a bandage, not a cure," the Richmond Register reported. NARCAN is intended for emergency situations only, and minutes matter when administering the drug.
"The longer someone goes with a slow or absent respiratory rate, it can result in brain damage," Coyle told the Register. "Early treatment for these patients is paramount for them to be able to recover."
NARCAN makers urge those administering the drug to seek immediate medical attention afterward.
Bryant's Heroin and Opioid Task Force recommendations include extending NARCAN distribution statewide but acknowledge its limitations by addressing other improvements to substance-abuse treatment. At the Aug. 2 meeting, Bryant said addiction is a disease, and he brought together this task force because Mississippi is in a state of emergency.
"By current time (Aug. 2), we've had 95 overdoses," Bryant said. "This is as serious of an issue as we have ever had related to drug overdoses and death. We are going to have to find a way to reduce these deaths, to reduce the distribution of (prescription opioids) - and we have to be ever mindful that this is a legal product."
The task force's 41 recommendations include changing practices for health care providers; improving law enforcement and prosecutorial procedures; and enhancing education, prevention and treatment in the state. The task force suggested putting aside more state funding for the crisis and expanding rehabilitation services for addicts and extending sentencing for dealers whose sale of illegal drugs resulted in an overdose death.
The Centers for Disease Control estimated that Mississippi spent $141.7 million on health care from opioid abuse, about 0.6 percent of its total abuse-related health care costs from 2010 to 2011.
The task force's report does not disclose how much funding the state will need to fulfill its recommendations. The Legislature cut the Department of Mental Health's alcohol and substance-abuse program funds by 6.47 percent or approximately $14.3 million.
The retail cost of NARCAN averages around $125 per dosage without health-care coverage and an average $10 co-pay with coverage. Each overdose could cost the person-at-risk thousands of dollars in medical expenses, depending on the type of care received and amount of time spent in a hospital.
The National Institute on Drug Abuse suggests that rehabilitation services can cost families nearly $4,700 per year for methadone maintenance, while incarceration of the individual costs the state six times that amount. For now, the state will use NARCAN to reverse opioids devastating effects on the economy, lives and Mississippi families.
Alex warns Mississippians not to ignore addiction or assume that overdose will never happen to your loved one.
"NARCAN is saving lives, and you don't want to look back and think, 'I should have done this,'" she said. "Be prepared and don't let addiction take your loved one when there's something right there to save them."
Her son, Bash, looks like his father and copies his mannerisms. He says "dada" and smiles the way Steve did. Alex jokes with herself that Steve's still around.
Alex says when Bash is older, she'll show him the few pictures, writings and recordings of his father's songs she has left. 
 "He wasn't his addiction; he was more than that," Alex said of Steve. "That's why I'm going to be the one to tell him who his father was. I'm going to be the one to show him the photographs and tell him of the wonderful things his father was—not just about his addiction."
Correction: An earlier version of this story misspelled Sabastian's name; we apologize for the error. Cam Bonelli is an intern with the Jackson Free Press.
Read more stories at jfp.ms/addiction.
Support our reporting -- Follow the MFP.