Katie Alexander's one-story home in the little Mississippi town of Rolling Fork sits at the corner of Magnolia and Sidney Alexander streets. It is not a coincidence that her street shares her name.
It used to be called Poplar Street, but it was renamed in 1989 to honor Katie's father, a civil-rights organizer who had been registering African Americans to vote at the time of his murder in September 1970. He was a casualty in Mississippi's notoriously bloody civil-rights struggle, shot to death in his home, just around the corner from where his daughter lives now.
Alexander had seven brothers and sisters, most of whom eventually left Mississippi. But Katie never really considered leaving. She says she needed to take care of her mother, and was too involved in her church to pull up stakes. So she stayed on in Rolling Fork, having a daughter, whom she raised as a single mom after her partner's death from a heart attack. She took an office job with the municipal government and rented an apartment from a cousin.
Now 59, Alexander says she has dreamed of buying a home for years. But, with an income of only $28,000 a year, her credit was a problem. She thought she would be rejected if she applied for a home loan, so she never tried.
A couple of years ago, Alexander heard about financial literacy classes at the Bank of Anguilla. She'd dealt in the past with this particular bank, and it didn't go well. About 30 years earlier, she had applied for a small loan there and was told she needed a co-signer, despite her savings. She withdrew all her money in anger.
"I saw it as a farmers' bank at that time," she says—and not one particularly welcoming to African Americans.
But the bank "changed its demeanor" over the years, Alexander says, and became a stronger ally to the black community. So she signed up for the five-week class.
At first, the students gathered at a building owned by the county, then at a library, and finally at a church. Most of the students were black women in their 40s and 50s. They told the instructors horror stories about payday loans and debt collectors.
Alexander's problems were never that bad. But she felt she was spending too much money and needed to establish credit. She says the class changed her habits, and she now saves $100 each month.
The class also gave Alexander new relationships with bankers, some of whom attended each of the five class sessions. They decided that she qualified for a loan after getting to know her, despite her limited credit history. She had her eye on a house in town, so she sat down with Elise Cook, a loan officer, and worked out the details.
In July 2015, her $39,000 loan was approved. Forty-five years after her father's death, she owned a piece of the street named after him.
A History of Unfairness
In the Mississippi Delta, one of the poorest regions in the United States, buying a home is often out of reach. And lenders have a history of unfairness to African Americans. As a result, it's been difficult for Delta residents to build any assets.
But stories like Alexander's are standing that history on its head.
In a region where foundations are scarce and nonprofits lack resources, local banks and credit unions are increasingly helping poor residents escape poverty by providing credit, teaching the dangers of payday lending, and encouraging development of worker-owned cooperatives.
Unless you live in the Delta, you probably won't recognize the names of the financial institutions doing this work. That's because America's largest—banks like Citibank, Wells Fargo and JPMorgan Chase—tend to avoid low-income customers, and rarely provide service in rural areas. These banks exist to maximize profit for shareholders, and the small loans that Delta residents want are not particularly profitable.
To understand why, it helps to think like a banker.
All loans have overhead costs, including the salaries of the employees who process the loan. These costs are about the same whether the loan is for $5 million or $50,000. Because the bank makes money on the interest, the larger loan makes the bank much more money. It doesn't help that loans to low-income people need customization and planning to make sure they don't end up in default—the automated systems that large banks rely on won't cut it.
So bankers tend to turn down loan applications from low-income people. While they argue they're just making good business decisions, the result is that it's difficult for the poor to accumulate wealth.
"In order to get from poverty to the middle class, you need a home and an education," says Mehrsa Baradaran, a law professor at the University of Georgia and author of a book on the history of banking. "To get those, you need credit."
The banks and credit unions profiled here still need to make a profit, but it's not their only reason for existence. Like a nonprofit organization, they're driven by a mission—to promote economic opportunity in their region and among the poor. Technically, they're known as Community Development Financial Institutions, or CDFIs, certified members in a program the U.S. Treasury Department operates.
These organizations have to prove to the government that they're mission-driven, and that at least 50 percent of their assets are invested in low-income areas.
Once they're certified, they're eligible for various types of monetary awards that encourage local investment and help to offset the fact that banking for the poor isn't always profitable.
Though tiny by Washington, D.C., standards, the program has grown dramatically in the more than 20 years since it was passed into law as the Riegle Community Development and Regulatory Improvement Act. Congress allocated $50 million to the program in 1997.
By 2015, that figure had increased to about $234 million.
Today, there are more than 1,000 certified CDFIs around the United States. Researcher Steve Dubb of the Democracy Collaborative estimates that they control about 0.4 percent of all U.S. banking assets—again a miniscule amount, but a vital resource in a place like the Delta.
Mississippi has more CDFIs per capita than any other state. Its financial ecosystem is a unique place, where bankers and residents are coming to see one another as allies despite a difficult history.
It's a window into what the United States might look like if the government actively recruited banks and credit unions as allies in the fight against poverty.
Unlikely Allies
If we don't help our community, the community's going to die," says Huey Townsend, the president and CEO of Guaranty Bank & Trust. His bank, established in 1943 to serve the credit needs of local planters, is located in Belzoni. The poverty rate in surrounding Humphreys County is more than 40 percent, almost three times the national average.
Inequality here is stark. Belzoni has neighborhoods of stately red-brick buildings with meticulously maintained lawns, while others resemble developing world slums. Rickety wooden shacks are collapsing around their owners, with roofs caving in and siding peeling off. It's a level of poverty some would be surprised to see in the United States. Many choose to flee, and the county lost more than 16 percent of its population between 2000 and 2010.
Bank CEO Townsend doesn't exactly look like a fighter for the dispossessed. His appearance is about what you would expect from a former chairman of the Mississippi Bankers' Association. He is a silver-haired white man in his mid-60s, with a wide face and a skeptical gaze.
But, powered by nearly $2.5 million in awards from the CDFI Fund, his institution has emerged as a leader in providing financial services to the poor, along with a handful of others in the region. The financial literacy class that led to Katie Alexander's home loan, for example, was the result of a partnership between Guaranty Bank & Trust and the Bank of Anguilla.
Back in 2012, Guaranty hired Clifton Williams, a savvy Delta native who had worked for the Federal Deposit Insurance Corporation as a bank regulator for 34 years, to handle community outreach. Williams spent six months researching the local situation and learned that about half of Delta households had either spotty access to banking services or none at all. That's about double the national rate.
Low-income residents often needed money they didn't have, and ended up going to a payday lender. That started a cycle of debt that damaged thousands of lives.
Williams thought local people would do better if someone warned them about the dangers of payday loans and told them about alternatives. Guaranty Bank & Trust, which needed a local customer base with decent credit, would benefit, too.
So Williams built a financial literacy class modeled on an FDIC program called Money Smart, but adapted for the Delta. Once the classes were rolling, he was perfectly positioned to bring other banks in as partners, since their employees all knew him from his time as a bank examiner.
By the end of 2015, Williams had 16 banks teaching the courses, and 1,585 certified graduates.
Latasha Coleman is one of them. She's a bright-eyed single mom who lives in Rolling Fork with her parents and four kids. Her house looks out on a little public playground; across the street is a vast cornfield. She works full-time as a nurse's assistant in the nearby town of Vicksburg, but makes only about $18,000 a year.
"I was in the red zone all the way," Coleman says of the months just before she signed up for Williams' class. She tells of taking out a loan to pay a medical bill, then taking a second one to pay off the first one. She estimates that she was spending about $2,000 a year on interest.
After she finished the class, Coleman pledged to stay away from payday loans. But she fell off the wagon. She decided to take the class over again. Now, she says she hasn't taken a payday loan in two years.
This education program isn't the only thing Guaranty has done to address its neighbors' financial problems. A YES! Magazine analysis of 2014 data reported under the Home Mortgage Disclosure Act reveals that Guaranty was among the top providers of home loans in the 13 Delta counties where poverty is a persistent problem. Local CDFIs together made fully a third of housing loans here, while the large national banks that dominate home lending in most areas made only a handful.
`What's remarkable about the loans community banks are making here isn't necessarily low interest rates—the rates are mostly standard. Instead, it's that the loans were approved at all, and that they don't tend to go into default.
For example, Guaranty Bank & Trust approved about 50 percent of loan applications it received from Delta residents making less than $30,000 a year. That's substantially better than the 30 percent of applications from similar residents approved by Regions Bank, which has nearly 200 times greater assets, but is not a CDFI.
Oases in the Desert
Commercial banks are crucial to antipoverty finance in Mississippi, but they're not the whole story. One of the most creative voices in the sector belongs to Bill Bynum, who in 1994 helped found a group that later became Hope Enterprise Development Corporation.
Hope is a loan fund—a nonprofit organization that specializes in lending and investing money. Like Guaranty Bank & Trust, Hope is a CDFI, and has received nearly $90 million in awards.
Free from the pressures of bank regulation, Bynum is able to put money into projects not even the best-intentioned bank would touch. For example, after Hurricane Katrina ravaged the Gulf Coast, Hope built its own think tank to craft a socially inclusive policy response. The result was a federally funded program that provided financial counseling to more than 10,000 homeowners. On its website, Hope says the program brought in more than $600 million in repair funds.
Meanwhile, the development corporation runs a credit union that pays attention to quieter catastrophes.
Take the little town of Moorhead, Miss. George Holland has been its mayor since 2009. He grew up just a few miles east, helping his parents farm a White landowner's property for a share of the crop.
When Holland was a teenager, live blues poured from the doorways of two downtown clubs. These days, one is closed down and the other plays only recorded music. Holland is a minister now, and says he no longer listens to the blues. But his sorrow at the loss of his town's culture comes through in his voice.
It's not just blues that went away. Holland remembers a thriving downtown strip with three groceries, two shops selling clothing, two drugstores and a pool hall.
Today, every downtown storefront is boarded up, except for a thrift store run by the mayor's older brother, James.
Then, in the summer of 2015, residents learned that they were also going to lose their only bank. It was a branch of Regions, housed in a proud old building with the words "Bank of Moorhead" carved into the transom over the door.
The company decided to close the branch after weighing factors including profitability, a spokesperson said.
Luckily for the residents of Moorhead, Regions didn't just board it up and leave, though. They donated it, along with some of the equipment inside, to Hope Federal Credit Union.
On Oct. 13, 2015, the bank reopened under new management. Hope rehired the branch's two employees, but at higher salaries and with expanded responsibilities.
Pamela Anderson, 46, is one of them. She says she likes her job better now because she can open new accounts and make loans. Previously, she could only cash checks and take deposits. As of December, her branch had opened 458 accounts and made 47 small loans totaling about $165,000.
"It's inspiring to me because a lot of the people that I have made the loans to ... would not have qualified for a loan with Regions at all," Anderson says, shaking her head. "They just would not have."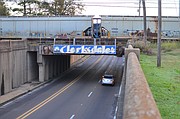 Moorhead is not the only place in the Delta where Regions has closed a branch and donated the building to Hope Federal. The same thing happened in three other nearby towns: Itta Bena, Drew and Shaw. All are high-poverty rural communities with little to offer a profit-oriented bank. If not for Hope Federal's new branches, the area could have become a "banking desert" served mostly by payday lenders.
"Traditional banks don't see the communities we work with as a viable market," Hope founder Bynum says.
"But those people certainly don't deserve to be preyed upon. There's a market there. There's a need."
Meanwhile, Moorhead Mayor Holland says he couldn't have been happier about the change. Regions had long refused to install an ATM in its Moorhead branch, saying it was too expensive to do so. That left residents with no way to withdraw money after banking hours without paying a fee.
Hope Credit Union addressed the problem immediately, and Holland believes it will be a stronger ally in the economic development he has in mind for the town.
The Power of Listening
Helen Godfrey-Smith is the CEO of Shreveport Federal Credit Union, which has assets of about $110 million and is based in northern Louisiana.
But on the morning of Nov. 19, she was stooped over a plot of collard greens on a Mississippi farm with her senior vice president, picking the broad, green leaves with one hand while clutching her smartphone and sunglasses in the other.
The land belongs to Frank Wilbourn, a farmer in his seventies who was raised on this property when it belonged to his parents. They sold the place, but Wilbourn bought it back when he returned to the Mississippi Delta to farm.
Wilbourn had been in Milwaukee, Wis., where he worked in the steel mills for more than 30 years. Clad in a jean jacket, sunglasses, and a driving cap, Wilbourn is obviously proud of what he's built here. He gestured to the tall pecan trees growing nearby.
"Everything out here you see I set out," Wilbourn says, with a deep accent. "All these trees."
"He planted all of it," says Godfrey-Smith.
Shreveport Federal doesn't make as many home loans as Guaranty Bank & Trust does, and Hope Federal has more branches in the Delta.
But Shreveport stands out in another way: Godfrey-Smith, who is African American, is committed to understanding the needs of local Black farmers, and her credit union's work is guided by the things they've told her they want.
The results are unlike anything else in Mississippi's banking world, and Godfrey-Smith says that they wouldn't have happened without the CDFI Fund, which has assisted the credit union with $4.5 million. "It was the CDFI awards that allowed us to cross the state line into Mississippi," she says.
The centerpiece is the Delta Regional Mule Train Farmers Market, a 30,000-square-foot converted textile factory at the south end of Marks, Miss. This cavernous, concrete-floored space still belongs to the county, which rents it to a worker-owned cooperative of local farmers and community leaders for a dollar a year.
The building houses a farmers market during the growing season, a rare place to pick up fruits and vegetables. But the market has also changed the lives of local farmers, many of whom used to sell their vegetables from the backs of pickup trucks.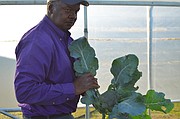 Larry Russell, 58, is a fourth-generation farmer who works the same 80 acres his great-grandfather did. While most of that land is in cotton and soybeans, the Delta's most prominent row crops, 10 acres are in vegetables. Russell says having a consistent market that customers know how to find has increased his farm's annual revenue from about $16,000 to $20,000.
He has put some of that new income into buying a second crop sprayer, so he doesn't have to wash out the tank every time he switches from pesticide to herbicide. "It saves me time," he says.
The creation of the Delta Mule Train Farmers Market took plenty of work. After local farmers told Godfrey-Smith they needed a place to sell vegetables, she helped Frank Wilbourn build a tiny wooden store right in front of his farm, which opened in June 2013.
That meant Wilbourn didn't have to sell out of the back of his truck anymore. But Godfrey-Smith wanted to see the same thing happen on a bigger scale. She recalls coming out of a meeting in Marks and noticing a huge, empty building across the street.
"I asked what it was, and it took a moment for them to even know what I was pointing to," Godfrey-Smith says. "But with my fresh eyes I saw it. I said, 'What are y'all gonna do with it?'"
No one had any plans for the building, which had been abandoned for more than 20 years. Godfrey-Smith told the farmers about it, and they started to get excited.
In February 2015, the farmers officially incorporated as a cooperative business called the Delta Regional Market Cooperative. Shreveport's board voted to donate about $100,000 to renovate the building, pulling out the old industrial infrastructure and installing an air-conditioning system. Meanwhile, the National Cooperative Business Association put in about a quarter of a million dollars—half of it through a grant from the U.S. Department of Agriculture—to provide the co-op with training and other services.
In October 2015, the farmers market opened for business. About a month later, the place was already a hub of activity. At least a hundred local people—nearly all of them African American—stopped by to buy produce and participate in a food giveaway organized by Shreveport Federal Credit Union.
"We see this as a community empowerment project," Godfrey-Smith told the crowd, standing in front of cardboard boxes full of food. "We don't look at it as a project to help the needy or anything like that. It's to help our friends, and the people who've helped us be who we are."
A Piece of the Puzzle
The longstanding poverty that afflicted the rural South after the Civil War has evaporated in many places over the last 50 years. But in the Mississippi Delta, it remains.
Yet, in some Delta counties, poverty has started to decline. In 1990, an astounding 45 percent of Coahoma County residents lived below the poverty line. Twenty years later, that number was down to 36 percent. About half of the Delta's poor counties saw similar reductions over the same period.
Chris Masingill is the federal co-chairman of the Delta Regional Authority, a federal-state partnership that focuses on economic development. He says that CDFIs have been an important part of those reductions in poverty.
"Residents don't have access to the resources they need to build their community," he says. "Getting them a checking account so they can buy their first home and build their assets, that's a critical part of how we continue to tackle poverty in rural America and in the Delta region."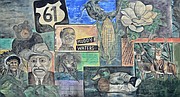 Bill Bynum adds that the CDFI program is especially important in the Delta because the region lacks large foundations and businesses. "The CDFI fund has been one of the few resources available in this part of the country," he says.
"Mississippi would be in really bad shape were it not for the CDFI fund."
That's not to say the program is a silver bullet. The unemployed, the homeless, and the formerly incarcerated, for example, may not be in a position to benefit from a loan.
It is a limitation that Mark Pinsky knows well. He is the former president and CEO of the Opportunity Finance Network, an association of CDFIs that advocates for the sector's interests. He is currently writing a book about the CDFI movement, which he was involved with since the early 1990s.
The way Pinsky thinks about it, traditional banks serve a relatively privileged sector of society. By specializing in risk management, practicing relational banking, and looking beyond credit scores, CDFIs have extended service to include low-income people with steady jobs. But they are not a solution for the many Delta residents who primarily need employment or a wage increase.
Most people familiar with the problem favor one of two solutions. The first is to strengthen the sector by creating new kinds of lenders that can go further than CDFIs in serving low-wealth people. The University of Georgia's Mehrsa Baradaran, for example, wants to see every post office in the nation offer basic banking services. And Jessica Gordon Nembhard, an economist who has for decades studied how African Americans build wealth, wants to see the program expanded so that it can do more for the people she calls "the truly dispossessed."
"The way that these institutions work is they lend money but charge interest and handling costs," she points out. "So if they were going to help the poor, ideally they shouldn't be charging interest."
Nembhard says she would like to see a tier of CDFI-like organizations that specializes in making no-interest loans. She would also like to see more programs that directly fund the creation of worker-owned cooperatives, which she says are among the most effective ways to build wealth in low-income communities of color.
A second solution is to better fund the existing CDFI program. Many of the bank and credit union leaders interviewed for this article said they would like to lend and invest more widely and affordably—to do what it takes to meet their community's needs. But with the level of support they currently receive from the Treasury Department, they say it's simply not possible.
Since its inception, the CDFI program has made $2.3 billion in awards. To put that in perspective, Bank of America alone received $45 billion from the federal government during the bailouts of 2008 to 2009. That money was paid back, but the disparity in support is one reason why, even after 20 years of growth, CDFIs still hold a tiny fraction of banking assets.
"The CDFI program is small," Bill Bynum says. "There's a lot more demand than we have the capacity to address."
Eric Hangen, a researcher at the University of New Hampshire who studies the impact of community development finance, would like to see that capacity grow. "You couldn't ask for a better investment opportunity for the government than helping to capitalize CDFIs," he says, pointing out that every $1 awarded to banks and credit unions in the program generates $8 to $9 in local lending.
"Without a doubt," he says, "greater government funding means more financing available to businesses, homeowners, affordable housing, and community facilities that wouldn't get financing from mainstream banks."
Helen Godfrey-Smith can remember a time when that claim would have left her cold. When she first heard about the CDFI program, years ago, she says she wasn't interested. Her father, a logger who struggled to get loans from White bankers, had raised her to value self-sufficiency and avoid government aid.
Decades later, she didn't want her credit union to be dependent on anyone.
"For many years, I would not consider handouts," she says.
Today, she is glad she changed her mind. Without the CDFI awards her credit union has received, she says, there would be no farmers market in Marks. Frank Wilbourn would still be selling vegetables out of the back of his truck. Local farmers would have no worker-owned cooperative. And Shreveport Federal would not be in the Mississippi Delta at all.
So Godfrey-Smith agrees that the program needs more money—despite what her father would think. "We need more resources allocated," she says. "We've developed a model that really works, and I think it could work anywhere in the country. But it costs money to do what we do."
James Trimarco wrote this article originally for YES! Magazine where he is a senior editor. He is on Twitter @jamestrimarco.
Additional reporting by Marcus Green.
Support our reporting -- Follow the MFP.