The Delta region was one of the richest cotton-producing areas in the nation and entirely dependent on the labor of slaves, who comprised the vast majority of the population in these counties before the Civil War. Photo courtesy James Trimarco
Stories this photo appears in: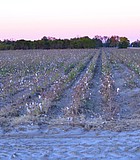 Civil Rights
In the Mississippi Delta, one of the poorest regions in the United States, buying a home is often out of reach. And lenders have a history of unfairness to African ...