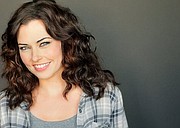 I can't sleep, for Donald Trump is to be our next U.S. president. It's astonishing, horrifying, unnerving, embarrassing, deeply saddening and real.
Of course, we all know that many of his campaign "promises" will be nearly impossible to implement. But those that fall under the realm of executive action are right at his fingertips—withdrawing the U.S. from the Paris climate agreement, overturning DACA and deporting undocumented children, or rolling back President Obama's executive order against torture. Trump could quickly end Obama's regulations that protect LGBT citizens from housing and health-care discrimination and give married same-sex couples family-leave benefits. Trump has the likely potential to negatively affect our foreign relations, making them tenuous at best and volatile at worst. And his U.S. Supreme Court appointments will impact us for generations to come. The fear is legitimate and palpable.
I was watching the election results with a buddy of mine. We sat in awe, thinking about where we went wrong, how we told ourselves that this was a no-brainer, and—although this is counterproductive—we asked ourselves who was to blame.
I found myself stating that I felt guilty for leaving Mississippi. Although I have progressive friends and former colleagues there who are tirelessly fighting the good fight, I fled the state, seeking a larger progressive community. One to whom I could relate.
I had this overwhelming pang of responsibility. If I hadn't left, there would at least be one more progressive. Obviously, this is an irrational thought translated into guilt, coming from an anxiety-prone person, but, involuntarily, I surprised myself. I said it aloud. And I meant it.
I know one more progressive wouldn't change the rhetoric, mindset or the outcome of an election. That would be incredibly silly. But, nonetheless, I felt the weight of guilt.
I can look at a conservative point of view and say, "I understand where you are coming from, but I must respectfully disagree." I cannot respectfully disagree with a platform that tapped into, inflamed and exploited all of the things about America we have tried to dismantle for so long.
Racism, bigotry, homophobia, sexism, xenophobia—and the list goes on. We said we had come a long way. The people who we thought wouldn't (before now) openly dare to identify themselves with such hateful rhetoric came out in droves.
Since Election Day, I find myself preoccupied with what happened in the early morning hours of Nov. 9, 2016. As melodramatic as it may sound, I'm hugging others and sharing tears with still others, trying to find a way to deal with the dread we are experiencing.
Having stayed up on election night until 3 a.m. on the West coast, I finally went to bed. My co-habitant has a room directly next to mine. I called out to him and said, "Are we going to be OK?" I needed to be reassured. "I think so," he responded. I breathed a sigh of relief. A few moments later, he added, "But I'd be lying if I said I wasn't scared."
Hopefully, the Trump on the campaign trail was, at the very least, a bit of a sham—employing a strategy designed to garner support, particularly from disillusioned, white voters. Hopefully, he was acting, as if he were on another reality show. Hopefully, the former Democrat will temper his words and behavior. Hopefully, we will be surprised.
If not, everyone needs to buckle their seatbelts. It will be a long, tough four years.
Natalie Irby is a Mississippi native and the founder and chief executive officer of Corner to Corner Productions. She is based in Los Angeles.
More stories by this author
Support our reporting -- Follow the MFP.