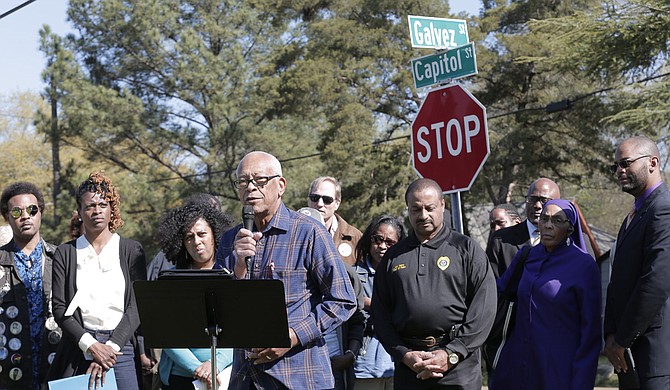 JACKSON — West Jackson residents, Clinton residents and public officials met this morning at the intersection of Galvez Street and Capitol Street, near the site of the deadly crash that left Lonnie Blue Jr. dead earlier this week. Late Monday, Clinton police pursued shoplifting suspect Donnell Williams Johnson into Jackson. The pursuit, which began after Johnson, Ashley Travis, and James Williams allegedly stole electronics from the Clinton Walmart, ended after Johnson crashed head-on into Blue's car. The innocent motorist died on the scene, and Johnson was later charged with second-degree murder.
The Capitol Street Coalition, led by Zakiya Summers and Cassandra Welchlin, hosted today's press conference to outline plans to stop future police-chase tragedies, including community meetings with law enforcement and introducing future legislation for stricter pursuit laws throughout Mississippi.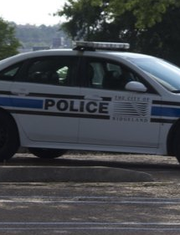 A police pursuit killed a mother in Flowood in 2012. Learn why law-enforcement agencies are adopting strict pursuit policies.
"What happened to Mr. Blue could have happened to me. It could have happened to you," said Zakiya Summers, secretary of the Jayne Avenue Neighborhood Association. "There are ways to catch criminals other than the loss of life." Summers has been a resident of west Jackson since she was a small child.
Ward 4 Councilman De'Keither Stamps attended the meeting and urged citizens in neighboring counties to stand up for safety rights, to vote in municipal elections and challenge cities economically until minorities are safe there. "We must make them understand that misdemeanor property crimes are not worth human life," Stamps said.
"They must come together and use the power of their votes and the power of their dollars to make common sense make sense in the hearts and minds of the people in the decision-making processes of these governments," Stamps said.
Civil rights veteran Hollis Watkins also spoke at the conference, asking citizens to be conscious of their actions to not allow the sinful attitude and disregard for human life to exist.
"I'm asking us to be serious about it, and for each of us to think about it. 'What would I say, what would I do, how would I feel if this life that had been lost as my son, my daughter, my wife, my mother, any of my relatives, or the life of a good neighbor that lived right next door?'" Watkins said. "I know unequivocally that if we make up in our minds that time is out for this nonsense, then we are going to make sure that it does not continue."
The Clarion-Ledger ran edited comments from Councilman Stamps' remarks at a rally against police chases.
"We need to evaluate risk versus reward," said C. Liegh McInnis, a Jackson State University professor and former resident of west Jackson. "Yes, this person committed a crime, but do we really want people to die by shoplifting?"
"At some point as a civilization, we have to realize that it is not OK for somebody to die because of a computer," he said. "We need better policies so that we not only protect the citizens, but we also protect the law enforcement."
Jackson Police Chief Lee Vance attended the press conference, but did not speak. Earlier in the week, Vance disputed claims by Clinton police that Jackson was informed of the high-speed pursuit in advance.
Audio clip
JPD Call to CPD
"I am disappointed in the misinformation that been disseminated by supposedly responsible people in an effort to draw us into a controversy that we did not participate in," Vance said at an earlier press conference at police headquarters in downtown Jackson. "I'm disappointed that the facts did not get out."
High-speed chases often end in tragedy, such as one in 2012 that began in Ridgeland after a shoplifting incident and ended in Flowood, leaving an innocent mother, Milinda Clark, dead. More recently, a Madison police chase of auto-burglary suspects, which began at the Target store on County Line Road, caused two auto accidents, left a bystander in critical condition and caused $30,000 in damages to a Jackson building.
Last October, an alleged domestic-violence attack led to a JPD pursuit. While no one died in that chase, it ended in a six-car collision that landed the driver in the hospital.
The community will hold a candlelight vigil for Lonnie Blue Jr on the corner of Tennessee Avenue and Capitol Street tonight at 7:30 p.m.
Read more about dangerous police chases at jfp.ms/policechases. Email Deputy News Editor Maya Miller at [email protected]. Read more crime coverage here.
More stories by this author
Support our reporting -- Follow the MFP.