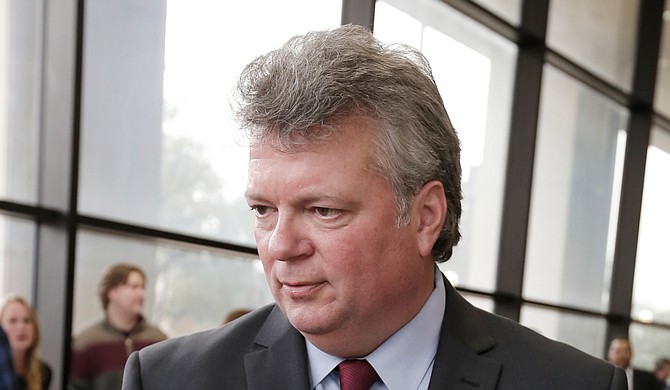 JACKSON, Miss. (AP) — Mississippi's attorney general said Wednesday that he will defend his state's flag against a lawsuit that seeks to remove its Confederate battle emblem, even though he thinks the flag hurts the state and should change.
Jim Hood, the only Democrat still holding statewide office in Mississippi, said his opinion about state laws won't prevent him from fulfilling his oath to defend them.
"I think the Legislature should take the ball and change the flag," Hood said at the state Capitol. "It has an impact on us economically and the spirit of our state, our people. It's time to make a change in the flag."
Carlos Moore, an attorney from Grenada, Mississippi, filed a federal lawsuit Monday that said the Confederate X on the flag puts him and other African-Americans in danger. He cited the slayings of nine black worshippers at a church last June in Charleston, South Carolina. The white suspect in that case had previously posed for photos with a rebel flag, which has a red field with a blue X dotted by 13 white stars.
The attack in Charleston sparked widespread debate over the public display of Confederate symbols across the South.
Mississippi Gov. Phil Bryant, a Republican, called Moore's lawsuit "frivolous" and said voters should decide whether to redesign the state flag that has flown since 1894. In a statewide election in 2001, Mississippi voters decided by a 2-to-1 margin to keep the flag that has the rebel emblem. The state's population is almost 38 percent black.
Hood said that in defending the Mississippi flag in court, he will rely on a ruling from a similar case filed in the mid-1990s in Georgia. A black resident of Atlanta sued over the design of Georgia's flag, which then displayed the same Confederate battle emblem that's still on the Mississippi banner.
The Georgia lawsuit argued the flag was racist because the Confederate emblem was added in 1956 to defy school desegregation rulings. U.S. District Judge Orinda D. Evans ruled in January 1996 that she would not make Georgia stop flying its flag because: "There simply is no evidence in the record indicating that the flag itself results in discrimination against African-Americans."
Hood said Wednesday: "We feel like that that case law will help the state in defending this flag lawsuit. In that particular case, the court held that the plaintiffs didn't put on enough evidence regarding discrimination."
The Mississippi lawsuit says the rebel flag "has been shown to incite racial violence and terror." It cites the South Carolina attack and two incidents in Mississippi.
In 2014 at the University of Mississippi, a noose and the former Georgia flag with the Confederate battle emblem were draped on a statue of James Meredith, the black student who integrated the university in 1962. In November 2015, a man known for flying large Mississippi and rebel flags from his car was charged with detonating an explosive after police said he threw a homemade device into a Wal-Mart store in Tupelo, Mississippi, when the retail chain stopped selling Confederate flags. The device made a loud bang but did no damage.
The lawsuit was filed less than a week after Mississippi legislators killed several bills that would have either removed the Confederate emblem from the flag or withheld state money from schools and local governments that refuse to fly the current banner.
---
Associated Press writer Russ Bynum in Savannah, Georgia, contributed to this report.
Copyright Associated Press. All rights reserved. This material may not be published, broadcast, rewritten, or redistributed.
Support our reporting -- Become a JFP VIP.
The news business has changed dramatically in the past year, and we need your help more than ever to keep bringing you important stories about Jackson and the Metro. Become a JFP VIP with an annual membership or you can Sign up as a monthly supporter. Thanks for anything you can do to empower our journalism!