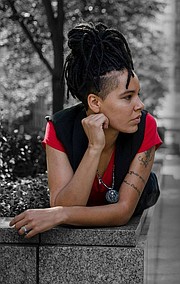 "America eats its babies." —Tupac Shakur
As a child, I was a chubby-cheeked, bright-eyed, gap-toothed little bugger who loved writing poems in solitude. I had two big brothers who loved to pull pranks on me; they knew I was a cry-baby, and my gullible little ways amused them. I would run to my parents, the tattle-tale I was. My brothers would apologize and do it again the next day. One day when I punched one of them in the nose with my little fist, he began to bleed. Of course, I began to cry. I was punished, and Mama said violence is never the answer. They never pulled a prank on me again.
Today, I am torn and conflicted internally. So are many of my peers. We were raised as promoters of love, students of peace and advocates for justice. I'll try to explain. Of my 29 years on this Earth as an American citizen, my nation has been engaged in warfare for 25 years of those years. Sip on that for a second.
Violence and force are what I know in America. Love and peace are what I was taught in my household. The last three days have been preoccupied with tears, the slow sting of whiskey, skipped classes, more whiskey, mental reflection, accounts of survival and shared sentiments of support from allies—black, white and beyond.
I can't function.
At 8:15 p.m. on July 7, my 65-year-old auntie texted me: "History repeating itself." Then: "The children will never be the same again." Her words struck me hard.
I knew she was referring to the killings of Alton Sterling and Philando Castile. Philando simply followed orders to retrieve his registration when a panicked police officer shot him multiple times, as a 4-year-old little girl sat in the back seat watching his slow death. Both men were father figures, whose children loved them and looked up to them as protectors and providers.
The video of the killings played on my TV screen as I read my auntie's texts, and most of my attention focused on the news coverage in front of me.
"Those cops won't be held accountable for these killings," I thought to myself. Confidently. Another slow sting. Violence without justice is what I know in America.
The children of these men now enter the cycle of violence, along with the rest of us. The horrific murders captured on video will be replayed over and over to desensitized, indoctrinated children and adults.
To be raised in America, no matter your ethnicity, is to be subjected to countless images of violence that our society presents to us as justifiable acts.
Violence and force is what we know.
My auntie was 14 when KKK members fired gunshots into her childhood home in Roxie, Miss., which six sleeping children and her pregnant mother (Big Mama) occupied, nearly striking Auntie in the head. The cowards hid behind white sheets. Her family did not retaliate in any way.
Months later, her father, Rev. Clyde Briggs, was killed at the age of 42 for his involvement in protecting black voters against Klan violence and aiding in arming American citizens against the terrorist organization known as the KKK. All of her siblings, including my loving father, who was 7 years old, had their daddy ripped from their lives by those in power. No justice to this day.
Violence and force are what they know. Love, peace and protection of your family is what they were taught.
At 8:29 p.m., Auntie sent the text: "We are really peaceful people, and they know it, and all we gonna do is march. But things got to CHANGE FOR REAL."
Twenty minutes after her text, a shooter began to open fire on police officers during a protest in Dallas, killing five and wounding more.
As I watched, my heart overflowed with a sharp pain. Pain for the families of the slain officers—their children are yet another group of kids that the slow sting of American violence has forever branded; pain for the families of Sterling and Castile, for countless innocent people we've lost over the years due to American-brewed violence.
More marching.
I am numb. I am no longer that overly sensitive, bright-eyed little child. Now, I am an adult, and violence is normal to me. This was a gradual, insidious realization.
I want my peers who have similar feelings of internal conflict to know that they are not alone. Those of you mourning the gradual death of your inner child, please resuscitate her or him. In the coming months, those of us raised to love our enemies and seek peace from within will be forcefully resisting our own anger, our own grief for our murdered fathers, our own feelings of inadequacies as we vent on social media.
Take care of yourselves as this inner battle rages. Self-care. Maybe then we can resume our attempts to take care of others. To advocate once again for love and peace.
Genesis Be is an activist and hip-hop artist from Biloxi, Miss., currently residing in Brooklyn, N.Y.
More like this story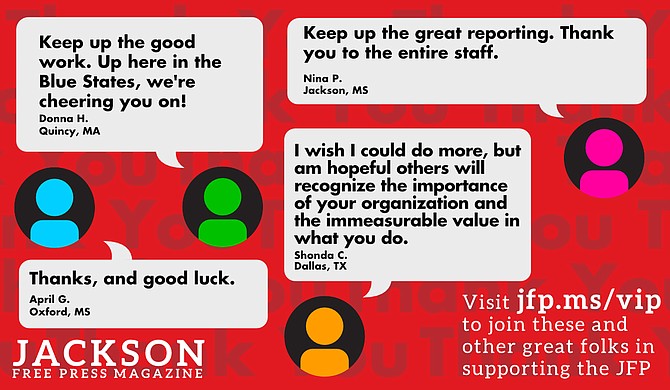 Thanks to all our new JFP VIPs!
COVID-19 has closed down the main sources of the JFP's revenue -- concerts, festivals, fundraisers, restaurants and bars. If everyone reading this article gives $5 or more, we should be able to continue publishing through the crisis. Please pay what you can to keep us reporting and publishing.