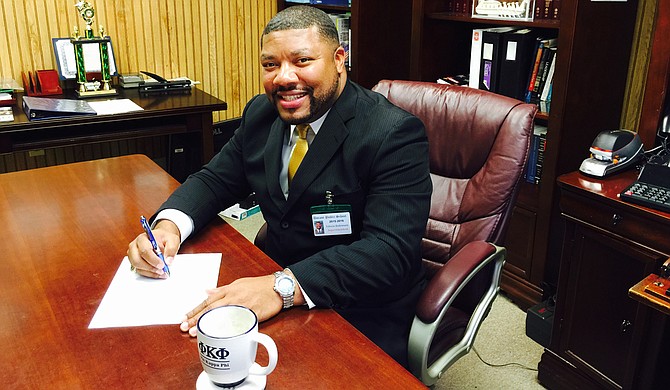 Edwin Robinson, superintendent of Durant Public School District, has his back turned to the doorway of the Senate gallery, so he doesn't immediately notice the children, some dressed in green and white hoodies, trooping from the entrance behind him. But even with his back turned, they recognize him. Several pairs of eyes trail the stiff line of his shoulders, his tense posture. Several children wave, nudge their neighbors in line—"It's Mr. Robinson!"—before trailing around the corner, continuing their tour of the Capitol.
Thanks to SB 2494, authored by Senate Education Committee Chairman Sen. Gray Tollison, R-Oxford, Dr. Robinson's school district is up for involuntary consolidation with the neighboring Holmes County School District. Despite the efforts of Sen. David Jordan, D-Greenwood, Robinson was unable to speak in opposition of the bill in the committee meeting, as Tollison said there wasn't enough time.
The Senate Education Committee meeting passed quickly. Sen. Lydia Chassaniol, R-Winona, stood up to speak in support of consolidation in her school district, which is in a different bill Tollison authored.
Sen. Barbara Blackmon, D-Canton, who represents Holmes County, was not present at the meeting, but also opposes consolidation, and has authored legislation that intends to deconsolidate districts that do not improve three years after their involuntary consolidation.
Robinson had leaned heavily against the wall in the crowded room, watching. Listening.
"It was disappointing," Robinson said to the Jackson Free Press after the meeting.
"Mr. Robinson! Hi, Mr. Robinson!"
"Oh, these are my babies," Robinson said, momentarily distracted from his interview, but visibly reinvigorated, as some of the children in line finally broke free of the chain to crowd around him.
If Tollison's bill passes, Robinson's more than 400 "babies" would grow substantially to include the children of the Holmes County School District. But Durant and Holmes Counties have fought against the swan song of consolidation since last year; in a December 2015 press release, the Durant Public School District Board of Trustees and the Commission on Holmes-Durant Consolidated School Structure expressed their solid opposition to Rep. Toby Barker's, R-Hattiesburg, House Bill 572, which required them to establish a commission last year in order to prepare their districts for consolidation.
"We spent a lot of time and effort drafting it (the report), so it was disappointing that we weren't able to present it," Robinson said.
The report explains that Durant is "firmly opposed" to any school consolidation, saying that they "refuse to find any advantages for the citizenry of Durant and are convinced the Durant children have nothing to gain from consolidation."
Tollison supports consolidation for the district because he says its tax base, valued at almost $10 million, can't sustain the operation of the school district. With Holmes County's at $100 million, Tollison says the consolidation would give them a $100 million tax base. But Holmes County School District and Durant Public School District don't agree that consolidation would help.
Robinson says his district operates at a paltry $300,000 of their $5 million yearly budget for administrative costs, and that his district's MAEP dollars fund instructional costs—just like a high majority of other school districts in the state. And despite Durant's small tax base, their student achievement and graduation rate both are higher than those at Holmes.
"We have opposition statement letters from the mayor, from our school district, from Holmes County School District, and the same information was conveyed during the hearing, so it's as if the Legislature is not listening to the citizens of Durant or Holmes County," Robinson said in a later interview.
Robinson, 39, is a long-time educator with a decorated resume. He has a bachelor's in science education from Mississippi Valley State University. He has a master's in higher education from the University of Mississippi, and an MBA from Regis University. He just defended his doctoral dissertation, for his PhD in educational administration from Mississippi State University.
In his nearly 15-year career, Robinson has been a science teacher and a principal. He's presented and lectured on his education research at national conferences. He helped oversee a $4.9 million grant to implement magnet schools in the Clarksdale Municipal School District.
Tollison has stressed the need for school districts to have appointed rather than elected superintendents so that lower-graded districts, like Durant, can have access to passionate, qualified leaders like Robinson.
Durant also a strong proponent of fiscally strong school administrations. And though there's no evidence that appointed rather than elected superintendents directly affect student achievement one way or another, Durant's children seem to like and respect their superintendent.
"What are you doing here, Mr. Robinson?" a Durant student asked him at the Capitol Thursday.
"Fighting for you," he said.
Sierra Mannie is an education reporting fellow for the Jackson Free Press and The Hechinger Report. Read more at jfp.ms/education.
Support our reporting -- Follow the MFP.