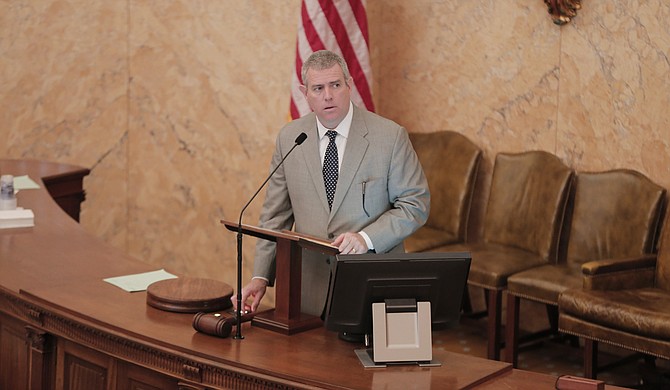 JACKSON, Miss. (AP) — The Mississippi House voted 69-44 Friday to approve Senate changes to House Bill 1523, sending it to Gov. Phil Bryant to sign or veto. Supporters say the measure protects religious groups, small businesses and government employees from being forced to violate their religious beliefs by having to serve same-sex couples. Opponents say the bill legalizes discrimination against such couples. A yes vote was to approve final passage and send the bill to Bryant, while a no vote opposed that action. Voting yes were 68 Republicans and one Democrat. Voting no were 40 Democrats and four Republicans.
---
Republicans voting yes (68):
Arnold, Booneville; Baker, Brandon; Barnett, Waynesboro; Barton, Moss Point; D. Bell, Fulton; Bennett, Long Beach; Bomgar, Madison; Bounds, Philadelphia; Boyd, Mantachie; Brown, Nettleton;
Busby, Pascagoula; Byrd, Petal; Carpenter, Burnsville; Chism, Columbus; Crawford, Pass Christian; Criswell, Olive Branch; Currie, Brookhaven; Denny, Jackson; Eubanks, Walls; Eure, Biloxi;
Formby, Picayune; Foster, Hernando; Frierson, Poplarville; Gipson, Braxton; Guice, Ocean Springs; Gunn, Clinton; Hale, Nesbit; Haney, Gulfport; Henley, Southaven; Hood, Ackerman;
Hopkins, Southaven; Horne, Meridian; M. Huddleston, Pontotoc; C. Johnson, Hattiesburg; Kinkade, Byhalia; Ladner, Poplarville; Lamar, Senatobia; Mangold, Brookhaven; Massengill, Hickory Flat; McLeod, Lucedale;
Mettetal, Sardis; Mims, McComb; Monsour, Vicksburg; Moore, Brandon; Morgan, Morgantown; Oliver, Winona; Patterson, Biloxi; Pigott, Tylertown; Powell, Brandon; Read, Gautier;
M. Rogers, New Albany; R. Rogers, Pearl; Rushing, Decatur; Sanford, Collins; Shirley, Quitman; Shows, Ellisville; Smith, Columbus; Snowden, Meridian; Staples; Laurel; Steverson, Ripley;
Touchstone, Hattiesburg; Tullos, Raleigh; Turner, Baldwyn; Weathersby, Florence; White, West; Willis, Diamondhead; Wilson, Madison; Zuber, Ocean Springs.
---
Democrat voting yes (1):
Mickens, Brooksville.
---
Republicans voting no (4):
Aguirre, Tupelo; Barker, Hattiesburg; DeLano, Biloxi; Roberson, Starkville.
---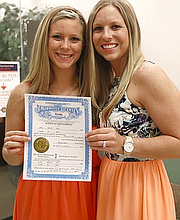 Read the JFP's award-winning coverage of the tough fight for LGBT rights in Mississippi.
Democrats voting no (40):
Anderson, Escatawpa; Bailey, Greenville; Banks, Jackson; Baria, Bay St. Louis; Williams-Barnes, Gulfport; C. Bell, Jackson; Blackmon, Canton; Burnett, Tunica; Calhoun, Jackson;
Campbell, Jackson; Clarke, Jackson; Denton, Vicksburg; Dixon, Raymond; Dortch, Raymond; Ellis, Starkville; B. Evans, Monticello; M. Evans, Preston; Faulkner, Holly Springs; Gibbs, West Point;
Hines, Greenville; Holloway, Hazlehurst; Horan, Grenada; R. Huddleston, Sumner; Hughes, Oxford; Jackson, Como; Johnson R, Natchez; Karriem, Columbus; Middleton, Port Gibson; Myers, McComb;
Paden, Clarksdale; Perkins, Greenwood; Reynolds, Charleston; Straughter, Belzoni; Sullivan, Okolona; Sykes, Jackson; Thomas, Indianola; Walker, Carthage; Watson, Hattiesburg; Wooten, Jackson;
Young, Meridian.
---
Republicans voting present (1):
McNeal, Leakesville.
---
Democrats not voting (4):
Clark, Pickens; Cockerham, Magnolia; Holland, Plantersville; Scott, Laurel.
---
Democrats absent (2):
Bain, Corinth; Miles, Forest.
---
Republicans absent (1)
Beckett, Bruce.
Copyright Associated Press. All rights reserved. This material may not be published, broadcast, rewritten, or redistributed.
Support our reporting -- Follow the MFP.