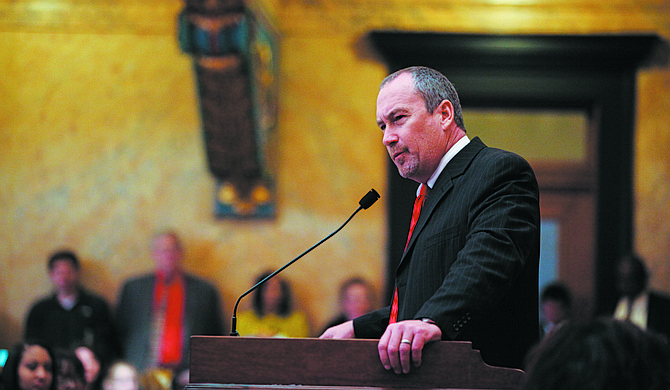 JACKSON, Miss. (AP) — Mississippi lawmakers are holding two days of public hearings to start planning how state government will spend taxpayers' money during the coming year.
The 14-member Joint Legislative Budget Committee is meeting Monday and Tuesday to consider requests for fiscal 2017, which begins July 1.
This year's budget hearings are considerably shorter than they were in the past because lawmakers reduced the number of agencies making presentations.
Among those speaking to the committee are leaders of the Department of Education and the community college and university systems; and directors of the Division of Medicaid, the Department of Human Services and the Department of Health.
All agencies are required to submit written requests showing how much they propose spending on employees, supplies and services. Those are posted to the Legislative Budget Office website, as is a schedule for the hearings, which are held at the Woolfolk state office building near the Capitol.
The online information is new this year, and House Appropriations Committee Chairman Herb Frierson, R-Poplarville, said the website gives the public greater access to details about how agencies propose spending money.
"It just makes it easier for legislators and everybody," Frierson said Monday.
In several weeks, the Budget Committee and the governor will make preliminary recommendations for state spending. Those will be used as a basis for budget discussions during the four-month legislative session that begins in January. All 122 House members and 52 senators will have a chance to vote on the final draft of a budget by session's end, if they stick to their schedule.
Copyright Associated Press. All rights reserved. This material may not be published, broadcast, rewritten, or redistributed.
Support our reporting -- Follow the MFP.