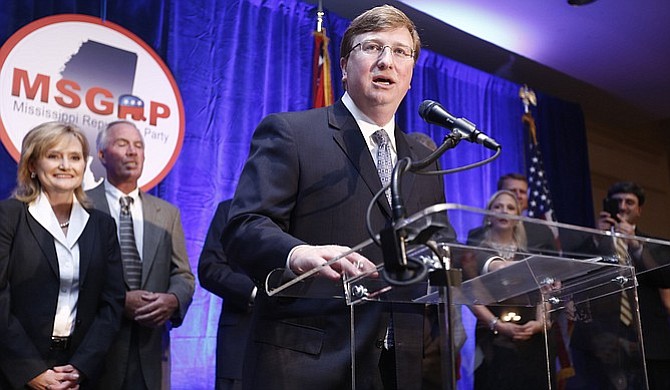 JACKSON, Miss. (AP) — Mississippi legislators said Saturday they'd reached an overall bargain on state spending, but they continued to haggle over how much the state would borrow and whether it would cut taxes in the upcoming budget year beginning July 1.
House Appropriations Committee Chairman Herb Frierson, R-Poplarville, and Senate Appropriations Committee Chairman Buck Clarke, R-Hollandale, said Saturday they were cutting about $73 million from earlier budget plans because a lower revenue estimate was approved Friday by lawmakers.
Lawmakers released no specific numbers, although a senate staffer said state money would total $6.13 billion in the budget, down more than $50 million from what lawmakers appropriated for the current budget year, and even about $20 million below the amount left after Gov. Phil Bryant imposed 1.5 percent midyear cuts on many agencies in January.
Legislators filed placeholder bills for some agencies Saturday, saying staff members hadn't had time to compose final bills. Frierson and Clarke said many agencies would take reductions varying from 2 percent to 12 percent.
BONDS AND TAXES
Saturday was the deadline for legislators to file House-Senate agreements on how much the state plans to borrow in bonds in 2017, and whether it's going to change tax policies. However negotiators filed fake placeholder bills on those two issues to buy themselves until at least Monday.
"It doesn't take a genius to figure out that if we don't do something on tax cuts, the lieutenant governor isn't going to sign a bond bill," House Ways and Means Committee Chairman Jeff Smith, R-Columbus, said.
Lt. Gov. Tate Reeves told reporters Friday that he'd like to hold the borrowing amount to $200 million, but Rep. Trey Lamar, R-Senatobia, said House members are pushing for more borrowing to fund university projects.
"The House was not going to compromise an important position just for the sake of putting together a bill at the last minute," Lamar said.
Reeves continued to push for tax cuts, saying lawmakers shouldn't be deterred by current revenue weakness. The Senate passed a $575 million tax reduction bill, including a phase-out of Mississippi's $260-million-a-year business franchise tax over eight years. His proposal would also cut income taxes by more than $300 million, mainly for individuals, and lower self-employment taxes by $10 million. House members have been negotiating about tax cuts, but have wanted to push their effective date back to Jan. 1, 2018, which means they wouldn't decrease money for the 2017 budget. Reeves said Saturday he's willing to negotiate over the start date.
"I don't know that we'll have one without the other, but I think there's going to be agreement," Reeves said.
EDUCATION
Frierson and Clark said Saturday that they intend to hold Mississippi's K-12 school funding formula level at $2.24 billion in the coming year. That's about $170 million less than the Mississippi Adequate Education Program, which tries to compute the cost of a midlevel education for the state's 490,000 public school students. Lawmakers have paid the full amount demanded by the formula only twice since it became law in 1997. This year, if school funding stays level, lawmakers would fall roughly $170 million short of full funding, or close to $350 per child.
Reeves said that support for community colleges and public universities would stay level with the amounts they fell to after Gov. Phil Bryant ordered midyear 1.5 percent tax cuts to those and a number of other agencies. Reeves and Frierson said universities and community colleges would get some money beyond bonds to spend on maintenance in the coming year.
MEDICAID
The two budget chairmen said they would slightly decrease funding for the state-federal Medicaid program from the $965 million originally appropriated this year. However, the agency is on track to exceed that total by about $50 million in the current budget, a deficit lawmakers intend to pay. The deficit signals that the program is likely to cost more, not less, in 2017. Budgeting for the program is a challenge because the state has to pay for whatever medical services eligible citizens use, but Mississippi has a long history of allocating a low figure for Medicaid and filling the deficit later.
"Every year you don't know how many people are going to get sick," Frierson said.
FOSTER CARE
Frierson and Reeves said negotiators had agreed to increase funding for Mississippi's beleaguered foster care system by $34 million, of which $20 million will come out of recurring revenue and $14 million in one-time expenses will be funded with other cash. A federal judge could have taken over the foster care system if lawmakers didn't find the additional money, a tough task in a lean year.
"Because of that, we see pretty significant cuts for a large number of state agencies," Reeves said.
Copyright Associated Press. All rights reserved. This material may not be published, broadcast, rewritten, or redistributed.
Support our reporting -- Follow the MFP.