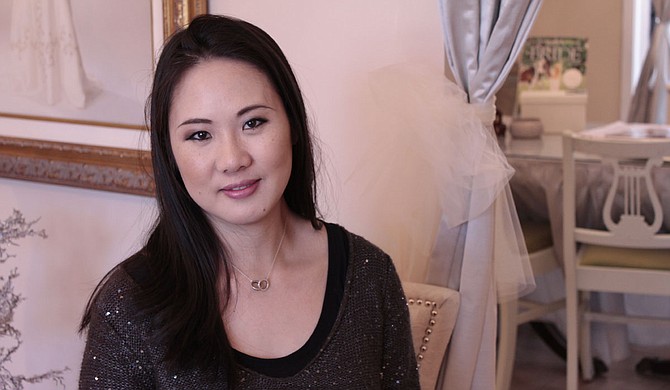 A little, white house off Old Canton Road in Jackson has three large, pink fabric flowers in a row on the porch. A horizontal pathway of stones in varying shades of light brown and gray spans from the driveway to the edge of the house. A mannequin wearing a pale white wedding dress stares out from a large window at passing traffic, and a small sign in the yard says "Woo Couture."
When you enter the building, completed wedding dresses greet you. A dress form wearing pink and lace sits by a table full of beading and sketches.
Fabric swatches, dress sketches and other fashion-design paraphernalia are scattered about the studio.
Woo Couture is the brainchild of Samantha Woo, a wedding-dress designer from Vietnam. Woo's family has been making clothes for generations. She learned much of her craft from her mother, Su Dong, who is still in Vietnam. Her father, Toan Tran, is an artist, and her grandfather, Tin Tran, is a photographer who is most famous for his photos of the First Indochina War.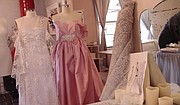 "Growing up in Vietnam, we didn't have a lot of toys," Woo says. "The only toy I had was the scrap of fabric my mom left on the floor. I would make dog clothes and ... make a Barbie doll out of fabrics. I had to be really creative. Growing up (in a) third-world country, I didn't have very much." Woo says that as a child, she was always drawing and sketching.
Though she says her mom made everyday clothes, Woo was fascinated with designing wedding dresses. "I love going to weddings. I love seeing wedding dresses, even when I was younger," she says. "My mother always says that I (was) at every wedding, almost. Even the neighbors'. Somehow I always snuck in."
She came to the United States when she was 13 in 1994. Woo says that 10 years after the Vietnam War, the country was in the midst of a bad economy. Missionaries connected to Catholic Charities of Jackson brought Woo to Mississippi.
"They took interest in me because I was so curious about Western people," she says. "I would always follow (the missionaries). They just kind of checked me out and saw how I was." Woo says she was the last Vietnamese child the organization sponsored.
The missionaries brought her to Jackson, where she was adopted and lived with different families as she grew up. "Everybody I met has always been my family," she says. "I was in America—a strange land—with nobody, but now everybody is my family." She is closest to foster family the Caseys, whom she lived with for about four years.
Woo graduated from Murrah High School in 2001. She went to Belhaven University, where she graduated with a bachelor's degree in history and political science in 2005. She studied fashion design at the Academy of Art University in San Francisco and received her master's degree in fine art from Mississippi College in 2013. She married her husband, Dr. Mack Woo, a physician at the University of Mississippi Medical Center, in 2008. The couple has two boys: Samuel, 4, and Matthew, 2.
When she was growing up in the U.S., Woo didn't know many people and learning English as her second language wasn't easy. Embroidery, beadwork and other types of handwork were her escape, though she didn't consider it as a career possibility until after she graduated from Belhaven.
About 10 years after leaving Vietnam, she went home to see her mother. After seeing her making clothes, Woo began missing doing that. Over the next few years, she picked it back up and then stopped, and picked it back up again, though she never stopped sketching and designing.
Her first insight into the world of wedding dress design was when she designed five dresses for her own wedding.
She and her husband bought the building off Old Canton Road, with the intention of it eventually becoming her studio, about three years ago. However, Woo Couture didn't open until fall of 2014.
Though she says she has created her own collections, Woo loves doing custom designs for brides. She does a consultation, and then sketches a few designs. Once the bride picks a design, Woo can spend 50 to 60 hours making a dress, and that time doesn't include beading, embroidery or other detail work. Though she pulls her inspirations from the likes of Christian Dior and Coco Chanel, Woo says her clients are the biggest inspirations.
"I think (the clients) are the ones that design the gown," she says. "I just put it into life." Besides wedding dresses, Woo Couture can do anything from flower girl dresses to mother-of-the-bride dresses.
Woo says her love of wedding-dress design comes from her love of fairytales, and through her designs, she ensures that each bride gets the wedding she wants.
"The wedding is something special and something intimate, and your dress can be the same thing," she says.
"The one thing special about us is that it will fit you."
Woo Couture (4750 Old Canton Road) is open by appointment only. For more information, visit woocouture.com or call 601-454-3262.
Support our reporting -- Follow the MFP.