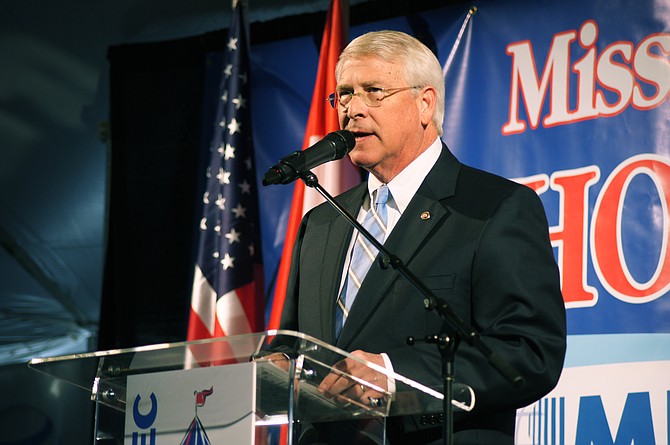 JACKSON, Miss. (AP) — One of Mississippi's Republican U.S. senators says the Confederate battle emblem should be removed from the state flag because it offends many people and gives a false impression of the state.
Sen. Roger Wicker's statement Wednesday makes him the second top-tier Republican elected official calling for Mississippi to change the flag it has used since Reconstruction.
"After reflection and prayer, I now believe our state flag should be put in a museum and replaced by one that is more unifying to all Mississippians," Wicker said in a news release. "As the descendant of several brave Americans who fought for the Confederacy, I have not viewed Mississippi's current state flag as offensive. However, it is clearer and clearer to me that many of my fellow citizens feel differently and that our state flag increasingly portrays a false impression of our state to others."
A spokesman for Mississippi's other Republican U.S. senator, Thad Cochran, did not immediately respond to a request for comment Wednesday about Cochran's position in the flag. During the 2001 election, Cochran did not take a public position about the flag design.
The state House speaker, Republican Philip Gunn, said Monday that as a Christian, he believes the flag has become offensive.
Mississippi voters decided by a nearly 2-to-1 margin in 2001 to keep the flag with the Confederate X in the upper left corner. The massacre last week of nine worshippers in a black church in Charleston, South Carolina, restarted debate about the Old South. The white man charged in the slayings, Dylann Storm Roof, had posed in with the Confederate battle flag in photos posted online before the attack.
Gov. Phil Bryant and Lt. Gov. Tate Reeves, both Republicans, said this week that voters reaffirmed the flag design 14 years ago, and they accept that.
"Mississippians have already had a discussion about the state flag," Bryant said in a statement Tuesday. "It was put to a vote, and an overwhelming majority chose to keep the flag. Mississippians have the right to revisit that decision either through their elected representatives in the Legislature or through the initiative process."
U.S. Rep. Bennie Thompson, a Democrat and the only black member of Mississippi's congressional delegation, said he does not display the Mississippi flag in his office because he does not want to offend constituents.
"This flag is not just some piece of cloth that bears no importance; it is the physical manifestation of a time of hate, oppression and slavery that split this country at its seams," Thompson said Tuesday. "It also serves as a barrier around the entire state of Mississippi telling everyone else in this country that progress is not welcomed here."
Attorney General Jim Hood, the only Democrat holding statewide office in Mississippi, said in an interview Tuesday that the flag should change.
"You've got to ask yourself the question: What would Jesus do in this circumstance?" Hood told The Associated Press. "When it is something that is offensive to at least one-third of our population, we ought to at least consider what we're doing."
---
Follow Emily Wagster Pettus on Twitter: http://twitter.com/EWagsterPettus .
Copyright Associated Press. All rights reserved. This material may not be published, broadcast, rewritten, or redistributed.
Support our reporting -- Follow the MFP.