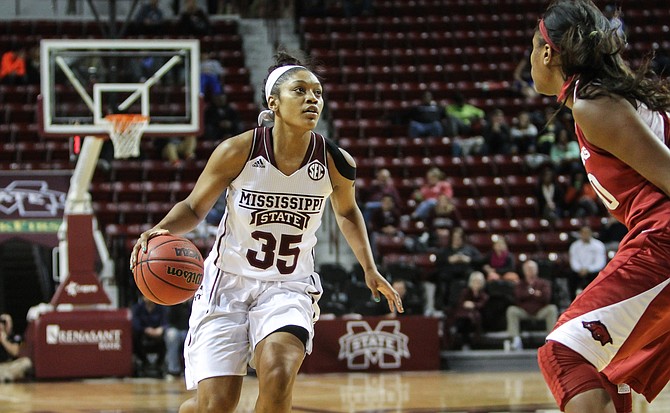 "We haven't done anything, yet."
Those five words are probably not how most people would describe the Mississippi State University women's basketball team, a group of women who are off to an 18-1 start (3-1 SEC)—the best in school history. However, head coach Vic Schaefer is not most people.
In his third year in Starkville and with three decades of coaching experience under his belt, this is not Schaefer's first rodeo. The Austin native recalled his stint coaching at Arkansas in 2002 as an explanation for his tentative optimism.
"I remember back at Arkansas when I was there coaching in '02, we started out the season 3-0 in the SEC and we were lucky to finish 500," Schaefer says. "That's the nature of the league. You're always up against a Top 25 team. When you're done with one, you've got another lurking around the corner."
Schaefer's experience coaching in the SEC, which he called the "biggest, baddest conference in the country," came in handy against the Razorbacks on Thursday night, when his team bested the Razorbacks 72-57 in Starkville.
The win against Arkansas did not come easy, however, and the game was much closer than the final score suggests. After the Razorbacks took the lead with 16:39 left in the first half, the Bulldogs didn't pull ahead again until freshman Morgan William knocked down a three with 11:32 left in the second half to take the score to 52-51. When freshman Victoria Vivians knocked down two free throws at the 6:20 mark, State secured the lead for the remainder of the game.
Vivians, who was the No. 24 player in the country during high school, scored 21 points, leading the Bulldogs on offense. She attributes her scoring success to her teammates. "Without my teammates, offense for me wouldn't be possible," Vivians said.
Vivians' All-American high school career is almost without equal: the two-time Mississippi Miss Basketball won a 2A state championship her junior year at Scott Central, led the nation in scoring as a sophomore with 37 points per game and scored 1,617 points as a senior—the most in the state regardless of gender.
"The thing you really love about her is her work ethic and desire to get better," Schaefer said. "She's getting everybody's best player. She's 19 years old, and she's getting everybody's 21, 22-year-old wing defender. She's doing fine, and I'm really proud of her. And I just love her competitive nature."
While Vivans gave State the final lead of the Arkansas game, sophomore Dominique Dillingham made sure they kept it. Dillingham nabbed five steals (three of which came down the final stretch) and seven rebounds on the night, quite an accomplishment for a 5'9" guard. That kind of play is what Schaefer looks to her to do night in and night out on the court, which may be why she leads the team in minutes played for the season.
"(Dillingham) is my everywhere-on-the-court, play-with-a-lot-of-heart player," Schaefer said. "She's my Energizer bunny: she and Savannah Carter. They really epitomize who we are as a basketball team. ... Dominique's stat line has nothing to do with shots. It has to do with rebounds; it has to do with steals, hustle plays (and) charges taken. She usually fills up a pretty good stat box."
When asked to describe her style of play, Dillingham echoed her coach's words.
"Scrappy and tough, that's my role on the team: to do whatever it takes to help my team win," Dillingham said.
Vivans and Dillingham are not the only talent on Schaefer's squad this season—far from it. In fact, Schaefer has the best problem a coach can have: more talent on his team than there are minutes in a game. The Bulldogs returned four starters this season, but against Arkansas, three came off the bench. With injuries to three starters at the season's opening (seniors Martha Alwal, Kendra Grant and Carter), Schaefer relied on his underclassmen to carry his team, and they rose to the challenge.
"Early on, (underclassmen) were the heart and soul of our team," Schaefer said. "We had nine freshmen and sophomores playing a lot of minutes early on in the preseason NIT when we won that. ... It's been a total team effort."
Against Arkansas, 11 of the 14 Bulldogs saw playing time, and 10 played 10 minutes or more. Schaefer will need to continue to rely on his deep bench for the Bulldogs to continue to compete against the rest of the SEC, as he is well aware.
"We have depth, we play a lot of people, (and) we play awfully hard, full-court pressure the whole game," Schaefer said. "I thought last night our press wore (Arkansas) down and played a big role in their missed shots in second half. I think that's a big key for us. We take great pride in our conditioning and the shape that we're in. That's going to be big for us as we continue in the SEC."
While using the whole team will be essential to the Bulldogs' season, figuring out the best way to play so many players every night may be easier said than done for Schaefer and his staff. The coach acknowledged that he is still trying to decipher the best combination to unlock his team's highest potential.
"It's probably my biggest challenge: without disrupting our chemistry, trying to make sure we've got the right players on the floor in the right combinations," Schaefer said. "Chemistry's a big part of your success. ... I really believe for us to be as good as we can possibly be, those three seniors that were hurt, they've got to come back and get into the rotation."
One part of his job that isn't challenging for Schaefer is coaching his daughter, Blair, a freshman.
"She's made it very easy for me, and my team's made it easy for me," Schaefer said. "It's just a really unique and special situation. ... She certainly earned her way here, as a Dandy Dozen, top-five player in the state of Mississippi."
Schaefer and his Bulldogs have already written themselves into the Mississippi State history books. The only question left is how long their entry will be. If they keep playing at the top of their game, the journey should be fun to watch. Dillingham perhaps put it best when describing her team firing on all cylinders: "We're electric."
More like this story
More stories by this author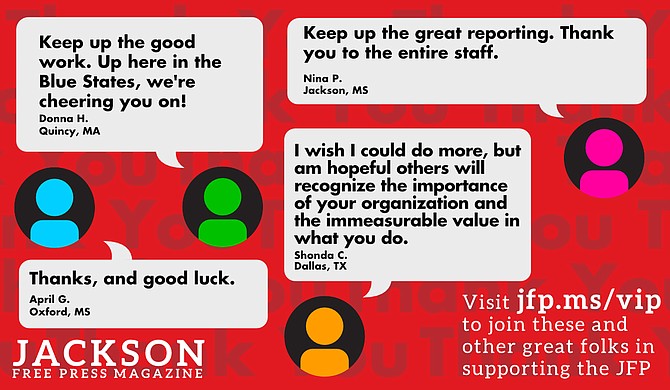 Thanks to all our new JFP VIPs!
COVID-19 has closed down the main sources of the JFP's revenue -- concerts, festivals, fundraisers, restaurants and bars. If everyone reading this article gives $5 or more, we should be able to continue publishing through the crisis. Please pay what you can to keep us reporting and publishing.