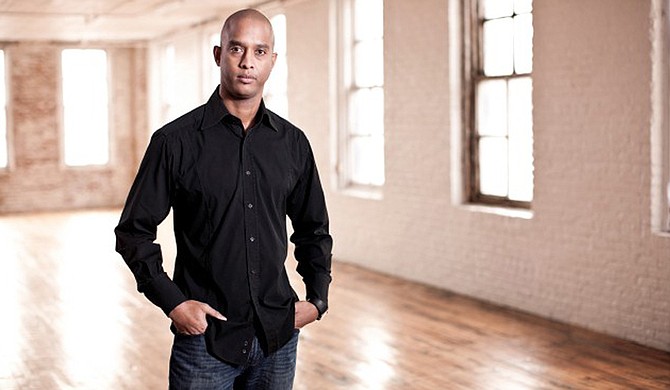 In 2005, filmmaker Keith Beauchamp directed and produced "The Untold Story of Emmett Louis Till," which won Audience and Special Jury awards at the 2005 Miami Film Festival, as well as the Freedom of Expression Award from the 2005 National Board of Review. He just announced that he has joined forces with Whoopi Goldberg to do a movie about Till.
Since the documentary, Beauchamp has travelled the country lecturing about the events surrounding Till's death. Because of his research, which he started doing in 1996, for the film, the U.S. Department of Justice reopened Emmett Till's case in May 2004.
The Jackson Free Press recently spoke to Beauchamp by phone about the documentary and his filmmaking career.
What got you started with filmmaking?
I've always said I'm an unintentional filmmaker. ... I learned about the (Emmett Till) case at the age of 10 growing up in Baton Rogue, Louisiana. I came across a JET magazine photograph of Till in my parents' study and ... it just shocked me. ... My parents explained the story to me. Throughout my life, the name kept resurfacing in my parents' household.
Two weeks before my high school graduation ... I was assaulted by an undercover police officer for dancing with a white friend. That's what sparked me into wanting to fight injustice because I felt that I didn't want anyone to go through what I had went through when I was assaulted.
In my junior year of college, I went to New York to visit my childhood friend (Jason Jones) who started a film production company, and that's how I was introduced to filmmaking. ... It has been a life passion since I was 10 years old to fully tell (Emmett Till's) story.
In 1996, I really started getting my feet wet and researching. It was at a time where African Americans culturally were discussing the importance of telling our history, and the importance of African Americans telling our own history, and not necessarily Hollywood telling it for us.
Why do you think the film has appealed to audiences since it was released?
Filmmakers work for years and years to produce something that can stand the test of time. ... It was released more than a decade ago, and now there's a whole generation of folks who are learning about Till for the first time, and they're watching our film. I'm still traveling around the country, giving lectures on Till and my work, and that was basically, like, 16 films ago. I'm thrilled and happy that I was able to produce a film that people will watch for generations to come and that was important to me. I never wanted to produce anything that would just fade away and disappear. It just shows you the importance of being able to facilitate and record history.
How and why do you think Till's story is still relevant to us in 2015?
Justice never prevailed in his case, and because of our current climate—of all these police shootings where unarmed black males are being shot and killed—it's through that experience where people begin to remember Emmett Till and his name. ... Whenever you think of these young, unarmed black males, who many deem innocent, killed by police, you can look at the mothers that are all speaking out and trying to get justice for their loved ones, (and) you cannot help but think about Till and the late Mamie Till-Mobley and the fight that she had to get justice for her son. It's the climate of today that has allowed Emmett's spirit to continue on.
What role do you think that film plays in changing the world we live in?
I think the Till case will always serve as a reminder of how far we have come and how far we have yet to go in this country. ... People are still afraid to talk about (him). ... People are still afraid to address race and sex. ... That's why we continue to struggle with racism in this country, not to mention all the other social issues that follow. Cosmetically, things have changed, but racism is still present today. If you look at what's happening in the Delta right now, and the history of the Till case taking place there, you can see every single thing that we're fighting in terms of social ills in this country. 1955 was an election year. ... You'll find that a lot of these murders and resurgence of hatred ... happen near an election year. There's so much we can learn from this particular case and the courageous actions of Mamie Till Mobley, because she was the one that made the decision to have the open casket at the funeral. It was that photograph that inspired me, and it was that photograph that continues to inspire a new generation today. ...
Without Till, the Civil Rights Movement might have happened, but when?
This interview has been edited for space and clarity.
Read more JFP stories on Emmett Till at jfp.ms/till.
More stories by this author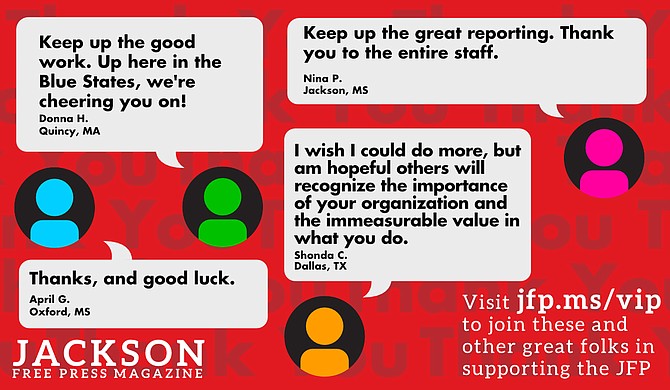 Thanks to all our new JFP VIPs!
COVID-19 has closed down the main sources of the JFP's revenue -- concerts, festivals, fundraisers, restaurants and bars. If everyone reading this article gives $5 or more, we should be able to continue publishing through the crisis. Please pay what you can to keep us reporting and publishing.