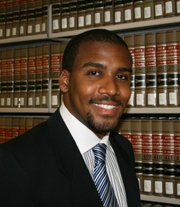 When we meet people who have accomplished incredible feats, it has the tendency to leave lasting, meaningful impressions. Personally, I've rarely had to chance to meet these "few in a generation" souls. My statistics include briefly shaking hands with then-candidate Barack Obama at a rally at Jackson State University and former President Bill Clinton after a commencement speech at Tougaloo College. Admittedly, these handshakes were more like hand-touching, as they extended their hands to a crowd. However, my luck took a turn for the better last month.
My father, Leslie McLemore, planned a short visit here to Washington, D.C., last month to view a screening of an incredibly brilliant Fannie Lou Hamer documentary short, "This Little Light of Mine: The Legacy of Fannie Lou Hamer." My father was interviewed in the documentary and asked to participate in a panel after the film was to be premiered.
So, obviously, I strutted into the screening with a false sense of confidence because we share the same name. As I introduced myself around the room, basking in my namesake, in walked a tall, slim figure with the gravitas of 1,000 Leslie McLemore IIs. This figure was Student Nonviolent Coordinating Committee and civil rights titan Julian Bond. Suddenly, my asinine sense of confidence turned into unadulterated excitement as he ventured closer to my section, navigating his way through an ocean of people attempting to introduce themselves.
Julian Bond was a figure I had looked up to for many, many years due to his lifelong mission to combat inequality. As one of the original leaders of SNCC, he led news coverage toward stories of violence and discrimination due to systematic racism in the South. Later, Bond turned his superior intellect and charisma into a leadership position with the NAACP, along with a career as a writer, lecturer, television commentator, professor, 20-year member of the Georgia State Assembly and the first president of the Southern Poverty Law Center.
As his accomplishments rushed through my head, I gushed to my girlfriend about the humble Bond. My excitement turned into heart palpitations when Bond took a seat, along with his beautiful wife, across the aisle from me. At that moment, I knew I would have to make a daring attempt to introduce myself and finally meet a "few in a generation" figure. I walked over to him, heart beating fast as hell, and extended my hand as I introduced myself as Dr. Leslie McLemore's son. After shaking my undoubtedly sweaty palms, we partook in a brief but spectacular conversation.
Our talk consisted of what I do for a living as well as some of my writings. We discussed how I was (now gratefully) forced, growing up, to read literature about him and other SNCC legends. We also recalled his remarkable sense of humor when I used to assist in checking my father's AOL account as a kid. (My dad was the epitome of computer illiteracy back then). Bond would send emails to my father, which would've forced any man or woman to laugh uncontrollably, even though these emails weren't meant to be viewed by a 12-year-old.
After our brief conversation, Bond walked quietly back to his seat and closely observed the Fannie Lou Hamer documentary. I went back to my seat as well, assuming I left little to no impression on this "few in a generation" figure. After the screening and panel discussion, I again observed him being swamped by a sea of people, just as enamored by his presence as I was.
The morning of Bond's passing, my father and I were on the phone, reflecting on the SNCC legend and his old friend. Even though my father's heart was unquestionably heavy, he briefly mentioned Bond telling him that he had one hell of an impressive son. My response, after hearing this, was to utter one word: "Wow." That compliment, from a legend like Bond, is something I will never forget and will always cherish for the rest of my natural existence.
Rest in paradise, Julian Bond. You deserve it.
Leslie B. McLemore II is a Jackson native, now in Washington, D.C. He is a proud graduate of Jackson State University, North Carolina Central University School of Law (J.D.) and American University Washington College of Law (LL.M.).
Support our reporting -- Become a JFP VIP.
The news business has changed dramatically in the past two years, and we need your help more than ever to keep bringing you important stories about Jackson and the Metro. Become a JFP VIP with an annual membership or you can Sign up as a monthly supporter. Thanks for anything you can do to empower our journalism!