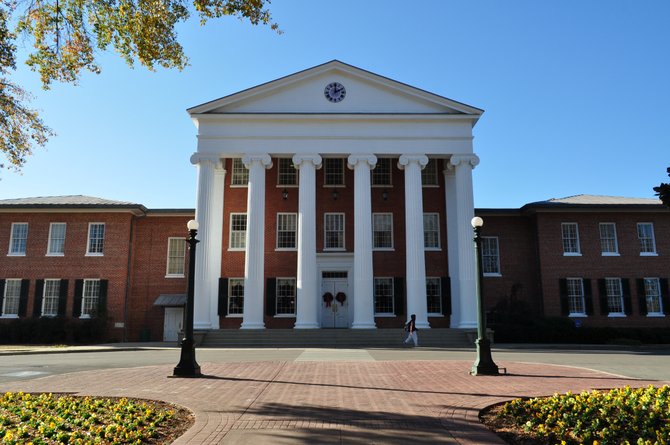 JACKSON, Miss. (AP) — The broken relationship between University of Mississippi Chancellor Dan Jones and the majority of the trustees who govern the school couldn't be mended under the glare of protests and alumni threatening to withhold donations.
Jones admitted as much Thursday, saying he couldn't reach an agreement with the board to renew his contract past its current expiration date in September. Buffeted by public pressure since the decision was announced March 20, Mississippi's College Board had offered a deal to allow Jones to continue until June 2017, but require him to retire at that point. Jones said he wanted a chance to stay on after then, and refused to accept the deal, saying being a "lame duck" would make it hard to hire executives and win donations.
In recent days, Jones and incoming state Higher Education Commissioner Jim Borsig met individually with a number of the board's 12 members, with Jones unsuccessfully seeking to change their minds. After years of conflict over the financial management of the University of Mississippi Medical Center, Jones said he no longer had trustees' confidence and could not remain.
"It is clear from the board's position that the board would not support my leadership during any extension," he said in a statement he read at a news conference in Oxford. "For the university to thrive and succeed, the university needs a leader who has the support of its governing board, which I clearly do not enjoy."
One final sign of the fracture? The board put out its own announcement moments before the news conference began, depriving Jones of the chance to deliver the news himself.
Borsig told The Associated Press in a phone interview that the board would now launch a national search for a new leader, a process likely to take at least six months. That could necessitate an interim chancellor at the 23,000-student university.
The board said Jones wasn't doing enough to improve oversight of the medical complex 150 miles south in Jackson, despite years of prodding by the board. They cited numerous examples of contracts that were improperly handled at the medical center, which has 10,000 employees and a $1.6 billion budget. Jones, a 66-year-old physician, ran the medical center before being named chancellor in 2009.
"The board by law provides oversight," Borsig said. "They had an expectation that these issues would be addressed, and they weren't."
Jones, in a press conference, continued to disagree that the problems were as severe as trustees portrayed, and said improvements were "taking place at an appropriate pace.
"By my nonobjective view, none of the things that were cited were reason to terminate the leader of a university."
None of the nine trustees that The Associated Press attempted to contact Thursday returned calls immediately, including outgoing board President Aubrey Patterson of Tupelo and incoming board President Alan Perry of Jackson.
Supporters continued to stand by Jones. Anthony Papa, president of the Gertrude C. Ford Foundation, said again Thursday that the foundation would retract the $20 million it's promised for a new science building.
"I think this is inexcusable," Papa said.
He left open the chance that foundation leaders could change their minds if Jones specifically asked them to. Trustees also faced pressure from other major Ole Miss donors, including author John Grisham, football icon Archie Manning and former Netscape CEO Jim Barksdale.
Michael Barnett, chair of the faculty senate and a theater professor, said he feared long-term damage to the school.
"I think it's going to be difficult to get these people to rally behind a new chancellor and I think it could be a very difficult transition," he said.
Phillip Waller, one of the organizers of Students for Dan Jones, said the group was still considering a rally to coincide with the next College Board meeting.
"A lot of people are trying to plan the next step," saying he wanted to keep things constructive. "A lot of people are angry with the board."
Copyright Associated Press. All rights reserved. This material may not be published, broadcast, rewritten, or redistributed.
Support our reporting -- Become a JFP VIP.
The news business has changed dramatically in the past year, and we need your help more than ever to keep bringing you important stories about Jackson and the Metro. Become a JFP VIP with an annual membership or you can Sign up as a monthly supporter. Thanks for anything you can do to empower our journalism!