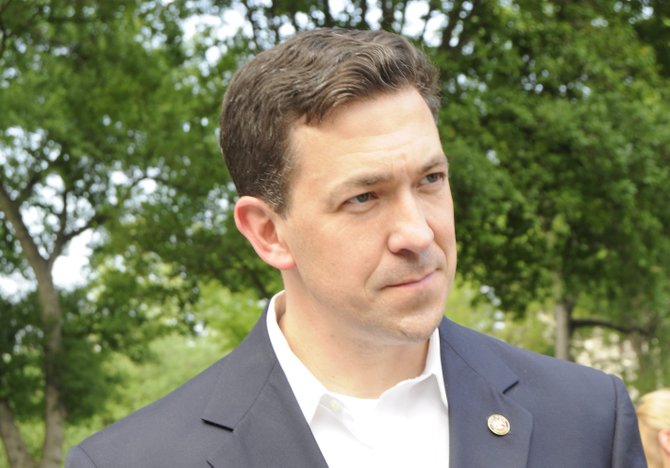 UPDATE: State Sen. Chris McDaniel filed an appeal of the dismissal to the Mississippi Supreme Court Sept. 5, 2014. The notice of appeal was signed by McDaniel's attorney, Mitch Tyner.
A special circuit court judge officially ordered the dismissal of State Sen. Chris McDaniel's election challenge in Jones County Sept. 4. Judge Hollis McGehee signed the order, which reiterated the decision made during the August 29 hearing of the case that McDaniel filed his challenge too late.
McDaniel has fought the results of the election from the moment he lost the Republican run-off to U.S. Sen. Thad Cochran by nearly 8,000 votes on June 24. McDaniel claimed voter fraud and unethical election practices stole the election from him, and demanded he be found victorious.
But by the time he compiled the evidence to make his case and filed with a circuit court in Jones County, where he is from, it was 41 days after the election he contested.
"Justice has no time table," McDaniel repeated in meetings with the press over the course of those 41 days. He had hoped the judicial system would make exceptions for him based on the content of his challenge.
"I am very disappointed to hear Judge McGehee granted Senator Cochran's Motion to Dismiss on a technical filing issue, instead of hearing the case on its merits," McDaniel said after the initial decision.
The judge found that the precedent in the Mississippi Supreme Court case Kellum v. Johnson (1959) stands. That case established that a file to an election must be made within 20 days of the election.
McDaniel has yet to announce what he will do in response to the dismissal, although an appeal is plausible.
"Although we do not yet have our justice, my prayer is that God's will be done. I likewise pray for all involved, including those who wronged us," McDaniel wrote in a statement.
Meanwhile, former U.S. Rep. Travis Childers said he's challenging six-term Republican Sen. Cochran to debate him four times before the Nov. 4 election—once in each of Mississippi's congressional districts.
Cochran campaign spokesman Jordan Russell told the Associated Press that the campaign will consider all scheduling requests. Cochran did not debate his Republican primary challenger and has said voters can compare candidates' records without seeing them on the same stage.
Childers, who won a north Mississippi congressional seat in 2008 and was defeated in 2010, said he has accepted invitations for a Senate campaign debate at the University of Mississippi in Oxford and at the Mississippi College School of Law in Jackson. He said dates have not been set.
"Unlike in the Republican primary, calls to debate cannot go unanswered. The issues are too important," Childers said Thursday outside the MC law school.
Russell said Cochran keeps a busy Senate schedule and has campaigned in 42 of the 82 counties in the past few weeks.
"Obviously, it's not up to one candidate to dictate the other candidate's schedule, and I 'm sure everyone understands that," Russell said.
Childers, who has also campaigned extensively, was asked how he and Cochran compare on issues.
"We differ on the 300,000 people here in the state of Mississippi who have no access to health care nor hopes of getting any. We differ on making minimum wage a living wage," Childers said.
Republican state officials have opposed expanding Medicaid, which is an option under the federal health overhaul that President Barack Obama signed into law in 2010. Officials have said up to 300,000 Mississippi residents could qualify. Cochran and Childers both voted against the federal law. The decision about expanding Medicaid is up to state lawmakers, not federal ones.
Meanwhile, it remained unclear when state Sen. McDaniel would announce whether he will try to revive his lawsuit that sought to overturn Cochran's Republican primary victory. Certified results show Cochran won the June 24 GOP runoff by 7,667 votes, but McDaniel's lawsuit claimed the runoff was spoiled by voting irregularities.
McDaniel's camp said he would announce Wednesday whether he will ask the Mississippi Supreme Court to reverse a judge's dismissal of the case. He made no announcement Wednesday or by Thursday afternoon.
Judge Hollis McGehee dismissed McDaniel's lawsuit Friday, saying it was filed too late. McGehee announced his ruling from the bench, but court officials said McGehee had not filed a written order of dismissal by close of business Wednesday.
After the written order is filed, McDaniel has 30 days to appeal McGehee's ruling to the Supreme Court.
McDaniel told Mississippi Public Broadcasting in a radio interview Wednesday that he did not expect his case to be dismissed, and he had not decided whether to appeal.
"The question from my mindset, before I spend more money and before I spend more time: Do we have a good case?" McDaniel told MPB. "That's always been my question. And my lawyers have told me, absolutely, we have a strong case they expect to win."
A Reform Party candidate, Shawn O'Hara, also is on the general election ballot.
Copyright Associated Press. All rights reserved. This material may not be published, broadcast, rewritten, or redistributed.
Support our reporting -- Become a JFP VIP.
The news business has changed dramatically in the past year, and we need your help more than ever to keep bringing you important stories about Jackson and the Metro. Become a JFP VIP with an annual membership or you can Sign up as a monthly supporter. Thanks for anything you can do to empower our journalism!