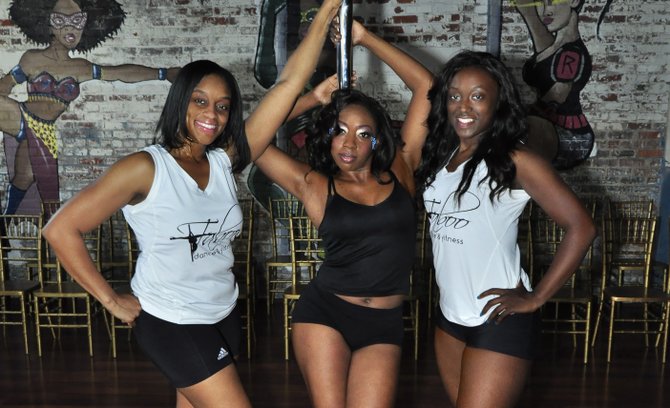 Six-inch platform heels clicked against the floor. A voice chanted, "Five, six, seven, eight." Usher's voice flooded the room for the fifth time. I wiped the sweat from my forehead and began. I caught a glimpse of myself in the mirror, walking, carefully placing one foot in front of the other to the beat. I tightened my grip, my feet left the floor, and I was soaring. It was athletic, acrobatic and surprisingly difficult—I was pole dancing.
As I spun half-awkwardly around the silver pole, I couldn't help but remember a line from "Crazy, Stupid Love." Ryan Gosling's character, Jacob, says: "The war between the sexes is over. We won the second women started doing pole dancing for exercise." After an hour in the beginner course, I knew he was wrong. What women are doing with poles today has little to do with men. Kimberly Sweeney, attorney and co-owner of Taboo Dance and Fitness (856F S. State St., 601-502-4000, mytaboofitness.com) in Jackson, calls it a fight—"a fight to get yourself back."
Sweeney is also passionate about domestic-violence prevention and was appointed to help develop a domestic-violence court in Jackson under the leadership of Mayor Chokwe Lumumba. While that effort has come to a halt since his death, Sweeney continues to be an advocate for women in her two roles. "(Taboo) has actually become a safe haven for women that have experienced domestic violence and women who are trying to make amends with their current relationships, get past divorce and survivors of terminal illness," she says.
"We had no idea that just having a studio that was female-focused would bring all these people."
There are varying opinions about counting exercise usually associated with the sex industry as valid or appropriate. These range from the more conservative belief that it's self-exploiting to the ultra-feminist idea that sexuality is power and that inhibitions about exotic dancing are relics of a patriarchal society that are as useless as an antique typewriter in the computer era. My experience had landed me somewhere in the middle, with sore pectorals and bruised knees.
As of 2012, the United States had more than 550 pole-fitness studios, according to United Pole Artists, a web-based news source with a mission to disseminate positive information about pole dancing. The group estimated that every 12 hours, a new studio was opening or a pole was being added to a pre-existing fitness center. The Jackson metro area has three dance studios that specialize in "poling"—Sway Dance and Fitness in Ridgeland, Sassy Fitness in Ridgeland and the recently opened Taboo Dance and Fitness in downtown Jackson.
Pole fitness has created a community of people who are trying to mainstream the sport into competitions and "respectable" exercise. They argue that it is not an improved version or new market for pole dancing, but a different thing altogether. While some more progressive studios might encourage stilettos during class, most "polers" wear average workout attire with tennis shoes or bare feet. Pole-fitness enthusiasts claim roots in the traditional Indian sport of Mallakhamba and Chinese pole, which are gymnastic in nature and what inspired many of the circus acts that are popular today, including Cirque De Soleil.
The trendy fitness regimen is becoming increasingly popular among men and women over 40 for the complete workout that it is—equal parts cardio and strength training. The growing acceptance among older, conservative individuals has propelled pole sales to an all-time high over the last couple of years. Ty Knutson, owner of popular pole retail website X-Pole, reported selling 5,000 poles per month in 2013.
It's undeniable that pole fitness is physically empowering. It burns the calories of any hour-long aerobic workout (approximately 350 depending on your size) while toning your core, building upper-body strength and increasing flexibility. The focus and self-control required to execute moves is comparable to yoga. It's 20-plus-year existence proves that it is more than a fad; people are taking notice of the aerial art that is pole dance so much so that it is being considered for inclusion in the Olympics. Pole fitness supporters have created competitions for professionals and amateurs alike. These fall into several categories that are strictly sensual, athletic or a blend.
Jackson's Taboo Dance and Fitness pushes the envelope even further with other group exercise classes that might be considered "sensual." Booty Werq is a high-intensity hip-hop cardio class. For students who want to explore forms of dance that accompany the pole, they offer Floorotica and Chair Tease. Taboo is no one-trick pony, though. The client who isn't quite ready for the pole can take BOKWA, a cardio exercise similar to Zumba, or PiYo, a blend of Pilates and yoga.
What you don't know until you try pole fitness is how emotionally empowering it can be. Pole instructors and supporters are reclaiming something that has long been considered demeaning towards women and flipping it on its head, transforming it into something that encourages women to appreciate and listen to their bodies without the obligation of pleasing onlookers. In a society riddled with body shaming and "gymtimidation," pole dance offers an outlet for creative expression, self-love and a real, legitimate workout—a trio of concepts that you won't find hanging out together often.
It's this trifecta that roped in Sweeney. She picked up pole fitness while searching for way to relieve stress while studying for the bar exam. In the last year, the attorney has opened her own law office in addition to the pole-fitness studio, Taboo, where she is co-owner and a certified instructor. Some might call her two career choices disparate, but she says they are "basically interchangeable." Each occupation lends itself to the other, with pole clients coming in for legal help and legal clients visiting her classes for stress relief. "It's not a polar opposite because people usually come to me when they're stressed out and need someone to turn to and help resolve their problems. It's the same as being a lawyer," she says.
For Sweeney, pole fitness is nothing short of therapeutic. "Women come in torn down from family problems and employment problems. They bear so many burdens," she says. "They're mothers, workers, wives. They're expected to look pretty and pull forward. It's hard to do that. They bring all those burdens, spin around the pole and watch them fall away." The journey is more emotional than physical or sexual. "I love seeing people go from, 'I can't do it' to 'I wanna try that,'" Sweeney says.
"They start seeing themselves in a different way."
Support our reporting -- Become a JFP VIP.
The news business has changed dramatically in the past year, and we need your help more than ever to keep bringing you important stories about Jackson and the Metro. Become a JFP VIP with an annual membership or you can Sign up as a monthly supporter. Thanks for anything you can do to empower our journalism!