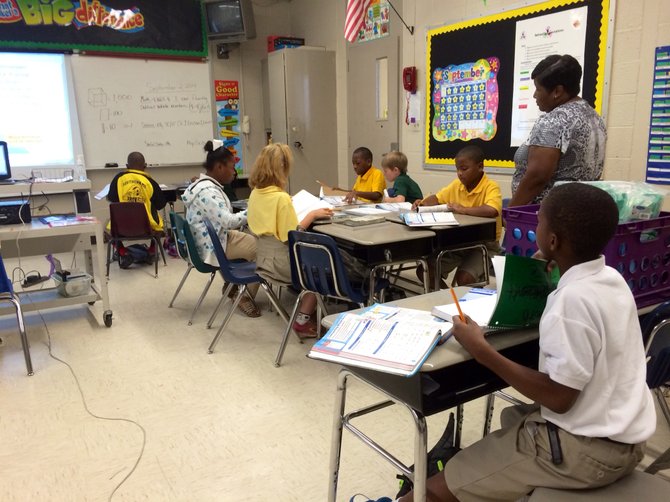 McComb, Miss.—Before school began in this small Mississippi town, teachers at McComb High School and Higgins Middle School received a massive binder full of instructional strategies outlining how to pace their classes.
"All of that information seems so overwhelming at first," Tokie Young-Butler, whose job is to provide resources to teachers, said.
McComb's teachers needed the summer to digest all the information. This fall, they began the mammoth task of preparing students for new tests based on the Common Core State Standards adopted by more than 40 states, including Mississippi. In addition to testing for more in-depth knowledge, students may take these tests online, but McComb schools have stuck to paper and pencil until now. A largely African American district of roughly 2,800, close to the Louisiana border, McComb is now hurrying to catch up.
The Mississippi Board of Education originally planned to sign a four-year contract with the publishing giant Pearson LLC to oversee the transition from pencil and paper testing to an online format.
However, that deal did not go through, and last month, the state signed an emergency contract for only one year.
Students will take the Partnership for Assessment of Readiness for College and Careers, or PARCC, exam, this school year. It is one of the tests that adhere to the standards, but the lack of a long-term contract means that the future of Common Core in Mississippi remains uncertain.
In the meantime, test prep—lots of it—will continue, as McComb and other districts adapt to new standards that require new ways of teaching and learning.
Not 'Teaching to the Test'
"We're not teaching to the test. We're teaching to match the Common Core standards," McComb High School principal Robert Lamkin said. Teachers at his school, he said, will "continue to do what we have adopted for this year, but we don't know whether we will still be doing the test (next year)."
Mississippi school districts began teaching the new standards several years ago, and McComb provides a snapshot of the difficult transition that lies ahead. Some districts fully transitioned all grades; others only did so with their youngest students. Some created a hybrid of the old and new models to give teachers and students more time to become familiar with the more challenging standards Mississippi's kids will be tested on in 2015.
Teachers could be evaluated on these test scores as soon as the 2015-16 school year, but they find themselves with less time to prepare for the more difficult new online Common Core-aligned exams on which they will definitely be evaluated—exams that experts across the U.S. warn will cause test scores to plummet.
Higgins Middle School introduced the new standards for just one semester last year before returning to the old in preparation for the state test. The district chose to teach its high schoolers only the old standards through the last school year so they could pass state exams needed to graduate; fewer than 61 percent of its students graduate within four years.
McComb High focused on teaching students for the state test. Pass rates in English jumped 4.9 percentage points to 67 percent; algebra scores went up 14.1 points to 82 percent. Statewide, scores dipped slightly because many schools taught to the new standards while the students were still tested on the old standards.
In most cases, the new standards are more rigorous than what states had in place, demanding, for example, that students explain how they arrive at the correct answer to a math problem or use specifics from a text to support answers. While Common Core proponents promise the standards will ultimately raise student achievement, the switch has been criticized around the country.
"It's definitely going to be a shift for all of our students," said Walt Drane, interim director of student assessment at the Mississippi Department of Education. "It's going to really require the student to be more engaged and think critically about their answers as they progress through this assessment. And that's something we've never done in our state."
Teachers Working Diligently
This year, teachers are taking advantage of professional-development sessions and working diligently to make sure all students master basic computer skills. Unlike the state's paper-and-pencil tests, the Common Core tests will be online and require students to complete tasks like dragging numbers to a number line, typing essays and highlighting lines of text from long passages.
In McComb on a recent weekday, frustration was evident on the faces of students in Susan Huckaby's 10th-grade English class. They were reading a short story about dealing with grief when Huckaby asked the class a question about Mattie, the story's protagonist.
"How big is the jar Mattie drops?" Huckaby wanted to know.
"Giant!" came the reply.
"No, the text says a gallon," Huckaby said, making it clear the answer needed to be far more specific.
Huckaby said the students are used to a surface answer and moving on, "but now nothing is just an easy answer."
"It's going to change how we prepare the students."
Higgins Middle School principal Kelli Little says the teachers at her school were overwhelmed before the school year began, knowing that the new standards, curriculum, and tests are a huge change for both students and teachers.
"It's like pulling teeth sometimes," fourth-grade math teacher Adelia Weatherspoon said. "They just want to give you the answer, and you have to keep saying, 'What process did you use to get there?'"
To help prepare staff members, both schools enlisted The Kirkland Group, an organization based in Ridgeland, that is providing teacher training and instructional resources, including the massive binder Higgins' teachers had to read over the summer.
"They kind of condensed (the information) into a document that would be very teacher-friendly," Young-Butler said. "I think this tool is going to take some of the stress out of it."
Lamkin said teachers at the high school are also participating in professional learning communities where co-workers can conduct peer evaluations, review and analyze lesson plans and strategies for this new style of teaching.
Stressed-Out Students
There is help for students who are overwhelmed, too. Students at Higgins and McComb High who scored low or below grade level on last year's state tests are enrolled in free after-school programs to prepare them for the new assessment. For low-scoring students at the high school, Lamkin said classes are built into their schedule to help them with the areas they struggle in.
Huckaby and many other teachers in McComb stressed the need for more computer training for students. The new exam will take place entirely on a desktop computer. Huckaby estimates half her class does not have access to one at home. Teachers at Higgins said some students, so used to tablets such as the iPad, are unfamiliar with how to use a mouse.
High school students face additional stress because they are required to take the Common Core test and also have to pass the state's revamped Subject Area Testing Program in order to graduate. The SATP tests, unlike previous years, will also be online this year.
Although staff and teachers in the district acknowledge that this year's test scores may suffer in the transition, most remain optimistic.
"We know that the reality is there's going to be a change," Angelia Johnson, a high school math teacher, said. "But what I'm doing is trying to prepare myself so that in the end, the information I'm giving them is the information that they see (on the test.)"
The Hechinger Report, a nonprofit, independent news website focused on inequality and innovation in education, wrote this story.
Support our reporting -- Become a JFP VIP.
The news business has changed dramatically in the past year, and we need your help more than ever to keep bringing you important stories about Jackson and the Metro. Become a JFP VIP with an annual membership or you can Sign up as a monthly supporter. Thanks for anything you can do to empower our journalism!