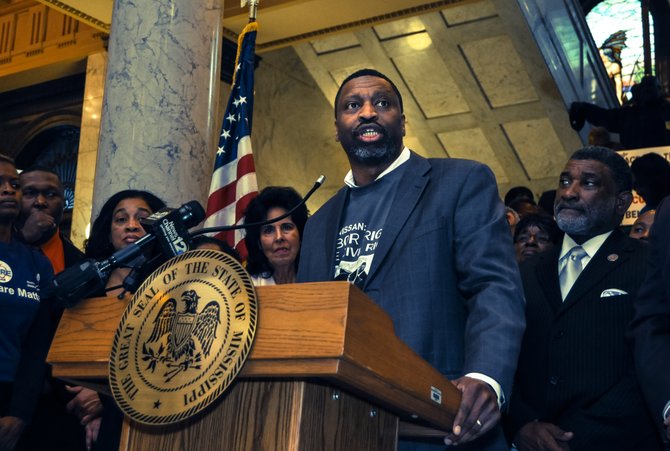 When two Tougaloo College alumni convinced Derrick Johnson, a Detroit, Mich., native, that he belonged at the college, Johnson ended up discovering a passion for civil-rights work.
Johnson, the current president of the Mississippi State Conference of the National Association for the Advancement of Colored People, immersed himself in the history and icons of the Civil Rights Movement during his time in college. A combination of meeting Aaron Henry, the state president of the NAACP at that time, and Johnson's curiosity regarding civil rights history sparked his interest in the subject.
"I went to my first NAACP meeting, and many of the people I was reading about were actually in the meeting," Johnson said. "That really generated a heightened interest."
Along with Henry, C.C. Bryant, Winson Hudson and several other actively engaged civil-rights figures were present at Johnson's first meeting.
While at Tougaloo, Johnson organized eight demonstrations over three years, including the student protest against the proposed consolidation of Mississippi Valley State University, Alcorn State University and other colleges, as well as the downsizing of Jackson State University.
After finishing his undergraduate studies in political science in 1993, Johnson moved to Houston, Texas, where he studied law at South Texas College of Law. However, he never strayed too far from Mississippi, continuing to work and organize large student demonstrations in the state.
Johnson has been a fellow with the Congressional Black Caucus Foundation, working closely with Congressman Bennie G. Thompson and with the George Washington University Graduate School of Political Management Minority Fellowship Program.
In the heartbreaking aftermath of Hurricane Katrina in 2005, Johnson founded One Voice Inc. to help improve the quality of life for African Americans and other disenfranchised groups and communities. The non-profit organization specializes in social justice through public policy and civic engagement. Johnson views One Voice's activities as some of his most meaningful contributions to Mississippi.
"Our leadership allows for people across the state to participate in and learn about organizing the development of communities and civic participation, which is some of the most important work of all," Johnson said.
Last week, Johnson, 45, took his civil-rights focus into a new arena: LGBTQ rights. He and several black legislators stood up at the Mississippi Capitol with Chad Griffin, president of the national Human Rights Campaign, which is opening an office in Mississippi to work toward equality for LGBTQ citizens. Johnson addressed SB 2681, a new Mississippi law that many, including religious activisits in the state, believe will allow businesses and others to legally discriminate against the LGBTQ community. "Any business in this state that decides they don't want the patronage of individuals who are from the LGBT community don't deserve the patronage of the African American community," Johnson said. "They don't deserve the patronage of any citizen in the state who truly believes that we are all equal."