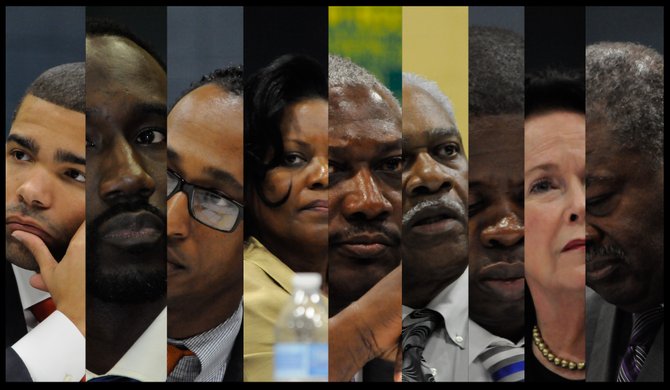 In the first forum for the Jackson mayor's race, which the West Central Jackson Improvement Association hosted Thursday evening, several battlefronts emerged.
It was clear that veteran officeholders see fellow incumbents as their primary rivals, while the younger candidates jockeyed to carry the mantle of fresh new ideas. These contrasts came into sharp focus in discussing the recent approval of a 1-percent sales tax hike.
State Sen. John Horhn touted his authorship of Senate Bill 3268, which authorized the city of Jackson to hold a referendum to raise taxes 1 percent with oversight from an appointed commission, and criticized former Mayor Harvey Johnson Jr. for not taking advantage of the tool while he was in office.
Johnson retorted that he was never against the tax, but disagreed with the oversight commission, which he described as an insult to the citizens of Jackson. Under the terms of the legislation, the mayor of Jackson would select four individuals from a list of nominees from Greater Jackson Chamber Partnership. The speaker of the state House of Representatives would appoint a non-voting member.
Regina Quinn, who ran unsuccessfully for mayor before supporting then-Councilman Chokwe Lumumba in his successful bid for the seat, was adamant that the tax was a necessity for dealing with debt.
"The fact is, we needed money," Quinn said. "The people voted for (the sales tax), and it was needed."
An audience member asked Ward 6 Councilman Tony Yarber to explain why he was absent for two sales-tax referendum votes on the council. Yarber said he had permission from City Council president Charles Tillman to be absent from the meeting to attend what he characterized as a "council-related" event.
Alyce Clarke, president of the West Central Jackson Improvement Association and a Democratic state representative from Jackson, presided over the hour-and-a-half-long forum that Jackson State University political science professor Dr. Rickey Hill moderated.
The candidates also tackled topics including the utilization of tax credits, crime prevention, crafting a budget, education and economic development. Ward 2 Councilman and council president Melvin Priester Jr. called crime the result of youth boredom, and added that jobs and using technology-based predictive policing are important to crime reduction.
Many of the candidates' economic development plans involved the ongoing Farish Street redevelopment project.
Yarber said the street needs more lighting and entertainment venues, while Quinn said that a baseball field and a convention center hotel was the best solution.
Francis P. Smith, a pastor who ran as an independent in the 2013 general election, argued that the city should put a movie theater and bowling alley on Farish Street.
"Why have millions of tax dollars and nowhere to spend it?" Smith asked.
Candidates will meet again for a mayoral debate WLBT-TV hosts Thursday, March 27, at 7 p.m.