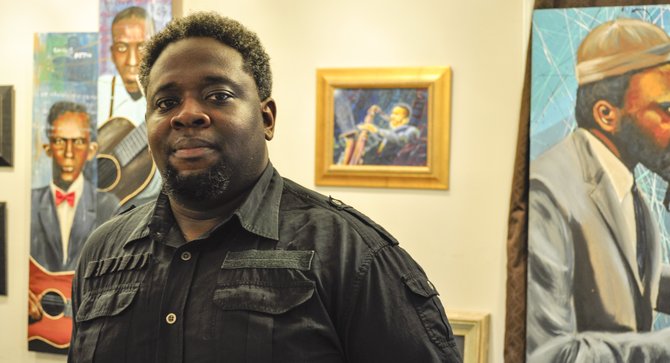 Geno Lee was not the young kid hanging around the family business. He did not spend his early years scrubbing the Big Apple Inn's floors or wiping the tables clean.
"I had no interest in ever running the Big Apple Inn," Lee, 49, said this month.
Twenty-five years ago, he was working in Jackson as a stockbroker when his uncle got sick. The Big Apple Inn (509 N. Farish St.), which opened in 1939, was about to close.
Lee knew 40 years was a long time to be open, and he did not want it to end on his watch. So, his father took the day shift, and he took the night shift. Together, they forged their way through the business world until Lee bought the restaurant from his dad 15 years ago.
But being part of the business world on Farish Street entails more than just dealing with sales taxes and parking meters. Businesses, both corporate franchises and local, have to deal with challenges. From permits to licenses to water-sewer issues, businesses must meet myriad challenges in order to be prosperous and keep their doors open.
Unlike national and corporate chains, local businesses often do not have the same funds and resources. A relationship with the City of Jackson could be what keeps the lights on and the water running.
Conventional wisdom says that the City of Jackson's taxes are too high, red tape to confusing and that city officials are not interested in helping businesses, the little people, crime and other issues. Although challenges do exist, the perception that Jackson is not business-friendly is not true, according to many successful small-business owners.
Thinking Small Pays Big
Riding the wave of the popular eat- and buy-local movements, small businesses owners, such as Dan Blumenthal from Mangia Bene Restaurant Management Company and Mitchell Moore from Campbell's Bakery, have said that they have seen an increase in business. Even as some businesses have closed for a variety of reasons—most small businesses do not make it past five years—local business owners have said they have seen an effect from selling to more customers.
This increase in popularity of "local" has greatly influenced the small-business community. Since 1995, small businesses have created a net of 65 percent more jobs nationally. The United States has about 28 million small businesses. Sole proprietors, where the business and the owners are not different legal entities, make up more than 22 million of these businesses.
Most importantly, small businesses employ around 120 million people, over 50 percent of the working population. With more than 240,000 small businesses in Mississippi in 2010, they represent 96.5 percent of all employers. Small businesses employed 436,996 Mississippians in 2010, which represented 49.5 percent of the private-sector labor force in the state, .
Of course, the goal of business is to create revenue through sales and services. For local businesses, this revenue returns to the local economy and recirculates through other businesses. A 2008 Civics Economics study showed that 48 percent of the revenue generated by a local business recirculates in the community, as opposed to 13.6 percent of chain businesses.
Small businesses are responsible for 52.6 percent of total retail sales, 46.9 percent of all wholesale sales and 24.8 percent of all manufacturing sales. They also employ the majority of the community and create a good portion of revenue that is used to help run local economies and government.
Because of local-business importance, it is vital that local government develops and nurtures relationships with the mom-and-pops. "If we had 1,000 small businesses like this in the city of Jackson, I think tax dollars would continue to grow. As long as business continues to move out of our city, more businesses are going to close," Lee said.
Andy Taggart, chairman of the Greater Jackson Chamber Partnership's board of directors, said small businesses determine the economic environment of a community. "The vitality and dynamic of quality of life that you have in a community really depends on viable small businesses," he said.
A Bittersweet Relationship
Sometimes city officials and developers have good intentions and lofty redevelopment projects that are designed to help businesses but actually end up hurting them. Farish Street, once the heart of a thriving black community, is an obvious example.
Over the years, Lee developed personal relationships with mayors Kane Ditto, Harvey Johnson and Frank Melton. He had just started to develop a connection with the Chokwe Lumumba administration at the time of the late mayor's death. Lee said the restaurant and the City of Jackson have a bittersweet but great working relationship.
"When I came and started down here, Kane Ditto was in office. And we had a very close relationship with Kane Ditto. He implemented a program to revitalize Farish Street," he said.
That revitalization project did not come into fruition until Harvey Johnson's administration, and it did not end as Ditto hoped and expected.
"The first thing they were going to do was to redo the roads. They stopped the street and started working on the roads that ended up being a two-year project. They blocked a one-way street, the only way to my business," he said. "In the meantime, a lot of businesses on Farish Street closed."
The Big Apple Inn opened another location on State Street and continued their relationship with the Johnson administration, even though some people in the community believed the Farish project was intended to close a lot of businesses on Farish.
"Even though it seems that Farish Street is at a standstill and has been for the last 20 years, there's been a lot of talk, some construction but no real action and no real movement into opening the community back again," Lee said. This standstill is not good or productive for Farish Street and Jackson as a whole, he says.
"First of all, I think it's a shame that we have such blight and poverty one block from the Capitol building. Second of all, I think that Farish Street is the draw that could help put Mississippi on the map," he said.
The revitalization of the Farish Street district began in 2005 when Performa, a Memphis development firm, started the process for the district to become similar to Beale Street. Performa ran into several problems, including alcohol sales close to Mississippi College, which was resolved in 2008 through a resort designation.
Performa was also dealing with issues with Downtown Jackson Partners, Mississippi Development Authority and bank loans.
Farish Street Group, which includes chief investor David Watkins, took over in October 2008. The group planned for 13 venues on the corridor, including a B.B. King's Restaurant and Blues Club.
But none of this happened. In September 2013, the Jackson Redevelopment Authority cancelled the Farish Street Group's lease. By early 2014, Farish Street Group, Watkins and the JRA were battling through legalities, and Farish Street is practically forgotten now.
A New Hope
But some local business owners, including Lee, have encountered challenges including city ordinances and infrastructure problems such as water sewer problems, potholes and pipe breakages. "I would like to see the government step up for me," Geno Lee said, regarding the revitalization of Farish Street.
Also, Lorenzo Gayden, owner of Sanaa Gallery & Boutique, said some people in the city government operate as if Jackson is still stuck in 1985, which was an entirely different Jackson and metro area.
"We are in dire need of small businesses. We're competing with surrounding areas that are booming," Gayden said. "I don't see that trend reversing anytime in the near future, so the best way to offset that is to really promote and foster local, small businesses."
With the election of a new mayor who seems to show interest in supporting the local economy, local businesses could see improvement in various ways.
"I really believe Mayor Yarber and what he says and what he intends to be a catalyst for making government responsive and helpful instead of making government with obstacles in every deal," Taggart said. "It's really refreshing to hear the mayor say that he talks to agency heads and makes it clear that he intends for things to get done instead of making it held up. That matters."
Ward 2 Jackson City Councilman Melvin Priester Jr. said Jackson needs local businesses because they generate jobs and tax revenue that the City requires to operate. He recognizes that local businesses have more loyalty to Jackson, and he wants small businesses who start and grow in the area to become big.
"I see us in (a) situation (of) trying to focus on making sure businesses can survive and stay here versus getting revenue off of said businesses," Gayden said. "If I fold, there will be no sign-fee revenue to be made, nor will there be any contribution to the tax base."
Revitalization Pains
Other parts of Jackson have also experienced an attempt of revitalization.
Some local business owners on Capitol Street downtown are being incredibly affected by a major city project. With the intended revitalization of downtown underway, the two-waying of Capitol Street is a roadblock for some businesses—especially with funding delays affecting its completion (see page 19 for more about Capitol Street woes).
Matthew Kajdan, head chef of Parlor Market (115 W. Capitol St.), said the construction has definitely affected their business, but they hope that the project will help in the long term.
"When they first started breaking the streets up, it hurt the business. But business has gotten back to where it should be," Kajdan said. "But when it's done, we have high hopes that it's going to impact Capitol Street and hopefully revitalize downtown Jackson."
He said he believes the Capitol Street road construction is one of the key pieces to downtown's revival.
"Think about where Fondren was 10 years ago, and Fondren wasn't always a hip neighborhood," Kajdan said. "So hopefully in 10 years, that's what downtown Jackson would be. Capitol Street would be the initial footprint and then it would start stretching outward. Then it would be the cool, hip place to be." Kajdan said Parlor Market has not had any other issues with the city other than wanting the construction to be completed faster.
"It looks like hell now, but when it's done, it's going to look great," he said.
That is, if the City can provide funding to finish the project. Downtown Jackson Partners says it has not been able to meet with the new mayor yet to discuss it.
Midtown is another Jackson district that hopes to see improvement and help from the City of Jackson.
Stacey "Soul" Winters, owner of Soul Wired Cafe (111 Millsaps Ave.), said the city told her in 2011 that she would be receiving an economic-development grant from the Department of Planning and Development, but she has never seen the money. Winters said the U.S. Department of Housing and Urban Development audited the city a year and a half ago, and she said she is waiting for HUD to tell Jackson how they are supposed to give money to Jackson businesses and help with economic development.
"Otherwise, the folks down there have been pretty cool," Winters said. "I'm happy to be here. I want to be in Midtown." Winters said she plans on organizing workshops and training programs to help give local people hope and an artistic outlet, especially for the children, with the grant money.
"I'm hoping that I will be able to receive the grants funds," Winters said. She has received financial support from Millsaps College and the Greater Jackson Arts Council.
While waiting for her grant money to be approved, Winters has also interacted with the City of Jackson regarding road construction on West Street because customers couldn't get to Soul Wired Cafe from West Street. During this time, she was also trying to have a sign, which requires city approval of the Planning and Development Department, so people could spot her businesses from Mill Street.
She was directed to the Department of Planning and Development where she was told the construction would be completed in around two weeks—and it was.
Signage Wanted
Unlike Farish Street, other businesses' problems are not as extensive. Of course, permits and ordinances are regulated, but sometimes the process to get them is a little too extensive and challenging, some local business owners say. A representative from the Signs and Licenses division said the division regulates signs in Jacksons. The representative said approval for a signage change could take a couple of days after submitting an appeal.
The Signs and License Division of the City of Jackson's Planning and Development Department is responsible for authorizing sign permits. Businesses must obtain a sign permit, and all signs have height and setback requirements that vary depending on a properties zoning. The Signs and License Division also notifies and fines owners if a sign does not meet these requirements.
Vivian Taylor, director of Pilates V Studio at 1867 Crane Ridge Drive, said she has experienced a challenge with signage on Lakeland Drive. She said the sign is not big enough for people to easily locate the studio because of its location, but she said the process of acquiring permits and licenses was fairly easy. She said she is pleased with the support she has seen from the city.
"We have requested some attention to that (signage request). And hopefully that'll be resolved. Hopefully some way we can get greater visibility from the street," Taylor said. Taylor said she made her request for more visible signage under the Lumumba administration and is planning on following up with the Yarber administration.
Gayden has also experienced challenges with signage with the city as well as property owners. He opened Sanaa Gallery & Boutique in 2008 in the interior of the Fondren Corner building. His business lasted for six months. One reason Gayden thinks the store closed was the policy that businesses could not put signs on the front of the building, so people did not know he was located there and could not find him. Although Gayden's situation was not a city issue, he has experienced signage issues with the city since moving locations.
Since then, Gayden has opened another store at 5846 Ridgewood Road, but he said he still experiences challenges with signage on the street, even though he worked out a deal with his building owner to offset the problem. "I wanted to go ahead and pay the fee to have a sign put out there. They said that if we were to pay, it wasn't possible because each building is only allowed a certain amount of sign square footage," he said.
The City of Jackson's sign ordinance's purposes are "(promoting) a pleasant environment while providing for a consistent regulation of commercial signs," "reducing the risk of distraction or confusion to drivers," "eliminating structural hazards" and "protecting and promoting the tourism industry by providing an obstructed view of the city's scenic areas."
After speaking with code enforcement employees in order to understand the logic of the ordinance, Gayden said he still does not understand the code. He believes some of the codes, especially the signage ordinance, were implemented when more businesses were in Jackson, and the city was trying to filter out some businesses.
Permits, Licenses and Requests
Many complain about all the licenses required to start a small businesses. And while it is true, some business owners in Jackson say it is not much of a problem.
Some small businesses have not experienced any difficulties with permits or ordinances. Campbell's Bakery (3013 N. State St.) in Fondren is one of these places.
Mitchell Moore, owner of Campbell's Bakery, said he thinks parking meters should be in retail areas, and Fondren is a retail area where parking disagreements between businesses can get heated.
"Parking in retail places needs to be quick. I have to be able to limit customers to 10 to 15 minutes otherwise my other customers aren't able to get in," Mitchell said.
Mitchell said the City of Jackson Planning and Development Department told him the Legislature has to approve the parking meters, and they would have to change zoning laws, in addition to paying for the actual meters. Mitchell said Fondren business owners he has spoken to are in favor of parking meters.
A representative from state Sen. David Blount's office said the Legislature does not have any connections to the parking meter system or Jackson zoning laws.
"We just call every six months (to the Department of Planning and Development) and say, 'What's going on? How are we doing? Is it going to happen?'" he said.
A representative from the Planning and Development Department said the Department of Public Works handles parking meters, but that department said the Division of Infrastructure Management handles the issue.
City officials who work under the direction of the mayor were not made available for this story to talk about their plans to help small businesses.
While the City has previously denied Moore's parking-meter request, Yarber said recently in a Jackson 2000 that the city is overhauling the parking meter system.
Moore said bakeries tend to not have as many licenses as other types of businesses, including places that serve alcohol.
P.J. Lee, Hal & Mal's (200 S. Commerce St.) general manager, said the downtown business on Commerce Street does not have a lot of issues with licenses and permits. "What we do in the beer, food and entertainment business, you know what you can and can't do and when you can do it and when you can't do it," he said.
He also said the business does not have issues with the city and infrastructure—even boil-water alerts. He said they typically get the boil alerts early when they come out, and it does not take long for them to expire.
"If you choose to live in Jackson, choose to run a business in Jackson, that's kind of one of the things that comes with the territory," P.J. Lee said. He said the infrastructure is old and will be a part of Jackson life until it becomes better.
Overall, P.J. Lee said Hal & Mal's does not have a lot of issues other than an old building, which is not a city problem, and he said they do not have a close relationship with the city government because they do not have a lot of problems, including sewer and plumbing.
Even when organizing the annual Mal's St. Paddy's Parade, P.J. Lee said the city is helpful. "We've been doing it for over 30 years on the parade side," he said. "Each year when it's time to start getting all the permits and stuff for the parade, the city knows what we need, and we know what the city needs from us. It's a pretty easy process, but beyond that, we don't have a lot of interaction."
Help from Third Parties
Small businesses are not the only entities that have relationships with the City of Jackson, though. Other organizations around the area offer help and guidance to business people and can act as liaisons with city representatives.
For example, when Hal & Mal's needs assistance, P.J. Lee said he talks to Downtown Jackson Partners.
John Gomez, associate director at Downtown Jackson Partners, said the organization that runs the downtown business-improvement district supports downtown businesses by providing marketing assistance, pointing businesses to improvement grants and helping with sales-tax rebates.
Gomez said DJP has an open-door policy and works with businesses on a case-by-case basis, including helping The Mayflower Cafe with a facade grant.
The Greater Jackson Chamber Partnership also aids local businesses.
Taggart said the Chamber acts as the unified voice for the metro area business community that speaks to governmental units and economic-development prospects for people who are looking to relocate into the area.
The Greater Jackson Chamber Partnership also offers training programs for workplace safety and economic-opportunity training programs in addition to sponsoring Leadership Jackson.
Taggart said the relationship between the City of Jackson and the Chamber Partnership is closer than in the past because late Mayor Lumumba was instrumental in opening their communication lines, which he believes helps with responsiveness. He expects that cooperation to continue.
"Mayor (Tony) Yarber has gone out of his way to build those relationships," Taggart said. "Those kinds of things make a big difference with the working relationship."
Getting on the List
Of course, problems do still arise even though a business has a good working relationship with the city. But that relationship could mean the difference between the problem being fixed within the near future or never being fixed.
Dan Blumenthal, Mangia Bene executive chef and co-owner, said they maintain good relations with the city's administration and have been involved with new ordinances including the non-smoking code and citywide initiatives including supporting the creation of the Jackson Convention Center.
"It's important to shape and mold to city where we do business and to try to have an impact on that and to maintain good relationships with the mayoral administration and people in power," he said.
With Sal & Mookie's New York Pizza and Ice Cream Joint located in Fondren and BRAVO! Italian Restaurant and Bar and Broad Street Baking Company and Cafe off Interstate 55, Blumenthal said his company deals with water-sewer issues constantly, in addition to infrastructure and street condition issues like other Jackson businesses.
"Restaurants rely on fresh water. If we don't have fresh water, it makes it very difficult to operate," he said. "There are constantly issues especially in this area because it's an older area in the Fondren area with pipes breaking and water boil notices."
Blumenthal said he believes Mangia Bene's good relationship with the city pays off because they receive a quick and efficient response to issues.
"We call up (to the Department of Public Works), and they come out and deal with the issues as quickly as possible. We feed the workers lunch and take care of them. So the next time it happens, we are on the top of their list," he said. "We just take care of them, and we've developed relationships with that department. That's helped us out."
Of course, Mangia Bene's restaurants must adhere to industry standards and permits, but Blumenthal said they have not had any challenges in that area. Overall, he said it is much easier to own a restaurant in Jackson compared to San Francisco, where he attended culinary school and worked before moving to Jackson.
Like Blumenthal, Mike Upton has worked in the business field in different cities. Upton, owner of Upton Tire Pros, owns locations in Madison, Jackson, Flowood and Brandon. He said all cities are different and have different codes and covenants. For example, his Madison store must adhere to the "Madison look." On the other hand, he said his Jackson store is similar, but the city has fewer covenants that surround areas. He said Jackson is easy to work with although he has not interacted with the city very much.
Rainbow Co-Op Grocery (2807 Old Canton Road) has had a tougher go of it with the city, however. Battling flooding issues since 2001, Rainbow employees called city officials in February and were told the store had to hire a company to fix their pipe problems after a pipe burst under their neighbor Montgomery Hardware. Because of a dispute between the owner of Montgomery Hardware and the city, the pipes were not fixed in a timely manner.
In May, city officials were making plans to fix the flooding problem but were stopped because of a Fondren enhancement grant. The grant said Jackson would have to pay for repairs. This has developed into an issue involving other businesses in the area that would be affected by the construction.
Rainbow management said they could not comment on their relationship with the City of Jackson due to an ongoing lawsuit.
'A More Holistic Approach'
Local businesses have established relationships with the city government including the Jackson City Council in the past but are working to establish a connection with the Yarber administration.
Jackson City Council members Quentin Whitwell, Ward 1; LaRita Cooper-Stokes, Ward 3; De'Keither Stamps, Ward 4; Charles Tillman, Ward 5; and Margaret Barrett-Simon, Ward 7, could not be reached for comment about the city's approaches to helping small businesses.
But Ward 2 Councilman Melvin Priester Jr. said the City has recognized that it must help local businesses.
"This is a work-in-progress," he said. "Jackson has developed a reputation historically of not being quick with people's business issues and not being accessible and consequentially losing out. Since we've recognized that it's something that we see as an area of improvement, and we are really focused on trying to improve accountability and accessibility."
Priester has numerous relationships with local business and interacts daily with them, from assisting businesses with permits and filling potholes and demolishing abandoned properties.
"I've seen us (city council) take a more hands-on approach to dealing with small businesses in particular," Priester said.
"I think we agree that one of the things that we have to focus on as a city is being more responsive and more friendly to business people, but we still have a lot of obstacles that over the last year that we've been trying to use technology more and more to try to do things for the city."
In particular, Priester has directly helped Ward 2 local businesses including Simple Stone Solutions (5760 Gallant Drive).
Terri Harrison, who runs Simple Stone Solutions with her husband, Edward, said they called Priester to talk with him about the road conditions, including potholes by their business, because they thought the potholes were deterring people from their business. Harrison said Priester rode to the area and spoke with them about helping fix the roads. "I think as soon as the weather permitted within the next few weeks, they did patch the potholes," she said.
Even though Priester believes the City is more responsive to businesses' requests, he knows there is room to improve including moving tasks including applying for permits online.
"We've got some significant obstacles to still overcome," he said. "So, we're taking a more holistic approach and trying to be more accessible," he said.
The Power of Small Biz
Small businesses in the United States account for:
• 99.7 percent of employer firms
• 98 percent of firms exporting goods
• 48.5 percent of private-sector employment
• 37 percent of high-tech employment
About 10 to 12 percent of firms with employees open and close yearly.
Around half of new businesses survive after five years. About 1/3 are opened for 10 or more years.
Women owned 36 percent of businesses in 2012.
About 15 percent of all business owners in the U.S. were not white in 2012.
Number of businesses owned by non-whites in 2007:
• 1.6 million businesses were Asian-owned.
• African Americans owned 1.9 million businesses.
• 2.3 million businesses were Hispanic-owned.
• Native Americans/Pacific Islanders owned 0.3 million businesses.
Self-employment among people 25 years and younger decreased 23 percent from 2002 to 2012, while self-employment among people 65 years and older increased by 66 percent.
Source: www.sba.gov
Support our reporting -- Follow the MFP.