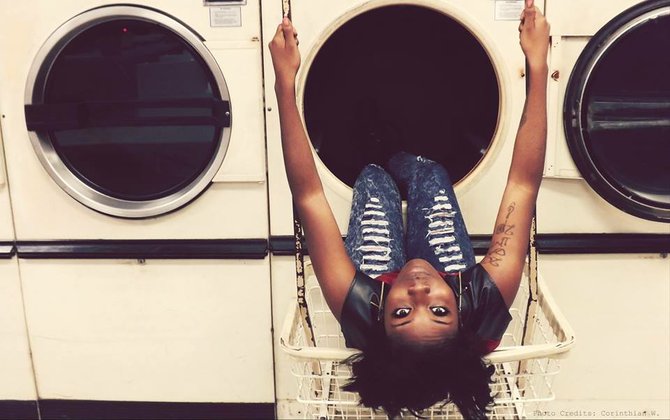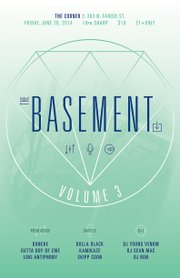 In a music landscape where hip-hop purists don't often have a place to go, Stephen Brown, aka 5th Child, has found a way to give fans what they want. The Jackson native, rap artist, producer, and promoter is the organizer of hip-hop events The Basement and New Jacks. Together, the upcoming installments of the ongoing projects will create an entire weekend of exploration for Jackson's past, present and future in hip-hop.
"Where The Basement is more of a celebration of the culture of hip-hop, New Jacks is a showcase and developing ground for fresh new faces to the Jackson hip-hop scene," Brown says.
The Basement Vol. 3 and its celebrations will take place in the vacant building directly next door to F. Jones Corner on Farish Street. The space facilitates a gritty, primitive feel reminiscent of New York block parties during the genesis of hip-hop culture. The showcase focuses on a separation of hip-hop's core elements, including spoken word, rap, break-dancing, disk-jockeying and beat production. The building's owner, Daniel Dillon, has even welcomed any graffiti artists in attendance to spray paint the walls throughout the night.
The lineup for The Basement Vol. 3 features recognizable Jackson artists. Each emcee, Skipp Coon, Brad "Kamikaze" Franklin and Dolla Black, represents a different side of local rap's colorful spectrum.
Dolla Black's recently released maxi-single offers a boisterous set of tunes, all fit for radio play nationwide. Songs like "iHustle" and "Take it Off" showcase the rhyme star's gruff approach to describing life in Jackson. Even when laying party rhymes onto the hectic synth of the latter song, Black is able to accentuate the end of each line.
Seamlessly flowing each line to the next on his latest single "Ain't F*ckin' With Me," he defiantly proclaims, "I don't owe no one a damn thang."
Despite the single's manifesto, Black says he and his crew have a lot to prove at The Basement. "I really look at us as the underdogs," Dolla Black, CEO of Black Dollar Entertainment, says. "When I'm called, I try to find ways to import them into my performances, as well."
The Black Dollar Entertainment roster features local artists such as Mojo Kezz and Jo'De Boy and Collins, Miss., rapper Ty Lindsey, each of whom will help Dolla Black rock the crowd at The Basement.
For those who don't relate to the street spirituals and party jams of the BDE clan, Skipp Coon may serve as a welcome alternative. "I don't think you're going to go into the vaults of Skipp Coon and find too many strip-club anthems," Skipp says. "The improvement of the conditions of black people has been and always will be of the utmost importance to me."
His 2010 release, "Sophomore Slump, Vol. 1: Independents Day," which he recorded alongside producer Mr. Nick, garnered positive reviews. "I'm giving what you need, and they selling what you want," Skipp boasts on the album's standout track, "It Is What It Is."
"He (Skipp Coon) tirelessly toils over the beat, hammering away at each bar with the force of a chain gang," David Dennis of The Smoking Section says in a review of Skipp Coon and Mr. Nick's "Women Revolution Tennis Shoes" EP.
Even longtime fans of Skipp's music have a revamped experience in store with his upcoming set at The Basement. "I don't use a DJ anymore. I essentially do a one-man show," he says.
The third rapper featured at The Basement Vol. 3, Kamikaze aka Mr. Franklin, has been a pioneer of the Jackson rap movement. He made waves nationally with recording artist David Banner as a part of the duo, Crooked Lettaz, in the late 1990s.
Mr. Franklin hopes to use his time at The Basement to establish a new, more distinguished version of hip-hop music. "I have to talk about things that relate to people who live the kind of life that I live," he says. "We don't have a lot of people who are talking about the trials and tribulations of the everyday guy that has a wife and has kids and isn't in the club every night."
Those in attendance can expect to hear new and old tunes from the hometown legend as he gears up for the release of "My Strange Addiction." The EP will be the first collection of new music from the rapper in four years.
As a community leader, journalist and mentor, Mr. Franklin is able to relay his experiences and expertise within the music business to aspiring Jackson artists, such as those who will be cutting their teeth at New Jacks on the night following The Basement.
"(Your work ethic is) what is going to be the hallmark of your reputation," Franklin says.
New Jacks Vol. 2 will spotlight five Jackson area artists who have less experience in the local music scene.
Each of the performers—J da Groova, 17-year-old "femcee" Tira D, Renee Lee, D.O.L.O. and T$G—are under the tutelage of 5th Child, who assists them in recording songs, organizing photo shoots, promoting releases, booking performances and marketing merchandise.
"He's taught me a lot of lessons when it comes to being business savvy and just appreciating music for what it is," 16-year-old Talib Gramby aka T$G says.
Jacksonians who are in the mood for southern-style melodic rhymes and high-energy rap activism, or a glimpse of what sounds are next to come will find what they're looking for in The Basement and New Jacks.
The Basement Vol. 3 is at 10 p.m. June 20 at The Corner (303 N. Farish St.). Admission is $10 at the door, and the event is for those over 21 years old. New Jacks Vol. 2 is at 7 p.m. June 21 at TurnUp Studios (155 Wesley Ave.). The event is free. Find the events on Facebook for more information.
More like this story
Support our reporting -- Become a JFP VIP.
The news business has changed dramatically in the past year, and we need your help more than ever to keep bringing you important stories about Jackson and the Metro. Become a JFP VIP with an annual membership or you can Sign up as a monthly supporter. Thanks for anything you can do to empower our journalism!