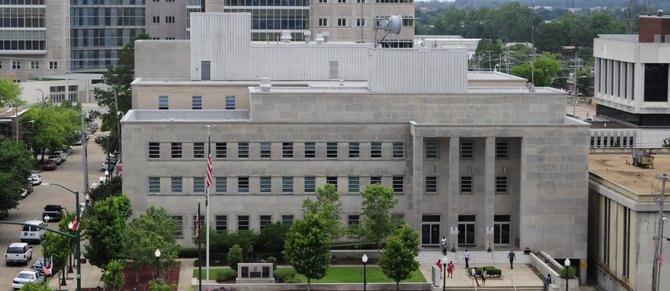 JACKSON, Miss. (AP) — Watching a state or federal court hearing or getting court records is usually a simple procedure in Mississippi. Just show up at the courtroom at the appointed time or ask the clerk to see the court pleadings.
But it's not always so simple in some Mississippi municipal courts.
Twice in recent weeks, reporters seeking access to hearings or records have gotten the runaround, raising questions about the level of openness in courts that handle thousands of low-level offenses, as well as initial proceedings for more serious crimes.
On May 6, Hinds County Sheriff's Deputy Joshua Adams made an initial appearance in Jackson Municipal Court after he was arrested on charges that he had beaten to death youth basketball coach Justin Griffin in a fight outside a Jackson gymnasium. The facts are disputed, with police and Griffin's family saying the attack was unprovoked, but with Adams' supporters noting a video that shows Griffin throwing punches in the fight.
Reporters showed up for the scheduled hearing, and other prisoners were brought in wearing jail clothes. But Adams never appeared.
Court personnel later told reporters that Municipal Judge William Walker had conducted Adams initial appearance "in the hall," raising questions of whether he was getting special, out-of-sight treatment because he was a sheriff's deputy.
Court personnel didn't respond to requests to view legal papers in the case, and The Associated Press was directed to file an open-records request.
The city of Jackson responded on May 23, saying it has no written rules allowing private initial appearances. The court said it had no records on Adams because his case was transferred to Hinds County Circuit Court after he was denied bond at the initial hearing.
Later in May, Madison police charged four men in an alleged conspiracy to photograph the wife of U.S. Sen. Thad Cochran without her permission at her nursing home. The accusations roiled the Republican U.S. Senate primary between incumbent Cochran and his challenger, state Sen. Chris McDaniel of Ellisville.
A May 22 hearing before Madison Municipal Judge Dale Danks Jr. was open, but didn't clearly explain what police believed each person had done. When reporters asked to see court papers, clerks said the city wasn't releasing anything. Again, reporters were told to file public records requests, which the city fulfilled on May 28.
Those who work with municipal courts say there are reasons for some roadblocks.
Tamra Morgan of Clinton Municipal Court said the city's judge sometimes holds initial appearances at the jail, if prisoners are violent or if the court is having a hearing outside its normal schedule.
John Hedglin, Madison's city attorney, said his city doesn't allow instant access to files because investigative reports are kept together with incident reports and court papers. State law allows cities to withhold investigative material.
"They're public record to the extent that they're not part of the investigative file," Hedglin said.
He said that when people ask for files, the city requires a record request and typically has a city prosecutor screen the file.
The recent experiences, though far from a comprehensive sample of Mississippi's municipal courts, raise questions.
Will Bardwell, president of the Mississippi Center for Freedom of Information, said court files should be accessible without advance screening, and that governments should keep out confidential information to facilitate access.
"Government is only accountable to the citizens it serves when it is open and accessible to those citizens," Bardwell said. "That's especially true when you're talking about its judicial branch. And of all the pieces of the judiciary, municipal court is probably the one that citizens are most likely to encounter."
Copyright Associated Press. All rights reserved. This material may not be published, broadcast, rewritten, or redistributed.
Support our reporting -- Follow the MFP.