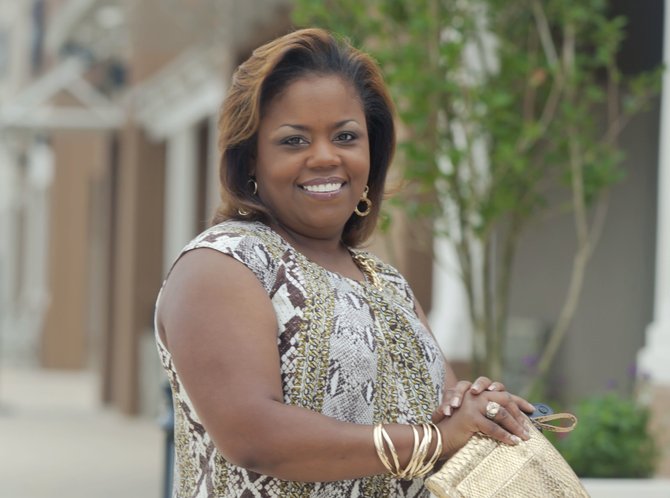 Dr. Carrie Nash, D.O.
While she was growing up in Pearl, Carrie Nash didn't consider many options for her future. She always knew college was in her plan, but it was a high-school teacher who suggested medical school. Now 39, Dr. Nash practices osteopathic medicine at Baptist Medical Clinic of Brandon.
The holistic path of osteopathic medicine, emphasizing preventative care, drew Nash toward her degree. She graduated from Millsaps College with a bachelor's in science. She is the first in her immediate family to graduate from college.
After working at a medical clinic for six years, Nash took the non-traditional route and attended Kansas City University of Medical and Biological Sciences, graduating in 2005.
"I feel like medicine is my calling in life, and that's exactly what I set out to do," Nash says.
Nash sees patients of all ages, from infancy to old age. She treats each patient personally and make a difference in their lives. Nash says one of the hardest things about being a doctor is making sure that what she does for patients is in their best interest, not what just want they want from her.
"Sometimes you have a patient that has high blood pressure, and you have to ask yourself, 'Why is it so high?' Sometimes they can't afford their medicine, or maybe they just aren't eating right," she says. "Getting to know your patient as a person ... is what osteopathy is about."
Nash uses her free time to give back to her community. She has volunteered at the Center for Violence Prevention since 2008, tending to the needs of patients who are usually uninsured and treating their minor medical issues, such as removing sutures or staples.
"To see people change when we help them, that's the best part," she says.—Maya Miller
Jennifer Riley-Collins
During the summer of 1985, between her sophomore and junior year at Alcorn State University, Jennifer Riley-Collins joined the United States Army.
"I quickly discovered I didn't like the name Private Riley," she says. To move up in rank, she joined Alcorn's ROTC program the next fall. Now, she is a lieutenant colonel and has been a commissioned officer for 26 years, with tours of duty in Operation Iraqi Freedom and Operation Enduring Freedom.
Riley-Collins, now 48 and a W.K. Kellogg Foundation fellow from Mississippi, says she works "in defense of those who cannot defend themselves," which aligns perfectly with her job as executive director of the American Civil Liberties Union of Mississippi.
"The mission of the ACLU is to protect the Constitution, and the mission of the military is to protect the Constitution and the citizens of the United States," Riley-Collins says.
She also says her experiences as an intelligence officer that help her fight legal battles. "You learn to survey the battlefield, so to speak, to see where you have access, what territory is a no go. You learn to (assess) your enemy. (I use) those things as I navigate policies and try to overcome institutional discrimination in the state of Mississippi," Riley-Collins says. "I apply those skills on a daily basis."
She became executive director April 1, 2013, just after coming off active duty.
Riley-Collins was born in Meridian in 1965, not too far from the home of Michael and Rita Schwerner.
"I never knew that we were in peril in any way," Riley-Collins says of her childhood. "My parents were both very hardworking people who just kept us safe."
She says she did not completely realize the impact of Freedom Summer on her hometown until she was a junior at Meridian High School in 1982, planning the school's first prom since integration.
A 1999 graduate of the Mississippi College School of Law, Riley-Collins is also a mother of three sons—Joseph, 24, Jonathan, 18, and Joshua, 15—and the grandmother of 6-year-old Travis Michael.—Mary Kate McGowan
Corrine Williams-Anderson
For Corrine Williams-Anderson, education is everything. The Yazoo City native has spent most of her life educating Mississippians on public policy and the Legislature, as well as teaching students from kindergarten to graduate school. The Mississippi chapter of the American Association of University Women recently appointed her as president.
Williams-Anderson was the oldest of 14 children. When she was 15, her family relocated to Chicago. She has five children of her own and served as the Parent Teachers Association president for 26 years at DuBois Elementary School in Chicago. "I wanted to connect better with the teachers," she says. "I wanted to be a voice for the mothers."
In 1982, she became the first person at Jackson State University to receive her doctorate, which was in early childhood education, and the first in her family to earn a college degree.
Since then, Williams-Anderson taught at Boyd Elementary School and Copiah Lincoln Community College. She began a reading lab at Piney Woods Country Life School and was an adjunct English instructor at JSU. In 1990, she became an assistant professor at Tougaloo College. Two years later, she became dean of the education department, and in 2004, she became provost and vice president of student affairs.
In 2007, the Liberia Teacher Training Program chose Williams-Anderson in an effort to train the country's rural teachers. Williams-Anderson was a senior technical adviser and ran many teacher's training programs, and she advised educators in Namibia and Ghana. She moved to Liberia in 2010 and then back to Mississippi in 2012. "I learned a lot about African American people by having lived there," she says.
The educator is a member of the National Coalition of 100 Black Women, the Federation of Democratic Women, Women for Progress, and Sisters Taking Action and Nurturing Decision Makers.
"The key is to be open-minded and learn all you can. It's a sad state of affairs when you are surrounded by people who don't know more than you do," she says.—Maya Miller
Deirdra Harris Glover
Deirdra Harris Glover is a passionate supporter of women's rights and a lover of pop culture. Glover studied English and theater at Agnes Scott College in Georgia, an all-women's school. She moved to Jackson 13 years ago, and now works for the Unitarian Universalist Church in Jackson as communications and public relations director. The 41-year-old says the church is "really about community and enjoying that natural spark that we all have within us."
A survivor of an abusive relationship, Glover has applied her skills in web design to volunteerism, helping with the Center for Violence Prevention's website and social media.
"I know what support my friends gave me, and I've been grateful to return the favor but not happy it happened," she says.
"I am grateful that I have nerded out enough about that experience to give to other people who need it."
Previously, Glover was a spokeswoman and public-affairs specialist for Volunteer Mississippi and served on the public-policy committee for Planned Parenthood in Mississippi. "It's been really nice to see all these fierce women from so many different backgrounds come together and bear down upon the Senate and the House," she says. "They are lionesses in heels."
Glover has also been involved in social-media campaigns for the JFP Chick Ball, Yoga for Nonviolence, the UU Church, and her latest project, Camp Mercury, an intergenerational summer camp. She also wants to make the comic-book community more accessible.
"We've sort of learned to be insular and have our own language about things, and I hate that," she says, "I want to hear what people have to say, and I want others to feel comfortable (saying), 'I don't know anything about comic books.'"
Glover works with Jackson comic-book store Offbeat, hosting Graphic Content, its comic-book club.
"I try to give back to all my communities, which means I'm very busy," she says. "I don't sleep much, but I'm very happy."—Emma McNeel
Donna Sims
In 1982, Donna Sims, 56, was working as a manager and buyer for a Starkville. clothing store, but she wanted change. Her mother had a career in banking, and Sims wanted to do the same. So Sims called a friend who worked at Deposit Guaranty National Bank in the Jackson area.
Sims, a Memphis native who moved to Starkville at age 2, began her banking career as a floating teller in the Jackson area. She quickly moved to a permanent job downtown.
Over the years, Sims worked at different banks in various positions She became president of Madison County Bank Plus, which consists of 13 branches, in 2000. . "Whenever there would be a job opening that was a step up, I would apply for it and just work through different areas of the bank that way," Sims says.
A 1980 graduate of Mississippi State University, Sims has a degree in fashion merchandising.
Sims is a board member at St. Dominic's Hospital, Willowood Developmental Center, president of the Special Olympics in Mississippi board of directors, treasurer of Greater Jackson Chamber Partnership board of directors and a board member of the Girl Scouts of Greater Mississippi.
"In giving like that, you're able to see the good that you're able to do and the difference you can make," she says.—Mary Kate McGowan
Freddie Singleton
For 22 years, Investigator Freddie Singleton has fought to keep Jacksonians safe. Singleton is an officer and investigator for the Hinds County Sheriff's Department and has duties, including offering protection to victims of domestic assault and serving protection orders. She also follows up with victims and educates them on their options for a safer life.
A native of Copiah County, Singleton, 61, moved to Jackson in 1974. She made history by being the first African American female in the Hinds County Patrol Division. In June, the Hinds County District Attorney's Office appointed her to work there as an investigator and special project liaison for the tri-county area.
For Singleton, the hardest part of working with victims of domestic violence is keeping them safe.
"I want them to know that they have choices they can make," she says. "They have options out of the situation." Singleton has spoken to numerous organizations such as Angel Wings Outreach Center and high schools such as Wingfield and Lanier.
Sexting and cyberbullying are growing issues, and Singleton feels it's her duty to inform young students of the dangers.
"It's humbling to be able to keep people informed of their choices and change the path that they're on," she says.—Maya Miler
Joni Strickland McClain
Joni Strickland McClain knows about "a woman's touch." McClain is president of McClain Lodge, an event venue in Brandon that she owns with her husband, Buddy McClain. McClain Lodge hosts events from weddings to fundraisers and Joni McClain oversees sales, marketing and helps plan events.
McClain is a Jackson native and received a bachelor's degree in marketing from the University of Southern Mississippi. At Southern Miss, she planned events for the cheerleading team. "I knew it was in my blood," she says. She had a successful career in radio sales and also earned her real-estate broker's license. McClain resigned from her position to open Event Works, solidifying her passion for event sales and planning.
When she resigned from her job, many expressed doubts. "They thought I had lost my mind," she says, but she succeeded. Over 10 years, McClain was responsible for all facets of events: invitations, set up, music, decorating and thank-you notes.
She also met her future husband, Buddy McClain, through business connections, and they married at Luckett Lodge and purchased it five years later.
"Women are great business people, because they can juggle a lot and handle adversity well," she says. McClain is a perfect example of how a "woman's touch" can also be a firm grip.—Mary Spooner
Rosalind Sanders Rawls
Rosalind Rawls divorced after 21 years and two children. "I basically had to discover who I was," she said. What she found was a strong woman and a champion for Mississippi's progress.
The Laurel, Miss., native moved to Jackson when she was 3. She graduated from Forest Hill High School, and earned a bachelor's degree from Belhaven University in business administration.
In 2007, Rawls became the executive director of the Mississippi Democratic Party. In 2008, she became executive director for the Foundation for Education and Economic Development, a position she held until 2011.
When the Mississippi Commission on the Status of Women became a state agency in 2012, the organization hired Rawls as its executive director, a position she still holds. "Our main thing is to improve the quality of life for women in the state, specifically in the areas of education, economics, health, race relations and political participation," she says.
Rawls hopes to see the first female governor of Mississippi in her lifetime.
She knows Jackson needs improvement, but sees that as a positive. "To me, if we really have that much ground to make up, there are great opportunities for progress," she says.—Carmen Cristo
Jocelyn Pritchett
Jocelyn Pritchett is a business owner who fights for LGBT rights. After her father encouraged her to pursue civil engineering, the Eupora native received a master's degree in city planning from Georgia Institute of Technology. After Pritchett had her first child in 2008, she opened Pritchett Engineering and Planning, which creates plans for transportation projects. One of her goals was to create a "flexible workplace for smart people who want to be in charge of their own time," she says.
Pritchett married her partner, Carla Webb, in Maine in September 2013, but the State of Mississippi does not recognize the marriage. Though Webb supplied the eggs, she doesn't have rights to the children because Pritchett carried them. When Pritchett heard about SB2681, the state's religious freedom bill, she knew she had to get involved. "A lot of times we just overlook discrimination, but when they tried to pass a bill to discriminate against my family, it wasn't just me any more. I have children to protect, and I think that's what woke me up," she says.
Pritchett worked with Mitchell Moore, owner of Campbell's Bakery, to start "If You're Buying, We're Selling," which provides window clings to businesses to proclaim they do not discriminate. She has organized rallies and meetings for LGBT rights, and she is involved with the Human Rights Campaign, Project One America and the Victory Fund. Pritchett said she used to "fly under the radar," but now she and her family are the "poster family" for HRC and LGBT rights in Mississippi.
"You haven't come out until you've come out onto the front page of The New York Times," she says. "Honestly, I thought we'd have crosses burning in our front yard," she says, "I keep waiting for the other shoe to drop. ... Something's going to change, and it's not going to be us anymore."—Emma McNeel
Rosaline McCoy
Rosaline McCoy is devoted to serving her city: Jackson.
McCoy attended Mississippi State University, where she earned a bachelor's degree in sociology, and went on to earn a master's degree in communications from Mississippi College.
In 2005, she began working at the Mississippi branch of Mothers Against Drunk Drivers as a programs specialist and victim-services director.
She joined the Jackson Council of the Parent Teacher Association of Mississippi as a chaplain during the 2010-2011 school year, and the council elected her as president in May. The Jackson Council guides the district's 66 schools with fundraising and creating environments for parents to take an active role in education.
McCoy has led Girl Scout Troop 5441 for nine years. This year, 33 girls, aged 11 to 18, are learning leadership and development skills under McCoy's guidance (including several at the JFP). Her daughter, Malaysia, 14, is also a part of the troop.
She teaches Bible study at Progressive Middle Baptist Church and is active in her sorority. She and her husband, Marcus, lend a hand to special projects at the local Boys & Girls Club. "I believe that (change) is going to start with our young people. That is truly where my interests lie," she says.—Jared Boyd
Shannon Malone
Shannon Malone, 28, was born in south Jackson and grew up in Raymond. She attended Tougaloo College, and in her sophomore year, she went to Brown University in Rhode Island through a semester exchange program.
After graduating from Tougaloo College in 2007, she volunteered at an orphanage in Honduras, developing a passion for social justice. She moved to Denver to join the National Civilian Community Corp, a branch of AmeriCorps, a nationwide community service program for 18- to 24-year-olds.
Malone attended the University of Pennsylvania and obtained her master's degree in nonprofit leadership. From 2013-2014, she worked for the Foundation for the Mid-South and was a part of the Jim Casey program, helping Mississippi fostered youth ages 16 to 24 transition into adulthood.
A W.K. Kellogg Foundation fellow, Malone has decided to return to graduate school to study sociology with an emphasis on gender and race. As a survivor of domestic violence, Malone swants to help those who have gone through it—not only in Mississippi but internationally as well.
"It's been an amazing journey to go from victim to survivor to advocate, and I just want to help other girls and women to come down that same path," Malone says.—Deja Harris
Sharla Bachelder
Sharla Bachelder, 39, calls Mississippi her home. Born in Hattiesburg, she moved to Columbia and then to Clinton. She attended the University of Mississippi and earned a bachelor's degree in social work. Bachelder returned to the Jackson area "with the ambition to save the world," she says.
When she lost a job, she found her interest in real estate. "I decided I wanted to be able to make a decent living, and be able to give back to the community and have time to do volunteer work," Bachelder says.
She has had an award-winning 13-year career since switching over. She considers her RE/MAX Children's Miracle Network Award for her work with Blair E. Batson Children's Hospital special.
Bachelder was one of the founding members of Young Leaders in Philanthropy, part of United Way of the Capital Area, encouraging young volunteers to support United Way programs. Their signature project was Dolly Parton's Imagination Library, which mails children a book each month.
Bachelder also volunteers with local no-kill animal shelters and has three rescue dogs of her own. "I'm going to redirect my energy toward trying to figure out ways to change the hearts and minds of people in Mississippi to look at a dog or cat as more than a throw-away item," she says.—Carmen Cristo
Tammy Bouchillon
Tammy Bouchillon, senior marketing editor for Mississippi Blood Services, believes the need to give blood is more important than others may think. A donor herself, she wants others to try—at least once. "Most people don't realize the need and don't think it's a big deal," Bouchillon says.
Bouchillon, 52, is a native of Columbus, Miss. After graduating from Mississippi State University in 1986 with a bachelor's degree in communications, she moved to Jackson to work at Mississippi Blood Services. Bouchillon is in charge of going out in the community and getting people to donate blood, which often includes setting up blood drives throughout the state, often several a day.
Getting to know the families whose lives she helped change inspires Bouchillon. She hosts the "Dates for Leukemia" fundraiser every year for the Leukemia and Lymphoma Society. This year's 14th annual Dates for Leukemia gala will give people a chance to bid on "fantasy dates," including cruises and trips to other states or countries.
Bouchillon says that many people that she speaks to don't know the importance of donating blood until a family member or themselves are faced with the need. Bouchillon stresses that donating blood can save a life.—Deja Harris
Wendy Mahoney
Jackson native Wendy Mahoney is passionate. As executive director of the Mississippi Coalition against Domestic Violence, she works non-stop to raise awareness about domestic violence and help its victims.
Mahoney graduated from Tougaloo College in 1988 with a bachelor's degree in psychology. She then attended Minnesota State University, Mankato (then named Mankato State University) and earned her master's degree in rehabilitation counseling. She stayed in Minnesota until 2007, when she moved back to Mississippi.
After 23 years in the field of mental health working primarily with mentally ill teenagers, Mahoney decided to work even closer to home—domestic violence.
"I realized I'm a survivor, not of physical abuse, but emotional and psychological abuse. This is something I've lived myself," she says.
Her experience motivates her to spread the message that all domestic violence is detrimental.
As executive director of MCDV, she works with the victims by providing resources to domestic-violence shelters.
Mahoney is a support-group facilitator for family members with mentally ill relatives, a community volunteer and a certified applied suicide intervention-skills trainer.
She runs her consulting firm, Divine Strategies Consulting, writing contracts, business plans and grants, and leading workshops on mental health issues.
Mahoney loves to participate at her church, Kingdom Kabod Outpour Center. She is a mother of two daughters, Courtney and Jordan, and grandmother to 2-year-old Paris.
"I know what it's like to feel like you're dying, suffocating on the inside," Mahoney says. "I now want to give victims hope and provide them with resources."—Bria Paige
Read about all past Chicks We Love here. The women will be recognized at the 10th Annual JFP Chick Ball Saturday, July 19, at the Arts Center of Mississippi, 6 to 11 p.m.
More like this story
More stories by this author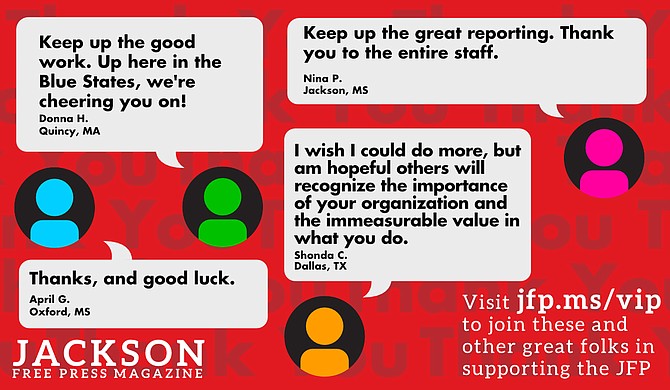 Thanks to all our new JFP VIPs!
COVID-19 has closed down the main sources of the JFP's revenue -- concerts, festivals, fundraisers, restaurants and bars. If everyone reading this article gives $5 or more, we should be able to continue publishing through the crisis. Please pay what you can to keep us reporting and publishing.