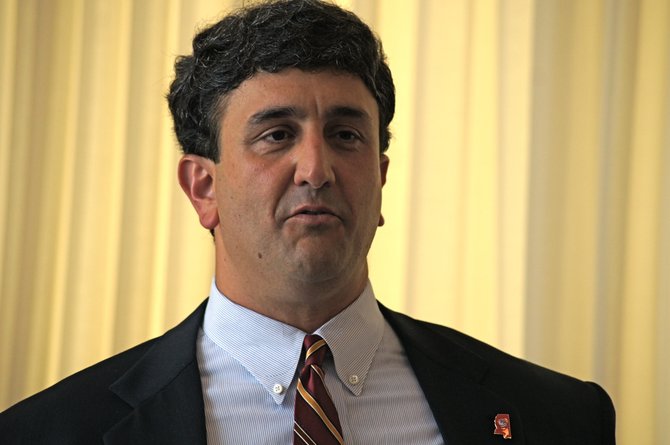 Connie Cochran, one of Hinds County's five elected election commissioners and Thad Cochran's sister-in-law, told the Jackson Free Press this morning that the commission did not commit sabotage to help U.S. Sen. Thad Cochran win the June 24 Republican runoff to keep his seat.
"It's ludicrous to imply that the Hinds County Election Commission destroyed anything," Cochran told the Jackson Free Press this morning before she was advised to make no more additional comments.
Cochran was responding to a new round of accusations lodged yesterday by True The Vote, a Texas-based conservative group that advocates for voter ID laws, trains poll watchers and challenges elections. The group filed a motion for a temporary restraining order in U.S. District Court in Jackson late Wednesday against election commissioners in several Mississippi counties, including Hinds County, as well as the state GOP.
The motion for the TRO detailed the counties it says is not complying with the law: While some counties provided proper voter records, Copiah County, Hinds County, JeffersonDavis County, Lauderdale County, Leake County, Madison County, Rankin County, SimpsonCounty, and Yazoo County refused. These counties, who have been sued via their respective Election Commissions, also wrongfully maintain that the birthdates of voters must be redactedfrom voter records, at Plaintiffs' expense."
Catherine Engelbrecht, the founder of True the Vote, told right-leaning website Breitbart.com that the group is in possession of affidavits "regarding the destruction of election documents and other similarly stunning findings" related to the recent Republican primary for U.S. Senate between incumbent Thad Cochran and state Sen. Chris McDaniel.
Neither candidate received a majority of the vote in the June primary, and faced off in a runoff three weeks later in which Cochran narrowly defeated McDaniel with an expanded base that included African Americans, who normally support Democrats. About 61,000 additional people voted in the runoff than the original primary, which is unusual.
True the Vote initially filed a lawsuit in Mississippi's Northern District in Oxford, alleging that Secretary of State Delbert Hosemann and the state GOP unlawfully denied the group access to information that would help them look into possible irregularities in the runoff. This week, the group refiled its suit with additional plaintiffs in Jackson on a judge's orders.
"Defendant county commissioners have continued to violate federal law by preventing access to election records. Now, we think we know why," Engelbrecht said in her statement to Breitbart.
Joe Nosef, the chairman of the Mississippi Republican Party, said in a statement to media outlets this morning that True the Vote is making a mockery of the legal system and that he plans a countersuit.
"While their legal filings literally make no claim at all against the MSGOP, their public statements indicate otherwise in an effort to mislead Mississippi voters," Nosef said.
"Their first 'demand' was for the MSGOP to order action by people who don't even work for us. Next, they claimed we were not granting proper access to records that we don't have. And they have now accused us of destroying this same evidence, which we still don't have and instead is in the possession of 82 different circuit clerks. We will not only defend ourselves but will seek sanctions against every single plaintiff because of this frivolous litigation brought against the MSGOP."
True the Vote is organized as a nonprofit 501c3, but its political influence has grown in tandem with the conservative Tea Party movement. They rose to prominence during the 2012 federal election, which included a presidential contest and a number of key congressional races.
Support our reporting -- Follow the MFP.