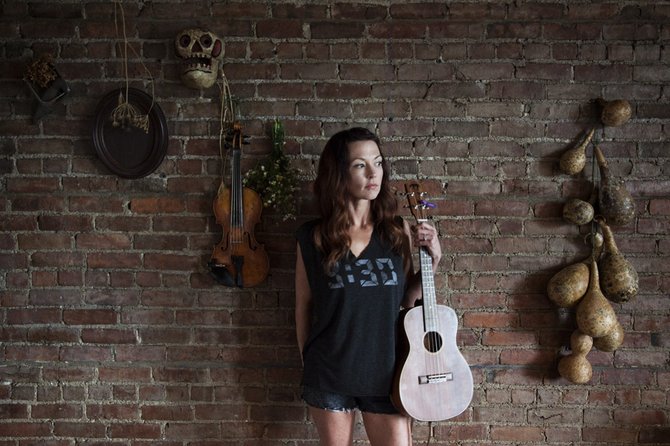 Singer-songwriter Amanda Shires, 32, received her musical education in the fertile plains of west Texas. She grew up in Lubbock, the same town that gave us Buddy Holly, Delbert McClinton, Natalie Maines of The Dixie Chicks and her father, Lloyd Maines.
Shires is aware of the rich musical tradition she comes from, but she is also moving forward, forging her own style and voice. She has released five albums to date, including her most recent one, 2013's "Down Fell The Doves." She married fellow songwriter Jason Isbell from north Alabama last year, and the newlyweds shared the stage when his tour stopped in Jackson. Shires will take center stage this time around when she performs at Duling Hall Aug. 31.
One of your first major gigs was with the legendary Texas Playboys. How did that happen?
When I was 12, I started learning fiddle from a man named Lanny Fiel out of Lubbock. He was associated with Frankie McCourter of the Playboys. I started hanging out with Frankie at the ranch and learning fiddle tunes. After that, I just started getting invited to shows to play. It was pretty awesome, but I didn't realize how awesome it was at the time. It was like having seven granddads.
What was it like being so young and the only girl in the band?
The key to that kind of stuff is to just go with the flow. As far as being the kid or girl, I never noticed, because I had nothing else to compare it to. I appreciate it when anybody remembers who they are, because they are really wonderful and important. One of the best things about it was not only playing the music, but sometimes at dinner, I would end up with four or five ice creams or Jell-Os!
You're also associated with songwriter Rod Picott. What did you take away from that experience?
Rod's one of my closest friends; I pretty much consider him family. We did one record together (2009's "Sew Your Heart With Wires"). I am a huge fan of lyrics, and working with him, I got to see what his process was for writing songs. I admire the way he pays attention to details. He's also a road warrior. That man drives really far.
What informs your own songwriting style?
I guess I write, like (Kris) Kristofferson likes to say, "part truth, part fiction." For me, I like to stick with what I know. Your own experiences or stories that move you to write. I don't pull them out of the air. That would be nice because it would be easier, less personal. It's like a commonality. I may have an experience and later find out that a friend had the same thing. I think that's the point of music: to not feel like you're the only one who feels a certain way. It's nice to be in a room at a show, and look around be able to say, "Man, these are a whole lot of people who are a lot like me."
How did you go from 2011's "Carrying Lightning" to last year's "Down Fell The Doves?"
I would hope that most people who make music would try to do something better than the work they did before. I don't know if ("Doves") is better or not, honestly. For "Carrying Lightning," I did that in Nashville with people I had used before on records. I wrote all isolated, by myself. What's different about "Down Fell The Doves" is that Jason and I were seeing each other, and we weren't getting any writing done. We decided that we ... (would) go into separate rooms and write. After we'd get done with a song, we'd come and hang out, play the song for each other. Then we'd go back to doing all the fun stuff you do that's not very productive.
What is the dynamic like, being married and both being writers?
I think it's interesting. I think we learned really quickly how to communicate and discuss tough topics with each other, maybe a little quicker (than) had we not been songwriters. We don't have any competitive nature; we both want what's best for the song. We also trust each other enough to say what we think and give an honest opinion.
Amanda Shires performs with The Wilde at Duling Hall (622 Duling Ave., 601-292-7121), Sunday, Aug. 31, at 7:30 p.m. Tickets are $12 in advance from ardenland.net and $15 at the door. Visit amandashiresmusic.com for more information.
More stories by this author
Support our reporting -- Follow the MFP.