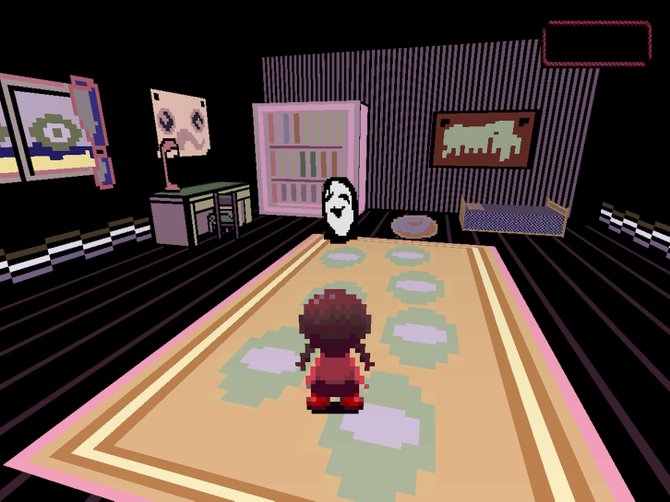 Yume Nikki
Platforms: PC
About 10 years ago, a little game called "Yume Nikki" showed up on Japan's largest message board, 2channel. Like many cult hits of the Japanese indie scene, it came courtesy of an anonymous developer under a mononymic pen name, dropped out of the ether to spread by filesharing and word of mouth. Unlike many of these titles, "Yume Nikki" (translated as "Dream Diary") stood apart as both artistically and thematically demented, a thoroughly disturbing experience that commanded far more power than its crude, 32-bit medium should've allowed.
The game follows the story of Madotsuki, a young hikikomori living in a high-rise apartment. Hikikomori is a sociological term for a chronic shut-in, emblematic of the new generation of youths who retreat from contact with the outside world through any medium other than a digital one. Madotsuki's name is a play on words, meaning "one who looks through windows"—a daydreamer.
"Yume Nikki"'s real-world facade is Madotsuki's tiny apartment—the player can look out at the balcony, attempt to leave the room, play a pointless minigame or go to sleep. This last option begins the game proper. Here, the player is thrust into Madotsuki's dreams, a complex and disturbing juncture of worlds connected by doors, portals and living beings.
There's no real challenge to "Yume Nikki." The occasional threat comes from wandering Toriningen (bird people) who can go berserk, chasing the player and teleporting them to an inescapable room. Of course, at any time, Madotsuki can pinch herself and wake up, making the Toriningen more of a temporary roadblock than an actual threat.
What, then, is the purpose of "Yume Nikki"? Mostly to explore. The player can collect a couple dozen effects, mostly cosmetic changes to Madotsuki's appearance. Finding all of them unlocks the game's "ending," but this is secondary to the experience of exploring dreams. There's virtually no end to the psychedelic, melancholic imagery of the many worlds of "Yume Nikki," from the sprawling red tunnels of Hell, to the pastel islands of the Pink Sea. There's no rhyme or reason to the level layout, and the effort required to find all the connections between worlds is staggering. At times, you could argue "Yume Nikki" is nothing more than a mishmash of RPG rejects. It's in aggregate that the game's setting has such power, though—each experience to the endless theorizing and interpretation of just what is wrong with Madotsuki.
The game's tone is endlessly oppressive. As inventive and creative as Madotsuki's dream world seems to be, it paints a picture of confusion, paranoia and deep-seated trauma. The game has a few shocking moments, and the more the player is allowed to see through its protagonist's eyes, the more terrifying these can be.
"Yume Nikki" was quickly translated into English and exploded in popularity, inspiring image boards, fangames attempting to recapture its slow-boil horror (some, like ".flow," succeeded spectacularly), manga adaptions and novelizations.
Its creator, Kikiyama, has been tight-lipped on the game's "meaning," but one thing is clear: "Yume Nikki" uses its limited medium to create powerful imagery. It's not what you would call fun in the traditional sense, but as an artistic endeavor, it's a fascinating look into human isolation.
More like this story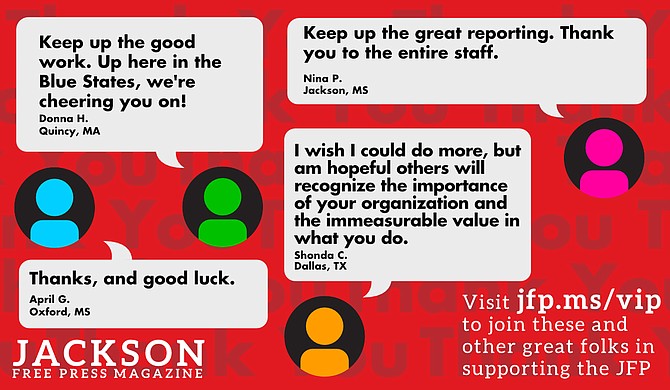 Thanks to all our new JFP VIPs!
COVID-19 has closed down the main sources of the JFP's revenue -- concerts, festivals, fundraisers, restaurants and bars. If everyone reading this article gives $5 or more, we should be able to continue publishing through the crisis. Please pay what you can to keep us reporting and publishing.