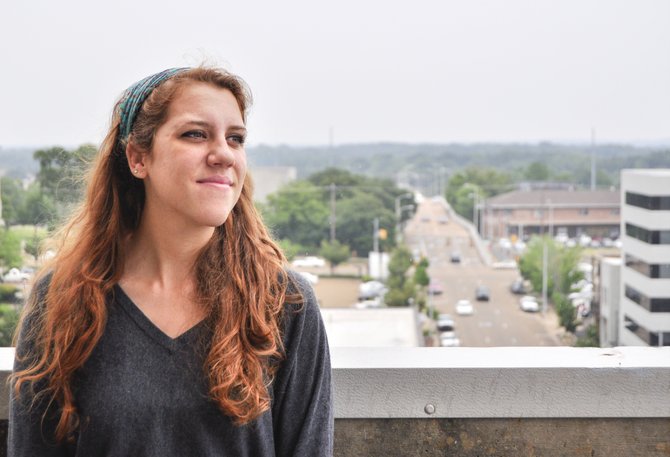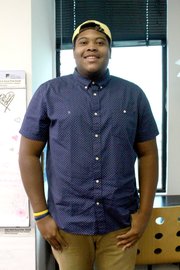 When she was younger, Liz Allen, a Baton Rouge native, never pictured herself attending college in Jackson, much less living here. Allen enrolled at Millsaps College by chance instead of by choice. "I wanted to go to a small liberal-arts college," Allen, 21, says. "Millsaps fit the bill and gave me the largest scholarship, so I came here."
Allen's decision to attend a college in Jackson was met with surprise from her friends and family members. "Louisiana kind of has this thing of talking about Mississippi," the rising senior says. "Like, 'Yeah we might be number 49 on this list of horrible things, but at least we're not Mississippi.' So, when I decided to go to Millsaps, it was a shock to everyone. My friends would say, 'Mississippi? Why would you want to go to Mississippi? Why would anybody want to go to Mississippi? Why would you want to live there?"
Mississippi's traditionally negative perception is something that has plagued the state—and the South in general—due to slavery, Jim Crow laws, a racist constitution and civil-rights violence.
Mississippi has been slower to follow other historically racist southern states like Alabama, Georgia, and Tennessee as they've replaced their traditionally ignorant image for one that embraces the state's culture and history.
"Even before I came to Jackson, I didn't think I would like it," Allen says, "I came for school, not for the city. But the city has won me over, and I want to stay here now."
A Little Big City
Jackson is a little big city—larger than Boston by 17.17 square miles and with a population only 18,542 people fewer than that of fellow capital city Salt Lake City. Jackson has a population of about 175,437 people and nearly 35,000 college students. Approximately 14,404 undergraduate and post-graduate students are enrolled in Jackson's four colleges and universities, and another 19,202 students are enrolled at Hinds and Holmes community colleges. About 8,000 students attend Jackson Public Schools' six high schools.
Based on these figures, people between the ages of 14 through 26 make up roughly 24 percent of Jackson's population. However, a common sentiment among some people in this age group is that Jackson, and the local colleges, have nothing to offer.
Travis Florence, 19, was born in Jackson and attended Terry High School, graduating in 2013. Unlike the estimated three-fourths of Terry High School's 2013 graduates who decided to attend college in Mississippi, Florence chose Springhill College in Mobile, Ala., where he is a rising sophomore and a pre-physical therapy major.
"There was more (scholarship) money outside of the state, and I think that there are more resources (there) than in Jackson's local-area colleges," Florence explains. "I think that professionally, in my field, Jackson offers something to me because of the three main hospitals that are here. But, in other fields, I think that you really have to go out of state to find something."
After matriculating from Springhill College, Travis plans to return to the area, at least temporarily. "I think I am (moving back to Jackson) because I want to do my graduate school at Mississippi College," he says.
Allen likes the social and community aspects of the city. "You find a lot of music festivals or things like Fondren After 5 that give you a chance to get out into the community. Jackson is a capital city, so there are other things going on. There just happens to be four universities here."
Jackson has more to offer than smaller college towns, such as Oxford, Starkville or Clinton, Allen says: "(Jackson) works well as a college town because there are different things going on, and there are a lot of places to learn things outside of the classroom."
Trey Vernaci, a Metairie, La., native who was raised in Pearlington, Miss., is a rising junior at Millsaps College. "The only reason I came to Jackson was because of Millsaps, but then I realized that Jackson has so much more to offer than just Millsaps," Vernaci says. He even remains in Jackson during summers "because of the opportunities in the area."
As a political science major, living in the state capital is awesome," Vernaci adds. "I was able to intern for Rep. Cecil Brown (D-Jackson) this past year."
Vernaci, 20, especially appreciates Millsaps' "Challenge" program for incoming freshmen. "Throughout the week, you're doing community engagement in the midtown area," he says. "That was amazing."
Going through the Challenge program helped Vernaci get a better understanding of the city and how he relates to it. "Midtown is such a unique neighborhood, and it has so much to offer to me, somebody who is into political science," he says. "It's made me rethink a lot of things, especially the idea of gentrification."
Though Vernaci may not return to Jackson after he gets a graduate degree elsewhere, he is figuring out how he can positively affect the city. "Moving into these neighborhoods (like midtown) and doing work can hurt the neighborhoods sometimes. You have to really critically think about what you're doing because that's going to determine how the neighborhood reacts to that," he says.
If You Promote It, They Will Come
Jackson may have more college students than many cities, but it might need more promotion before really claiming the moniker "college town."
Dr. Hilliard Lackey, an adjunct professor of urban higher education at Jackson State University and resident of Jackson for more than four decades, believes such promotion is vital to the city's future. "What can we utilize? We might need more signage and brandage to incorporate our lofty position as having all of these colleges and universities," he suggests.
Lackey compares the assortment of Jackson colleges and universities to those of Nashville and Atlanta. Instead of attempting to promote one school—say, Jackson State over Belhaven University, Tougaloo College over Millsaps College—the city should promote all higher-education options available here.
"We can't (promote only one college) here in Jackson because we have several schools," Lackey says. "We should put them all in one bag and push them, saying, 'This is a Mecca for higher learning! If you want a good education, come to Jackson!' We have to accentuate the positive because it is there. If we promote it, they will come."
The sentiment, echoed by two Jackson State professors, two Millsaps students and a Tougaloo student for this article—is that Jackson fails to appropriately market its opportunities, recreational and professional, to prospective students and teachers.
Dr. Preselfannie McDaniels was born in Arkansas, but moved to Jackson in 1988 to attend JSU as an undergraduate student in the honors college. "What makes smaller college towns successful is that they have a functional downtown," she says. "Even though it might be small, downtown is always a great place to be. Louisiana State University is in Baton Rouge, and once Baton Rouge's downtown was refurbished, you were only so many blocks away from it. ... Once (Jackson's) downtown is fully utilized, the image of the university will be so much better."
"I couldn't have seen myself here 10 years ago," Rae'Jean Spears, a Virginia native and Tougaloo College sophomore, says. "I didn't think that (Jackson) was as culturally enriching as it is. I thought it was just another part of Mississippi. But by living here, my eyes have been opened to the fact that whatever you want is here in Jackson."
Though there are several opportunities for internships and other job-related or education-related options in the city of Jackson, there is a disconnect between the opportunities and students hearing about them. "I feel like maybe there should be more advertisement or communication to students because there are so many opportunities out there. It's just getting students connected that's lacking," Vernaci says.
The Washington, D.C.-based Newseum Institute found that 33 percent of people get their news from the Internet. A Pew Internet study says 31 percent of Twitter users are 18 to 29 years old, and that non-Hispanic blacks in that age group are more likely to use the site.
I tried to find the City of Jackson's Twitter account, but it was difficult. I ultimately found two accounts (@CityofJacksonMS) and (@wearejacksonms). Initially, I assumed that the former account was the city's primary Twitter account as it was created in September 2011, but its last coherent tweet was June 25, 2013.
The account began tweeting gibberish on June 26 of this year, so it may have been hacked.
The latter account has a photo of Mayor Tony Yarber as its profile picture and a quote from the mayor in the bio, but it's unclear whether or not this is Mayor Yarber's personal Twitter or the city's account.
Is Jackson the Answer?
Capital cities are supposed to be seats of government and places where citizens from all over the state are on an equal playing field. Unfortunately, the excessive reporting of "crime in Jackson" and other bad media coverage show Jackson as a negative place.
Every weekday at 8 a.m., cars from Rankin, Simpson, Yazoo and Madison counties drive into Jackson to work, and at 5 p.m., these same people leave Jackson to spend their money elsewhere. New businesses and developments often pick Ridgeland's Northpark Mall and Renaissance at Colony Park, and Flowood's Dogwood Promenade, while Jackson is left out of the picture. Taking money out of the city makes it more difficult to fix infrastructure, including the roads that are torn up from the constant influx of traffic from outlying counties and cities.
Vernaci dislikes the constant road construction in Jackson but knows it's ultimately a positive. "There's a lot of roadwork constantly," he says. "I feel like I haven't seen a day in Jackson where something isn't under construction. But, that's good! That means Jackson is trying to revitalize the roads and make it a more inviting area. I like that, but my car doesn't."
Graduates from areas colleges, including the University of Mississippi Medical Center, often get degrees then leave the area, even though there is a shortage of people to fill positions such as teaching and those in the medical field. Jackson Public Schools have open positions for 218 certified teachers, guidance counselors and interventionists, and there is a shortage of primary-care physicians in the city. But many people who were trained in those areas at local colleges and universities are not stepping up to fill these vacancies. "People leave because the pay isn't high," Vernaci says. "But with a city that's minimally operating on such a low budget, it's hard to raise that pay."
Lackey thinks that Jackson's lack of high-paying jobs is the No. 1 culprit in the city's problems with retaining high-school and college graduates. "We don't have corporate jobs here, and you've got to have competitive, high-level jobs," he says.
"We don't have any jobs where if you major in business, or something like that, you can graduate and step into a $50,000, $60,000 or $70,000 (position) in a year or two with some upward mobility."
There is a light on the horizon. Whole Foods Market (4500 Interstate 55, 601-608-0405) opened a Jackson location this year that has—so far—been a huge success, and is likely to help Highland Village in northeast Jackson step up its retail game and attract younger customers. Nearby is a new development, The District at Eastover, on the site of the old Mississippi School for the Blind (including retail and a movie theater, which Jackson currently doesn't have); two museums are being built in downtown Jackson; midtown is on fire with artists and young creatives; and a variety of local restaurants have opened, or soon will, in different parts of the city, including Fondren, downtown and south Jackson.
Vernaci focuses on the city's strengths: "Jackson is a place that has everything," he says. "It's the one city where you can go all the way from working in law firms to working in politics to working in a hospital to doing communication work with Mississippi Public Broadcasting. Jackson offers everything for you."
Keep up with Jackson-area events at jfpevents.com and jfp.ms/musiclistings.
More like this story
More stories by this author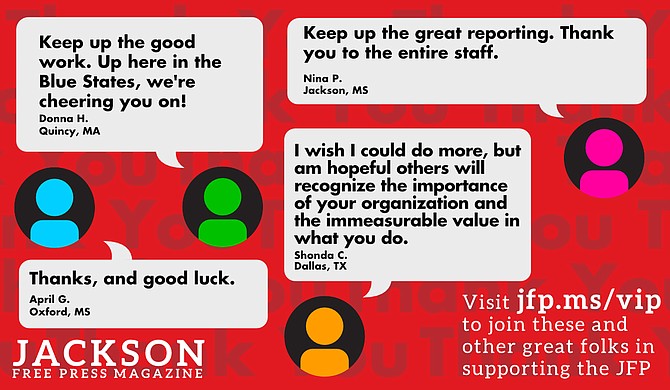 Thanks to all our new JFP VIPs!
COVID-19 has closed down the main sources of the JFP's revenue -- concerts, festivals, fundraisers, restaurants and bars. If everyone reading this article gives $5 or more, we should be able to continue publishing through the crisis. Please pay what you can to keep us reporting and publishing.