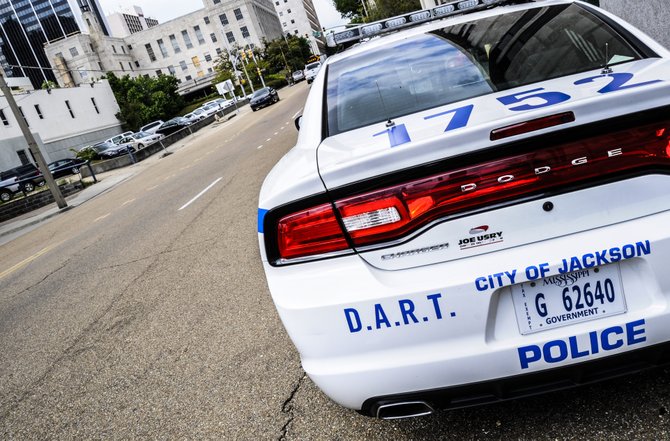 Although crime in Jackson has been on a steady decline over the last three years, that doesn't mean that it doesn't flare up in certain areas in sudden, dramatic ways, such as recently in Precincts 2 and 4. That's when the Jackson Police Department's Direct Action Response Team steps in.
The team of patrol officers, commonly known as D.A.R.T., works as JPD's "troubleshooting" unit by patrolling areas of the city that may be experiencing a more-than-average amount of crime, typically dealing with property crime or drug reinforcement. D.A.R.T. officers differ from beat officers in that they are freed from the obligation of responding to dispatch calls, allowing them time to be more visible and watch for suspicious activity.
"They are troubleshooters," Assistant Chief Lee Vance told the Jackson Free Press. "We look at the crime map, and if there's an area of town where we're having problems, we'll put them there, and the results have been phenomenal."
Currently, D.A.R.T. has been focusing on areas in Precinct 2 that have been experiencing a number of property crimes as well as a few aggravated-assault cases. The current COMSTAT report shows that, aside from grand larceny, the number of property crimes has slightly increased since the week before; however, all property crimes remain in single digits. There was also an increase in aggravated assault, jumping from two cases the week before to 12 cases within the week of April 7-13.
Vance attributed much of the aggravated assault to "friends" getting into arguments and assaulting one another.
Vance said he hopes D.A.R.T. will lessen the cases of aggravated assault but says it's difficult task to accomplish when violence can be unpredictable.
"Violent crime is much more difficult to predict and to prevent because it's impromptu," Vance said. "There are not a lot of indicators. ... Conflict resolution is something that is really lacking in a lot of parts of our city. We hope by ratcheting up visibility in certain areas, with D.A.R.T. in particular, we can calm that down. "
D.A.R.T. also aided in a string of auto-burglaries and house burglaries that were taking place a few months back in northeast Jackson in Precinct 4. D.A.R.T. Sgt. Barry Hale explained that the unit helps Jackson precincts when they need it, adding that the community usually responds well to their added presence.
"Precinct 4 has the most businesses out of the whole city," Hale said. "... It's just the perfect place for an auto burglary to hit. We had to hit those areas hard. We were able to help Precinct 4 get their numbers down."
"You get these officers to ride through parking lots with their blue lights on—it'll deter crime. A lot of people don't understand that. It may bother people, but I'll tell you a lot more people are happy about it than bothered by it," Hale added.
Hale said that after D.A.R.T. officers are assigned to a high-crime area, they usually work two shifts a day, which typically consists of working any special events, organizing traffic stops and patrolling their assigned area. Since the areas they work are experiencing high crime, Hale says that it is not unusual for them to spend time chasing criminals on foot.
"People are constantly running from us," Hale said with a laugh.
Vance and Hale agreed that D.A.R.T.'s high visibility has been the key component in combating crime flare-ups. "Our best chance at crime reduction is high visibility," Vance said. "What we try to do and what we think is the most workable solution at our disposal now is to create a large presence out in the community so we become a deterrent to crime in the first place."
Before it was disbanded in recent years, Precinct 5 originally did much of the legwork that D.A.R.T. does now. The unit is modeled after a similar task force that the New Orleans Police Department was using to combat crime blitzes. Vance explained that JPD's precincts are synonymous with New Orleans' nine police districts, and the district commanders have their own task force of 10 to 15 officers. The original purpose of the unit was to establish a presence in downtown Jackson; however, due to the retention issue JPD has been experiencing, the group of 12 officers work with all precincts and are sent all over the city.
Vance's goal is that JPD will eventually be able to expand D.A.R.T. from its current number to more than 40 officers, with approximately 10 officers per precinct. However, Hale says that although the task force is small and their schedules can change at the drop of a hat, they do their best despite several of them having families.
"My guys, I'll tell you what, they suck it up," Hale said. "They don't complain... We have a good group of guys who work hard and love their job."
Support our reporting -- Follow the MFP.