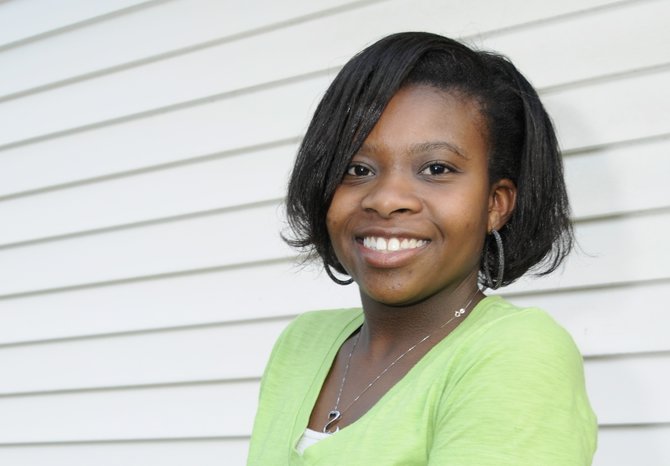 Numerous teenagers in the Jackson area are already making a difference in their communities, and soon they will be affecting the world. These 16 teenagers, as well as their peers, are preparing themselves to further their dreams and visions. Some are striving toward becoming nurses or doctors or athletes, and others hope to become accountants or journalists. Regardless of their chosen paths, one thing remains clear: Their treks will change the world and bring it closer to what we all want it to be.
Comelia Walker
by ShaWanda Jacome
Some people in life just have that "it" factor. Something about the way they carry themselves or the way they talk assures you that they have what it takes to succeed in life, and Comelia Walker has "it."
This spirited 17-year-old Canton High School senior has taken on various leadership roles; she is president of the junior class, drama club and foundation club. Walker helped start the foundation club to address the failing test scores at her school. The Madison County Business League selected her to participate in the Madison County Youth Leadership program. As one of only two students selected from her school, Walker had the opportunity to tour the State Capitol and several businesses including Butler Snow, C Spire and Mad Genius.
"It was amazing," she says. "We got a chance to tour things that we didn't know existed around us."
Walker is also Miss Canton High School, a title that her peers voted her as. Well-known on campus, she is often referred to as "grandmother." She has acted in grandmother roles in several school plays and is also the matriarch persona among her peers.
"When (my friends) do something that they're not supposed to do, I always try to correct them and tell them that they know they wouldn't do that in front of their mom or grandmother," she says. "They say I sound just like their grandma."
An academically strong student, Walker is part of student government and the National Honor Society, and she was the BankPlus Student 360 Scholar of the Week in December. Because she took more than the required math and science classes in 9th through 11th grades, Walker is able to leave school at noon each day to volunteer at a daycare in her community. She has been accepted to Jackson State University.
"I start school four days after I graduate (from high school)," she says. Walker will participate in a bridge program for math and science majors.
Her goals are to graduate from JSU on the Dean's List and further her education at the University of Mississippi Medical Center in its pharmaceutical science master's and doctoral program.
Walker says her friends would describe her as determined, dedicated and responsible. Currently living with her disabled grandmother, she has to assume a role of responsibility for her three younger sisters, ages 9, 13 and 16.
"Sometimes it interferes with me wanting to do things with my classmates, but I know that it's a job that I have to do," she says without even a hint of negativity. "It's not a choice for me not to do it, because if I don't do it, who will?"
Walker views her caregiver role as an opportunity to inspire her siblings to well in life.
"Whenever we get our report cards, it's like a competition," she says. "They're always trying to succeed like me, and I'm so glad that I can be that bar that they try to succeed to and excel to. (With) everything I do, I try to succeed because I know they watch me even when I don't think they are."
Lawson Marchetti
by Tommy Burton
Lawson Marchetti, 15, has a passion for performance. The 9th grader at Jackson Preparatory School is a member of the school's junior show choir, Fusion, and he recently joined the nationally ranked senior choir, Reveillon. The audition process included singing a solo and dancing. He is also an actor and wants to become a filmmaker.
Marchetti placed second in the state for the Poetry Out Loud competition. The National Endowment for the Arts and Poetry Foundation sponsors the national event. Its purpose is to bring students closer to poetry through memorization and recitation.
Jackson Prep English instructor Katie Bonds encouraged Marchetti to participate in the school's preliminary Poetry Out Loud competition. After winning, Marchetti went on to claim regional first place before competing in the statewide event. Although the first-place winner goes on to nationals, Marchetti's performance so far is encouraging to him.
"I still have three years to participate and feel I did really well considering my age," he says.
The preparation for Poetry Out Loud is rigorous. Marchetti began his journey with a poem with more than 25 lines. "I found one that I really liked after hours of searching," he says. "I recited that for the class, and then I had to find another one. You keep on adding to your repertoire."
One of the poems Marchetti performed was Bob Hicok's "After working sixty hours again for what reason." Students select the works from the Poetry Out Loud website.
Performing in the competition has given Marchetti a new appreciation for poetry.
"I've grown to enjoy pulling apart a poem and comprehending each line, figuring out hidden meanings," he says. "It teaches you a lot of skills. It's fun, and I'm glad I did it."
Poetry Out Loud has also helped Marchetti prepare for a future in show business.
"I want to be a movie director," he says. "I want to be involved in the film industry. I love acting, and it has taught me more stage presence."
Anna Grace Buchanan and Cara Lee Crawford
by Tommy Burton
Two seniors at Jackson Preparatory School will leave a legacy that promises hope for families throughout Mississippi. Anna Grace Buchanan and her best friend, Cara Lee Crawford, both 18, organized the Pounding the Pavement for a Cure 5K race after losing loved ones to cancer in 2012 and 2013.
Dr. Cindy Townsend, director of the Global Leadership Institute and Community Service at Prep, spoke to the students when they were juniors about organizing a project for Make A Difference.
"Immediately, Anna Grace and I knew that we wanted to participate in this program," Crawford says. Her grandfather was diagnosed with cancer in March 2012, and Anna Grace's dad was also diagnosed.
The two started organizing the September 2012 race during May that year. "The head of the senior high, Dr. (Luke) Neeley, asked if we would do it as a senior class project," Buchanan says. "So we got a few more people involved, and we had the second one this past December."
With the second race, which was at Liberty Park in Flowood, the teens raised $14,360.11 to help fund cancer research at UMMC. The two-year total for both 5Ks is more than $26,000 for cancer research.
Both girls are leaving the planning of Pounding the Pavement to future senior classes at Jackson Prep. "Dr. Neeley has asked if we would let the senior class do it every year so it can live on here," Buchanan says.
The two students have been friends since meeting in seventh grade at Jackson Prep. Crawford has been active with the school's nationally recognized show choir, Reveillon, as the stage manager. Buchanan has been a member of the school's renowned spirit team, The Pacers, since 10th grade.
Both young women plan to stay close beyond graduation. "I'm going to Mississippi State, and I want to major in biological sciences and become a nurse," Crawford says. Buchanan wants to be a neonatal nurse practitioner. Caring for others seems to run deep within the two friends.
Marderius Mann
by ShaWanda Jacome
Born and raised in Canton, 18-year-old Marderius Mann has enjoyed the rare opportunity to explore the world outside his community. While a sophomore at Canton High School, he was nominated for the one-month People to People Student Ambassadors Program that took him on a summer bus tour from Zurich, Switzerland, to Great Britain. The highlight was a chance to learn local customs through a home-stay in Germany.
Now a senior, Mann traveled to Washington, D.C., in February to attend The Congress of Future Medical Leaders, which the National Academy of Future Physicians and Medical Scientists sponsored. The purpose of the three-day conference was to honor, inspire and motivate high-school students who want to go into the medical field and have a GPA of 3.5 or above. From a young age, Mann has had the desire to become a nurse practitioner since his mother, Tameka, lost her arm. Mann says conference speaker and author Brendon Burchard's words affected him. "It inspired me to make sure that in my life that I strive to be happy, love people and make a difference in other people's lives," Mann says.
He is involved with many activities at Canton High, including marching band, student government association, National Honor Society, superintendent student advisory council and the dual enrollment program through Holmes Community College.
"(My Western Civilization course) was great. It gave me a head start with my college credits," he says. For 2013-2014, Mann's peers voted him Mr. Canton High, giving him the chance to ride in the homecoming parade and serve his community.
Mann is a member of the Greater Faith Calvary Pentecostal Church in Canton, where he is a mentor in youth ministry and part of the hearing-impaired ministry and choir. Mann plans to attend Mississippi Valley State University in the fall on a full scholarship for academics and band.
Taylor Elise Tucker
by Brittany Sanford
Teleprompters, cameras, microphones and good lighting are all essential for what Taylor Elise Tucker plans to do. She loves English and public speaking, so she plans to major in broadcast journalism. 
 She has even picked out a possible station.
"One day you may see me on WLBT as a news reporter for a couple years," Tucker says. "Then (I might pursue) teaching broadcast journalism."
For now, the 15-year-old attends Jackson Academy and loves life. "I enjoy waking up every morning and going to Jackson Academy," Tucker says. "I'm meeting new people every day because the school is so big. I love the diversity there. It's an awesome place."
The active and athletic sophomore is on the JA varsity girls basketball team and the track team. In 2013, Tucker was named Most Improved Basketball Player on the team. After the 2013-2014 season-opening basketball game, the Jackson Heart Clinic named her Player with the Most Heart.
"It meant that I played my heart out and was dedicated to the game," she says. During the game, which the team won 54-6 against Hartfield Academy, Tucker scored 11 points in her 20 minutes of action.
The outgoing teen already has an extensive resume. She volunteers at BAM! (Be Active Mississippi) and is a member of the Greater Jackson Chamber Partnership's Youth Leadership Jackson program. She is involved with Girl Scouts of America and the Governor's Youth Advisory Council. She also won H&R Block's Best Essay Award last summer.
Tucker credits her mother, Shirley, for her success so far.
"My mom (Shirley) is my role model. She is such an amazing woman, just an extraordinary person," Tucker says. "She goes out of her way to help people. She's just a wonderful woman."
Lee Newsom
by Genevieve Legacy
Lee Newsom is wrapping up a great year as a junior at Mt. Salus Christian School and is enthusiastic about life for a number of reasons. Newsom says 11th grade was completely different from the first two years of his high school career. Over the last year, he lost almost 70 pounds and started playing football. He is also planning a web-based business, and his grades are better than ever.
For a young man, Newsom has faced more than his share of challenges. His mother was unable to care for him after his father died when Newsom was 10. He spent several months in foster care until his grandparents became his legal guardians. Several years ago, he was diagnosed with scoliosis and had to undergo two debilitating surgeries to correct the curvature in his spine. He was bedridden for extended periods, resulting in weight gain.
"I was in bed for a month, and my motivation level went down," Newsom says about his journey.
"My grades were terrible during my freshman and sophomore years; I had no motivation."
He reached a turning point last summer when he realized that a lot of opportunities are available to him; all he had to do was reach out. One was participation in a six-week small-business training at Millsaps College. As a result, this budding entrepreneur is developing an Amazon-like website for small businesses and a fitness app for smart phones.
Other than staying in shape for another football season with the Mt. Salus Eagles, doing homework and designing his business logo, Lee has been participating in 2013 Youth Leadership Jackson.
In the program, he's learned about economic development, health care and the criminal-justice system. "It's a great program," he says. "I've met a couple of friends and people who have helped me a lot."
Lee is proud to have given what he calls the "valedictorian" speech at the Youth Leadership Jackson graduation ceremony on April 22.
Olivia Ladd
by LaShanda Phillips
Olivia Ladd doesn't like the way women are misrepresented and treated unfairly, so she plans to do something about it. The 18-year-old is only a senior at Northwest Rankin High School, but she's already mapping out how she is going to use her passion for writing to shake some things up.
It was two years ago when Ladd decided to devote her life to fighting gender inequality. She started watching documentaries and researching strong feminists such as Gloria Steinem. With Jackson Free Press Editor in Chief Donna Ladd (no relation) mentoring her, she focused her senior project on "Journalism and Racial and Gender Representation in the Media." Ladd wants to expand women's rights through her writing.
Though Ladd wants to join the fight against sexism, she plans to major in music business with a minor in journalism at Middle Tennessee State University in the fall in order to prepare her to become a music journalist or a band manager.
"Writing about music would be great because it is combining two art forms," Ladd says. "I want to bring communities together and expand (new artists') audiences."
Although newspapers have been on the decline, Ladd decided early on that journalism was the career for her.
"There is real honesty in journalism," she says. "I want to inform and educate people."
Ladd writes poetry, and she stays on top of current events and writes about them. She also aspires to write a novel. Her hobbies include reading, kayaking and going to live concerts.
Turner Crews
by ShaWanda Jacome
Turner Crews has an adventurous and servant heart.
"There are some people that can't defend themselves or protect their own rights," he says. "So people who are able to and have gifts from God should use those talents to help others."
The 17-year-old Canton native leaves in June to start his journey defending others as a cadet at the United States Air Force Academy in Colorado Springs, Colo.
"I know what to expect, but I don't know what to expect," he says. "... I'm leaving everything behind. I can barely take any of my personal belongings. I can't take any of my family or friends with me."
The lengthy process of joining the academy included essays, recommendation letters, a fitness assessment and a congressional nomination—which U.S. Rep. Bennie Thompson gave Crews.
Crews plans to study electrical engineering and hopes to become a fighter pilot. He originally planned to attend school in Mississippi through ROTC, but his plans changed when a brochure for the Air Force Academy arrived last spring.
"I felt compelled to do it," he says.
Crews, whose parents are Jim and Allison Crews of Canton, is a hard-working young man who has excelled academically, athletically and socially. He is a senior at Canton Academy and will graduate with honors and a 3.9 GPA. He is the president of the student body and of Beta Club and is a member of the varsity track team. During the 2012-2013 school year, he participated in the Madison Youth Leadership program and is a Youth Leadership Jackson graduate.
"I've always been an outgoing person, but those two experiences really helped me get to where I wasn't nervous talking in front of people, going up to people and introducing myself or making friends easily," Crews says.
Through First Baptist Church of Canton, Crews has served his community by helping to raise more than $5,000 each year at the Canton Flea Market for student missions, doing yard work for elderly members and beautifying the grounds at Son Valley, a Christian intermediate-care facility for those with intellectual and developmental disabilities.
Malik Newman
by Amber Helsel
Malik Newman has the world at his fingertips. Many colleges across the region, including Mississippi State University, University of Southern Mississippi, North Carolina State University and Duke University, want to recruit the Callaway Chargers shooting guard for their 2015-2016 classes.
This season, the Callaway High School junior led the Chargers basketball team to its third-straight Class 5A ranking with the Mississippi High School Activities Association. He averaged 29.2 points and 6.2 rebounds per game.
"He's a dynamic kid with a really high basketball IQ," Chargers Coach David Sanders told the Jackson Free Press in December. "His work ethic is amazing, and that's what separates him from a lot of kids these days. He makes the hard plays look routine, and that's so hard to do."
Along with playing high-school basketball, Newman has traveled to compete in the international basketball championship. He helped the USA Basketball Men's U16 National Team win gold at the 2013 FIBA Americas U16 Championship in Uruguay with a record of 5-0. He started in all five games, averaging 16 points per game, and he earned 2013 FIBA Americas U16 Championship Most Valuable Player.
In 2013, The Clarion-Ledger named him Metro Player of the Year, making him one of three freshmen or sophomores to ever receive the title. Malik also is the nation's top prospect for 2015, according to Rivals.com, and he was able to travel to Las Vegas to attend the LeBron James Skills Academy, an invite-only camp for the nation's top 20 college basketball prospects. This month, MaxPreps added Newman to its 2013-14 Boys Basketball Junior All-American First Team.
Newman is the son of LaKeysha Newman and Horatio Webster, who played basketball at Mississippi State University. His stepmother is Katherine Robinson-Webster.
Anna Williams
by Genevieve Legacy
Anna Williams is a soft-spoken and self-assured junior at Murrah High School. The list of classes she's taking this year is impressive: Spanish II, pre-calculus, AP biology, U.S. history, debate and accelerated English III. Her favorite class is AP biology because she likes to learn about basic structures and how everything is put together on an atomic level. To top it off, she's also a theater major at APAC.
An inquisitive young woman who enjoys nature and being outdoors, Williams has been a member of the National Honor Society since middle school. While she appreciates biology and science, her interests and long-term plans lie elsewhere.
"I'm not interested in science as a career," Williams says. "I want to go into criminal justice and technology."
To that end, Williams has been a member of Murrah's Technology Student Association, a national organization for students who are focused on science, technology, engineering and math, since last year. TSA students from schools across the country compete on a district, state and national level, giving presentations in an expansive range of categories, including animatronics, engineering, fashion design and website development, and extemporaneous speech.
"My first year in TSA, I did an event called 'Career Preparations,'" Williams says. She placed first in the district and second in the state competition.
In late June, Williams and her peers will represent Murrah High School at the TSA National Conference in Washington, D.C. As a six-member team, Williams and her cohort will compete in a category called "Chapter Team," which centers on the teams' knowledge and use of parliamentary procedure.
To round out the year at APAC, Williams will perform in a production of Arthur Miller's riveting play, "The Crucible." Seemingly undaunted, this inspiring teen will play the central role of "Rebecca Nurse," a benevolent 71-year-old grandmother who is falsely accused of witchcraft. A standing ovation seems altogether possible.
Ronza Anderson Jr.
by Jacquelynn Pilcher
Not only did Provine High School senior Ronza Anderson Jr. serve as a page during this year's legislative session, he also plays football, is the student body president, and is an active member in the National Honor Society, Mu Alpha Beta, National Beta Club, Mayor's Youth Council. His favorite subjects at school are English and math.
"I love to talk. Speaking well and properly will get you far in life, and math gives me the chance to count. I want to be an accountant," he says. This fall, he will attend Jackson State University where he will major in accounting and strive to reach that goal. "I want to have my own accounting firm first and foremost, but I would love to work for a national broadcasting company such as NBC, ABC, CBS or ESPN as a broadcast technician, too. That's my backup plan."
Anderson, 18, has held his spot on the honor roll since freshman year by studying hard and paying attention to his teachers. His trigonometry instructor, Mrs. Mary Wilson, has been his biggest influence.
"She's helped me through my high school career and has been there for me always. She's like a second mom, basically," he says. "But I have to really thank my parents. They're my true backbone. They're always pushing me to strive to do bigger, better things."
Within the next five years, Anderson hopes to be interning at a successful accounting firm or one of his dream network companies.
"Striving for success without hard work is like trying to harvest where you haven't planted," Anderson says.
Karnessia Georgetown
by Tam Curley
Karnessia Georgetown isn't waiting for the world to become a better place for women—she's making it one. Georgetown, a junior at St. Andrew's Episcopal School, started the group Girls' Country with another local teen, Zaria Williams. The idea started from a racial reconciliation program at the William Winters Institute for Racial Reconciliation at the University of Mississippi, which Georgetown and Williams attended. The program challenged them to think about problems in their community and then gave them resources to help turn those thoughts into actions.
"It was so crazy that I had to go all the way to Oxford to meet someone who attends Murrah," Georgetown says.
Girls' Country's purpose is to do community outreach and to build bridges between teen girls at various schools within the Jackson-metro area. Georgetown says she has friends at many schools in JPS, and wants to be able to reach out to more girls because she knows people everywhere.
"We are by no means done," Georgetown says.
When the group first formed, the duo structured conversation around topics they assumed most girls would be interested in, but after taking a survey, they realized that some of the main topics girls wanted to talk about included relationships and dating, sex education, bullying and body image.
Overall, Georgetown says Girls' Country is all about empowering young girls ages 13-18. "We chose that age group because we knew we could have the most influence with girls our age, but we want to reach a much younger age group," Georgetown says.
Georgetown's plan is for Girls' Country to continue after she graduates from St. Andrew's next year. "I do not want this to stop—I want it to go beyond what it is now," she says. Teen girls interested in joining Girls' Country can email Georgetown at [email protected]
Georgetown sees herself in a career that works to empower women, perhaps in a women's rights advocacy organization where she can work on getting people to talk.
"This is the best thing I have done ever ... the people I have gotten to talk to, the viewpoints, the diverse ideas," Georgetown says.
James Bennett
by Brittany Sanford
James Bennett doesn't fight the itch. "When I feel the urge, I have to build something," he says.
He builds things ranging from massaging shoes with optional settings, to triangular elevators made of tin and glass that travel seven feet in the air.
"They are models. You'd have to see them to understand," Bennett says. "They aren't patented. I just build them and afterwards ... I just feel great."
The Provine High School junior has many talents, one of which is balancing so many activities. Between going to class everyday and consistently being on the honor roll, Bennett has very little time to spend at home. He works and volunteers at the Jackson Zoo, does community service at Stewpot Community Services and his church, New Dimensions, and is a member of the Youth Leadership Jackson Program and a step member in Kappa Alpha Psi. He also participated in the Mississippi Blues Marathon earlier this year.
Bennett, 17, and his science partner won third place at the international symposium for their project with leukemia cells and cancer. He also won his school's science fair and is a recipient of $100 and $50 essay-writing awards, and his school nominated him for the IEEE Presidents' Change the World Competition.
Along with his hobby of building, Bennett also likes fishing, speed skating, swimming and writing short stories. He favors scary stories but writes a variety of genres, including comedy, tragedy, romance and horror. So far, he has finished three, each of which are about four to six chapters long.
After graduation in 2015, he plans to go to college and major in agricultural environmental science and chemistry. Bennett says he wants to be all he can be just like his role model, Oprah Winfrey.
"She came from little old country Mississippi just like me and became a 'somebody' to not only change history, but to make it," Bennett says. "And she is still making it today."
Doneisha Jenkins
by Jacquelynn Pilcher
Greenville native Doneisha Jenkins moved to Jackson in December 2006 and will always call it home, but she hopes to travel the world and change lives in each city she visits. She plans to attend either Alcorn State University or Tougaloo College to pursue a biology degree in order to become a registered traveling nurse. She has been offered financial scholarships at both institutes, and both would be lucky to have her.
Jenkins, 18, is a senior at Lanier High School where she participates in JROTC, cheerleading and the National Honor Society. She plays the clarinet in the high school band. Outside of school, she served as a Mississippi Senate page for a week during the 2014 legislative session. Jenkins is very active in her church community as well. She sings in the youth choir, serves as a youth usher, and loves to dance, praise and worship every chance she gets. She is most passionate about praise dancing.
Jenkins' hard work and self-discipline is paying off, she says, because two women have really made an impact on her life and helped her get this far.
"My mother has pushed me harder than anyone," she says. "Even when I am down, she lifts me up and makes me strive to achieve the best. I love her."
Jenkins looks up to her English teacher, Mrs. Elkins. "She pushed me to get to this point in life and in school," Jenkins says. "She is reliable, helpful and always motivates me to do better."
This straight-A student has big goals for her future. Once she completes the nursing program, she wants to spend time at St. Jude Children's Research Hospital to gain knowledge and experience in the medical field to later start her voyage as a modern-day traveling nurse.
This teen has a loving heart and is sure to do great things for many people; it is her calling, after all. With such strong faith in herself and God, she believes she can do anything. Jenkins refers to Philippians 4:13 and says, "I can do all things through Christ who strengthens me."
Kyla Lewis
by Briana Robinson
When her physical-education teacher saw Kyla Lewis running around the gym with the other students, she told the then-sixth-grader that she should try running track. Since then, the sport has consumed Lewis' life.
"I started to compete and started to realize that I'm actually pretty good at it, and my parents did, too," she says. "(They) invested in it because they realized I was good at it. They got me a trainer and made sure I had everything I needed so I could fulfill my career. Now, it's paid off."
Her trainer of four years now is Jackson native and University of Mississippi graduate Savante Stringfellow, who was part of the U.S. Olympic Team in 2000. Stringfellow took silver for long jumping in the 2001 IAAF World Championships, won first place in the 2002 IAAF World Cup and in 2004 brought home the gold in the IAAF World Indoor Championships.
In her seven years of running track, ZLewis has earned several accolades. In both 9th and 10th grade at Murrah High School, Lewis helped the track and field team earn two state championship tournaments. In her 10th grade year, Lewis placed third in the 400-meter dash, which she calls her signature race, and in 11th grade, she won the 400-meter dash portion of the state championship tournament.
The Murrah High School senior is working on lowering her time, which was 56.4, to 54 seconds in order to bump her track scholarship to Ole Miss to cover a full ride.
"If I wasn't running track, I wouldn't know what I would do," she says. "It's been a part of my life for so long; it's kind of like second nature now."
From a young age, Lewis excelled and impressed others with her athletic abilities. Running wasn't always her passion, though. When Lewis was in first grade, she accompanied her sister to a Central Mississippi Cheerleading camp. Lewis stood out to the coach when she was able to perform some of the moves and techniques that the older girls couldn't do. At 6 years old, she became a cheerleader, and she continued to participate in competitive cheerleading with Central Mississippi Cheerleading until she was 15.
"I miss cheerleading sometimes," Lewis, now 17, says. "But it came to a point where I realized that I don't think cheerleading would take me as far as track would if I actually worked on it. So I decided to just quit cheering and work solely on track."
She was thinking about college when she made that decision, but she would love to go farther.
"Olympic golds have always been in my head. ... I definitely want to go to the Olympics; that would be a dream come true," she says. "Or even to make it to Olympics tryouts, just to be in the atmosphere of professional athletes would be pretty cool, especially since I'm from such a small city."
For now, Lewis plans to study sports medicine to one day become a physical therapist specializing in sports-related health. Her commitment to family is strong, and her appreciation toward her parents, Laneisha and Eric Lewis, shows when she races.
"I definitely do what I do in track for (my parents), because I don't like seeing them disappointed in me," Lewis says. "I want to run a good race just so I can go back into the stands and see my parents proud of me."
Lewis believes that she has learned several important life lessons though track. "When people say failure is not an option, I don't really agree," Lewis says. You have to know what it feels like. If there's nothing but success, then what is there to look back on? What is there to improve on?"
More stories by this author
Support our reporting -- Follow the MFP.